One of life's pleasures is curling up and relaxing on a cozy sofa. But buying a sofa that will stand the test of time requires careful consideration. The important thing is to not rush into an impulsive purchase, as your sofa will be one of the most-used pieces of furniture in your home. A high level of craftsmanship that delivers deep comfort and support is paramount. And there are other considerations as well, such as style, shape, upholstery and durability. This buying guide lists the most essential points to consider, so that when at last you make your purchase, and sink into your new sofa at home, it will not only provide an exceptionally comfortable experience but will also last for years to come.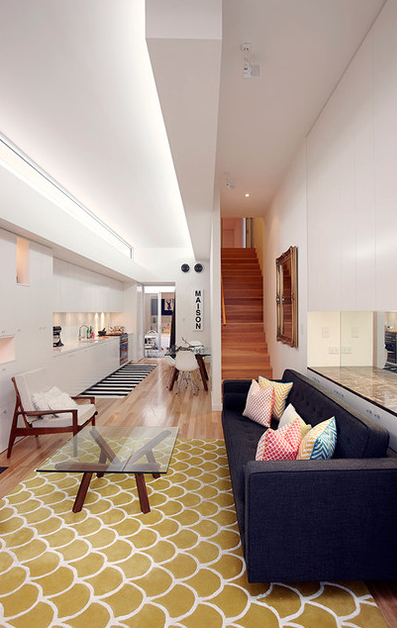 Proportion. Measure the area you've designated for your new sofa, taking into account the size and shape of the room. Once you've settled on a sofa that you think will fill the space, note the sofa's measurements and lay out a template on the floor (make this by taping newspaper pages together to match the dimensions of the sofa). This way you can be sure the sofa will fit the space and that there will be room to walk around or past it.
Tip: Equally important is how you plan to get your sofa into the room. If you have narrow doorways, or live in an apartment accessed via an elevator or stairs, consider whether you will be able to easily maneuver the sofa into your home.
Comfort. With a new sofa, what you see and what you feel is mostly what you get. That said, be aware that a sofa that feels wonderfully supportive now may sag over time. For this reason, take care to find out what's going on under the upholstery. In terms of quality and craftsmanship, this will be the real indicator of whether you are buying a sofa for the long or short term.
Shape and size. If you have a narrow or small living room, you don't want to put in a huge sofa that leaves no room for anything else.
Function. If you have a family, consider two sofas that fit together in an L-shape or U-shape so everyone can sit together. These styles, also known as modular or sectional sofas, should be upholstered in a durable fabric — especially if you also have pets. Good choices are leather, strong synthetic microfiber and chenille. Reclining sectionals are great lounging options and are particularly ideal for home theaters.
Frame construction. A sturdy frame usually contributes to a long-lasting sofa. A wooden frame is best, especially if it is a quality wood that has been kiln-dried. (Be wary of cheap pine or green wood, which can warp over time.) The frame should be secured together by dowels or nails; avoid those that are held together by staples and glue. The legs should be either part of the frame or solidly attached. Metal frames may be necessary when the seat of the sofa has a large span, but they can make the sofa heavy and hard to move.
Support system. Longer-lasting sofas generally have springs, and there are many types. The highest level of support is offered by a pocket coil spring, similar to those in a mattress, or a serpentine-style spring. There are other methods of support, such as webbing. Although this is a cheaper method of suspension, webbing can offer good support if used in conjunction with springs in the areas that will bear the most weight: the seats.
Cushions. Typically there are three cushion arrangements offered for the backs of sofas: fixed-back (popular in midcentury couch designs), cushion-back (the most common style, which often has T-shaped back cushions that curve to fit around arms) and scatter-back (a loose arrangement of cushions that hide a padded back frame). Pictured here is a combination of scatter- and fixed-back cushions.
Fillings. The most expensive fillings for back and seat cushions are feather and down, but these are not necessarily right for all sofa styles because they can look lumpy. Since a down cushion requires lots of fluffing and patting, it is better suited to back cushions. Seat cushions should be firm and regain their shape after you press down (unless they are filled with down or feather). Foam cushions are the most inexpensive, but they can deflate quickly if of a low density. A great choice for the seats and back rests are cushions of high-density, resilient foam wrapped with either down or even a (cheaper) polyester.
Textiles. If you want to keep your sofa for decades, choosing the right textile for your sofa is as important as making sure the construction standards are high.
Hard-wearing cotton and linen are winners, but when mixed with a cheap synthetic, they can often pill after a year of wear. High-quality synthetic microfiber fabrics, however, can mimic the weave and handle of most natural fabrics and are stain-resistant, making these textiles excellent choices. They are also less likely to fade.
Tip: Choose fabrics with patterns in the weave as these tend to wear better over time. Ask the store you are buying your sofa from for a swatch to take home. See how the fabric looks in both natural daylight and under artificial light at night.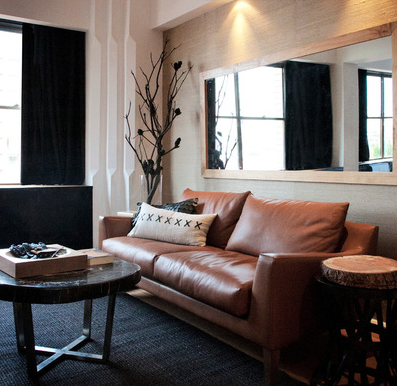 Leather. Both luxurious and practical, genuine leather sofas can complement any home decor. If combined with quality construction, they offer years of comfort and style.
Tip: Leather is a durable material and gets better with time, but it needs some care. Treat it with a high-quality conditioner once or twice a year.
Color. If you've found your dream sofa but are unsure what color is going to work with your decor, or you haven't decided on a look yet, stick with a neutral. It will probably work with any of the colors or patterns you introduce at a later date. If your decor plan has a predominantly warm palette, choose a beige, mushroom or cream sofa. A grey, charcoal and even white sofa will work best with a cool color palette. Punchy color should come from accessory pillows or throw rugs as these can easily be replaced when the next color trend hits.
Tip: If you feel that a colorful sofa will work in your home, choose one in a color that will be easier to style as trends change over time.
Weaves and patterns. A word of warning for the trend-hunter: If you are looking to buy a sofa you plan to have forever, try to avoid purchasing one that features trendy weaves or big patterns, lest it fall out of your favor.
Tip: A herringbone or flecked tweed incorporated into the design of a weave produces a fabric that wears well and hides any fading or scuff marks.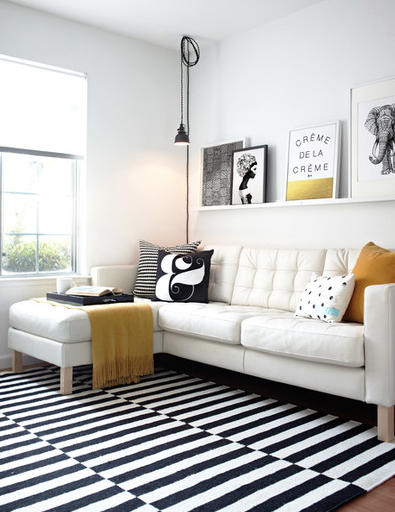 Style. Choose a sofa style that works with the decor of your room. A low-profile sofa will suit a modern decor, and a high-back sofa will work better in a more traditional home.
Arm shape. Consider the style of arms you like and whether they are comfortable enough for resting your arm on, snoozing against or even perching on from time to time. Some people like square arms, others prefer rounded ones. Wide arms (as pictured here) suit more contemporary styles, especially sofas with a low profile, but they can take up a significant amount of room. A high-backed sofa often has a narrow arm, and if the sofa is a classic style, it may boast a curvaceous scroll or a flare.
Modular. Modulars come in a range of sizes and have many benefits. Because they combine various pieces in one unit, they are relatively compact, maximizing the space in a room. They also offer more space for sitting, especially if a chaise or fixed ottoman is attached. Due to their flexibility and versatility, modulars can be set up in different configurations, and sometimes you can create your own combinations. From L-shapes of two- and three-seat sectional sofas with chaise lounge additions to larger U-shaped modulars, which can be expanded by adding a corner or terminal, these are sofas well worth considering.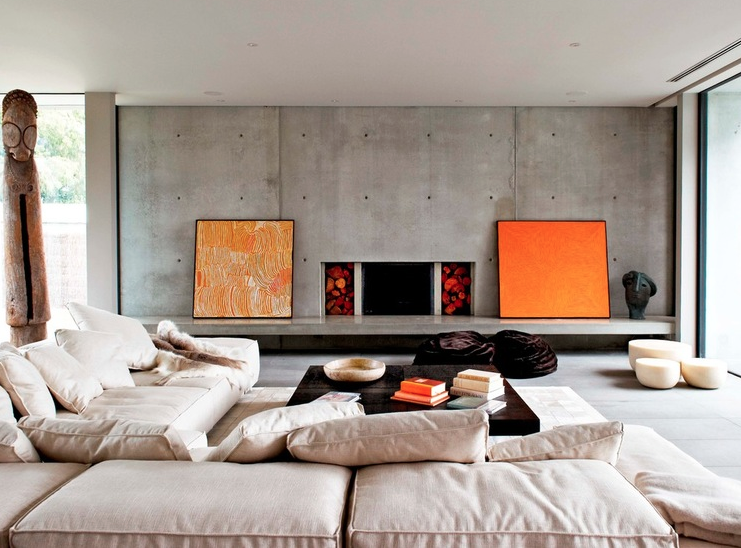 Profile. Sofas that encourage prolonged lounging and relaxing often feature plenty of plush pillows and cushions, a wide frame and ample cushioning on broad arms. Additionally, these kinds of sofas often come in various pieces or modular forms, which means the sofa can be transported to other homes or living spaces as separate pieces and assembled in whatever combination works.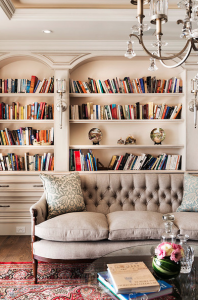 Classic tufted. The tufted sofa, also known as a button-back when the center of each tuft sports a button, features a classic cushioning treatment that comes in a variety of styles — think French Provincial sofas, Chesterfields and midcentury modern settees. Tufted sofas rarely go out of fashion and will look great in any home decor scheme if in a plain fabric, but they are usually a little pricey owing to the amount of work that goes into the tufting.
Tip: Tufted sofas are trending but don't suit everybody. Think twice about choosing a tufted style when you have young children, because the tufts collect crumbs.
For help selecting your perfect sofa, contact Talie Jane Interiors (1.855.825.4352).
Article published on Houzz.com