With friends and family members expecting new bundles of joy, I am inspired to share my tips for creating the ideal nursery. When we welcome our sweet, adorable crying and pooping machines into this world, the one thing we can prepare for is their nursery. Everything else, well, trial-and-error, maternal instincts, our mother's advice and words of wisdom from popular authors are our best bet.
Even as an interior designer, I was asking friends and family about the absolute "must haves" vs those items that are just hype. And with my 18-month-old fully settled into his own "little man haven", I can speak from personal experience with regard to creating a cute and functional space. Hopefully one that will transcend the infant stage and even live through…dare I say second child?

Here's My Advice
▸ Furnishings
There are a few key furniture pieces that every nursery should have: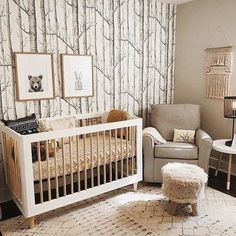 Crib: I recommend a crib that has the ability to convert into a toddler bed down the road and one that is fairly neutral in terms of color and style. Think natural wood. Often, cribs are sold as part of an overall bedroom set which is nice as all of the pieces will match and you will have options to add on additional furniture pieces as time goes on, assuming the products are not discontinued.
Regardless of the crib you choose, make sure you have the correct mattress, cover and fitted sheet for the designated crib. I'd recommend getting at least two sets of fitted sheet for obvious reasons. There are a lot of articles about the safety of bumpers. Many people strongly object to bumpers due to concerns about suffocation so I recommend doing some research.

Changing Table and Dresser Combo: Usually you can purchase this much-used furniture piece along with the crib as a set, as I mentioned. But it's nice to mix and match as well. Just make sure the dresser is large enough to not only hold diapers, burp cloths, clothes, blankets, etc. but that it will also serve when your child is of toddler or elementary school age.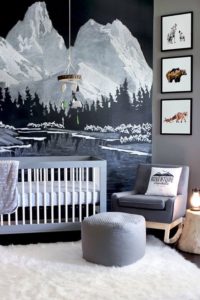 Rocking/Gliding Chair: I have spent a lot of time in our rocking chair. Late night rocks, story time, cuddle time. The chair should be very comfortable and movement like that of a rocker or glider is a huge bonus. If you opt for a rocking chair, I recommend a seat cushion and back pillow. If you select a glider, which is usually more expensive, its nice to have a neutral fabric chair with accent colors in the throw pillow and blanket.
I recommend a pouf or ottoman to accompany your chair. In fact, a lot of gliders have the option of a matching ottoman. This piece can act as a modular piece of furniture for your child to sit and play too.

Bookshelf: We read stories every night before bed but also periodically throughout the day. Cubbies, wall shelves, standing book cases, whatever your preference, plan to have double the number of books you think you'll have/need. It's nice to keep books at a child-friendly level so your child can select his/her favorite stories.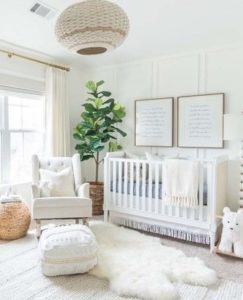 Rug: A rug is a must in a child's room. He/she and you will be on the floor much of the day assembling puzzles, playing with toys, crawling around and in my case, driving cars and trucks around the room. I don't advise spending a lot on a rug for obvious reasons, but there are many companies out there that make affordable, attractive area rugs. Think soft and durable.

Window Treatments: Lastly, I recommend black-out window treatments. Whether that be blinds or curtains, it's important to maintain a dark room for naps and nighttime sleep. Sometimes a combination of blinds and curtains is best so light doesn't spill in, depending on the type of window.

TV and Play Table: Although not necessary, a TV and play table are nice to have. I know some parents don't believe in TV but we have found some of the shows like "Little Baby Bum" to have quality programming for learning colors, shapes and numbers. Rather than TV as a "babysitter," it reinforces our play.
We also have a play table for him where he can draw and color. Obviously not a must have from day one, but again, in the bedroom "set" we purchased, it was one of the additional furniture pieces and we saw value in it for future use.

▸ Color Palette/Theme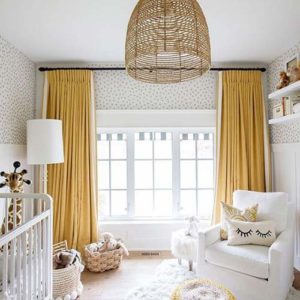 Gender neutral colors like creams and beiges, yellows, greens and greys are fantastic colors for a nursery. Boy or girl? Neutral colors are great for those who want to be surprised, but also for those like me who want to be overly prepared. Neutral colors for walls and furniture are great; just add pink and purple or blue in less expensive items that can be changed out for your next bundle of joy.
Themes are very cute but sometimes they can get a bit kitsch. It's hard to "reign it in" with our excitement and nesting instincts in full gear but just don't go overboard.
Accessories: This is the really fun stuff! Picking artwork, stuffed animals, a mobile. Here you can feel free to incorporate your theme and take the opportunity to be more gender specific on these design elements.

▸ Focal Wall/Ceiling
Create a focal wall. It's typically the wall with the crib. Murals, tapestries, your child's name are all things I've seen. Use your creativity. And don't forget about the ceiling. Paint patterns, drape fabric, hang fun objects.
For assistance designing your nursery, contact Talie Jane Interiors at 855-TALIEJANE or Natalie@TalieJaneInteriors.com.