There's no simpler way to say this: pebbles are popular. (1) Pebble tiles, tiles composed of pebbles and stones, are a natural fit for anyone who loves the rustic beauty and tranquility of nature. (2)
Designing homes in the Lake Tahoe area, I have engaged in a love affair with pebble tiles and recommend them to anyone looking for a unique, organic way to update their home. I believe in layers and textures in design and the blending of the pebble tile's subtle bumpiness with its smooth surface creates that additional layer of interest.
Whether my client's design style is clean and modern or classical and traditional, whether her color scheme incorporates blues, reds, and greens or cream, black, and white, and whether she wants a small accent space or a bold feature wall, I find that pebble tiles are a fantastic and flexible design element. (1)

Pebble tiles are decorative natural tiles made of hand-picked and hand-sorted pebbles from the Indonesian island of Bali. These elegant looking mosaic tile stones are made of polished pebble stones and are made by cutting pebbles into halves and fixing them to a mesh backing. (3) They are sold by the sheet in dimensions of 12" x 12" and, with thicknesses ranging anywhere between 3/8" – 5/8". (4)
Specifications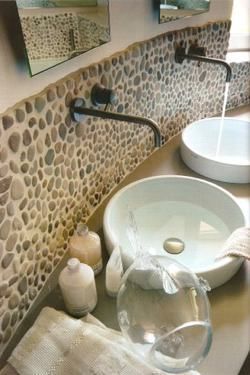 The most common location for pebble tiles is in bathrooms. Specifically, shower floors. Pebble tiles help create a natural ambiance, which is perfect for a creating a relaxing space. But pebble tiles can be used almost anywhere! (1)

Incorporate pebble tiles to…
Add a natural element to a backsplash
Create a rustic flavor around a fireplace
Dramatize a feature wall

Pebble tiles can be used inside or outside, on floors, walls, or countertops, in high-temperature installations or submerged applications. (1)
With earthy tones and textures, pebble tiles are ideal for adorning walkways, decks, patios and even swimming pools. Their rugged material provides a durable surface that will last you for years to come, indoors or out. (4)
When it comes to pebble tiles, you're only limited by your imagination.
Design (1)
▸ For a contemporary feel…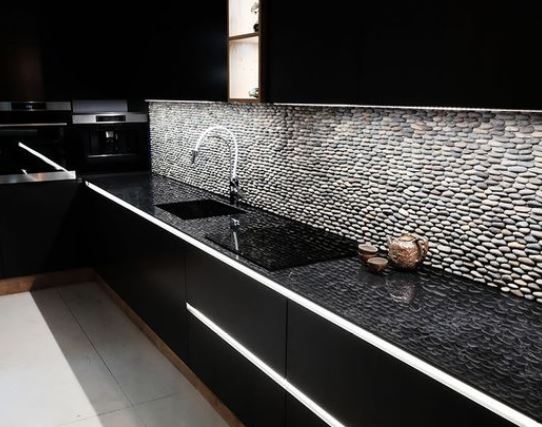 Avoid multi-color blends as these tend to look busy and rustic
Utilize cleaner-looking products such as solid-color mosaics or flat pebbles. Tighter grout lines with color-matching grout will help create a strong, harmonious look
Try neutral, subtle colors such as grey, taupe, brown, black, white, and cream
▸ For a rustic feel…
Emphasize warm, natural colors such as red, gold, brown, or green to add a rich, natural element to your design
Emphasize texture, shape, and depth. Pitted travertine pebbles, mosaics with size variation, contrasting grout colors, and angular pebbles are all great ways to add more interest to your installation
Use pebble tiles in harmony with other natural-looking elements: travertine, slate, and stone-looking porcelain tiles all coordinate well with pebble mosaics
▸ For a traditional feel…
Play with light, subtle tones. Nothing too loud or distracting
Incorporate stone or metallic pencil liners for definition, a soft color palette for atmosphere, and traditional materials such as tumbled travertine, marble, crackle glass, or ceramics
▸ For a unique touch…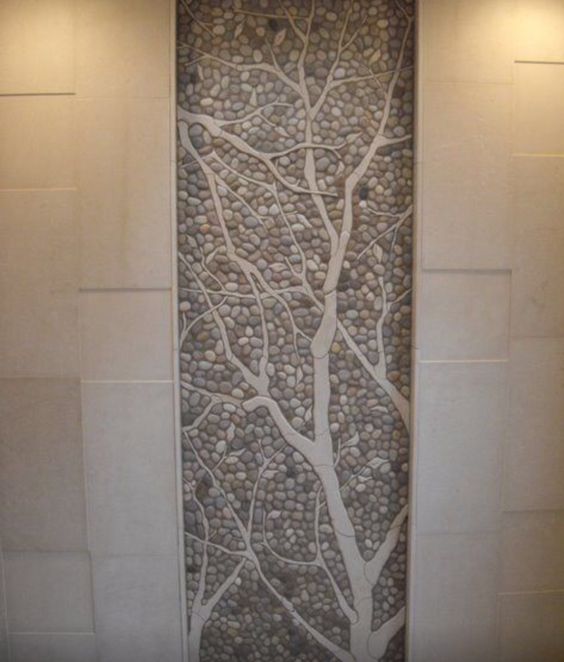 Consider an unusual color or finish, like an emerald green or metallic pebble.
Pull your pebbles off the sheet for drops or inserts, or to act as a border or liner
Integrate interesting elements like custom cut leaf tiles, glass tiles, bits of ceramic, or custom art glass
Experiment with uncommon shapes or patterns: why not place pebble tiles between each rectangular tile in your offset brick patterns? Or have a pebble tile border around a patch of hexagon tiles?
(Pebble tiles are a great way to accent an interesting tile: metallic porcelains, exotic marbles, and colorful slates all look good with pebble accents.)

Benefits (4)
There are many benefits to pebble tiles: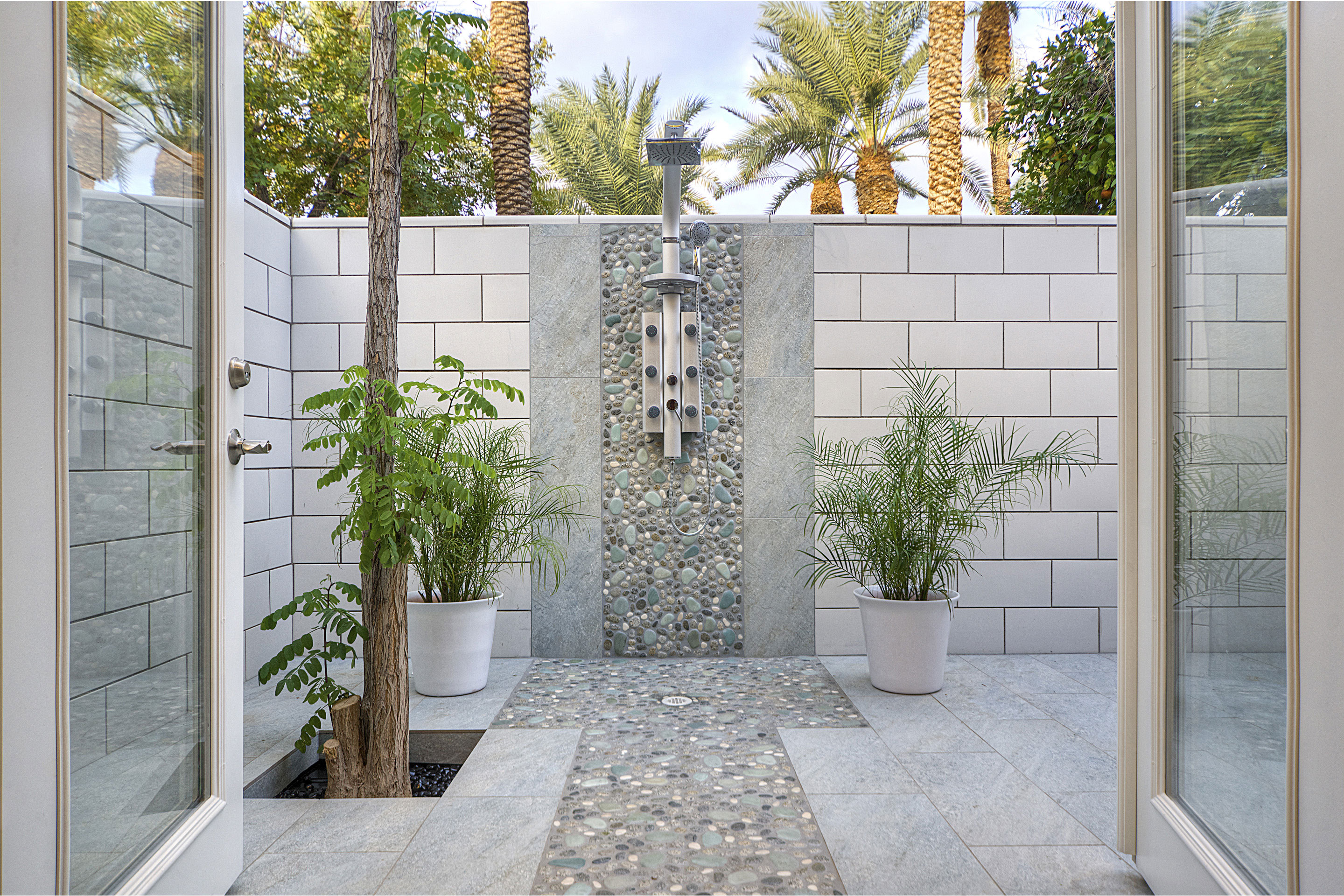 Indoor AND outdoor use
Eco-friendly
Highly durable
Slip-resistant
Natural and unique
Vibe of serenity
Installation (4)
Pebble tiles are installed in a similar fashion to any type of tile: glass, porcelain or ceramic. Here are some tips to make your installation experience effective in ensuring a lifelong surface.
Pull stones off the mesh backing for extra tile as needed to keep the pattern consistent
Use sanded grout suited for harsh conditions
Seal pebble tiles prior to grouting
Apply a natural stone color enhancer, or a matte sealer for a drier look
Create a slight slope in your shower floor (for shower floor tile installation) to assist in proper drainage
Maintenance/Cleaning (1)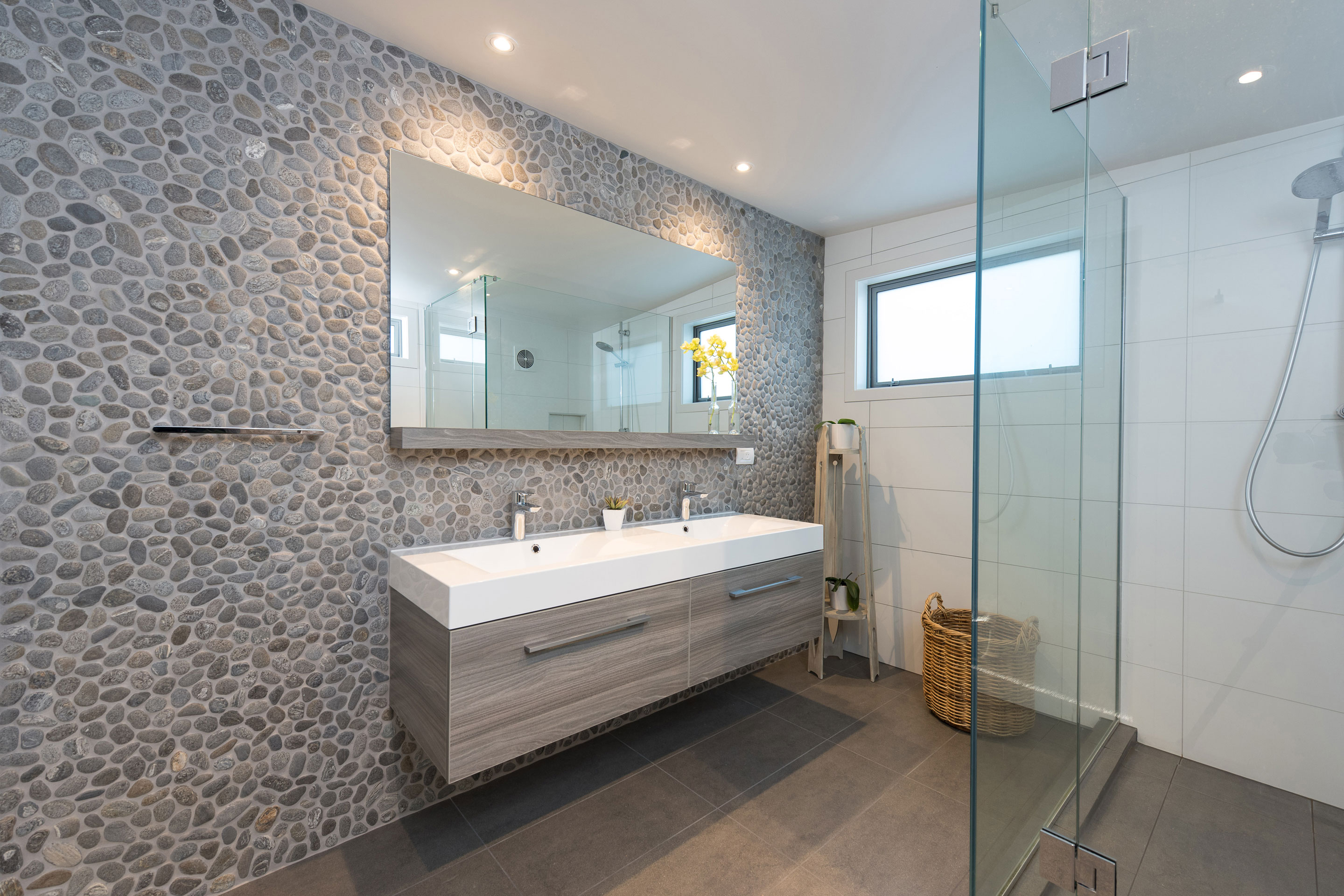 Many people worry about maintenance with pebble tiles, specifically on a shower floor. Will soap scum and hard water build up over time on the pebble tiles? In actuality, your grout creates little channels between your pebbles that, when combined with their rounded shapes, allows water to easily flow to the drain.
Your main concern with maintenance should be cleaners and sealing. When cleaning your pebbles, choose a cleaning product that won't damage the stones or strip your sealer. A stone friendly cleaner such as Miracle 511 Kleen & Reseal or Tile & Stone Cleaner will protect both pebble and sealer.
You should always seal your pebble tiles upon installation, usually before grouting (to protect them from potential discoloration). This will help repel oils and dirt in the shower and help prevent stains. A 20-year penetrating sealer such as Miracle 511 Impregnator, 511 Seal & Enhance, or 511 Porous Plus is recommended.
The texture of your pebble tiles plays a large role in how easy to clean they are. A pitted travertine pebble will gather dust and dirt faster than a smooth polished pebble.

Things to watch out for (5)
Pebble tiles…

▸ Can look like a grid
Pebble tiles are considered a mosaic, which means they are essentially glued onto a mesh backing and, because they are priced by the square foot, they are cut into roughly 12″x12″ sheets. Because of the organic nature of the pebble shapes, the mosaic pieces are never exactly square and the edges of each sheet are wavy. This makes installation a bit more difficult, particularly on a shower floor, which is where pebble tiles are most often used.
The edges of the mosaic are all different shapes, so when they are laid next to each other on a shower floor, they do not fit perfectly together. This creates a larger space between the edges of the sheets than between the pebbles themselves, which can make the final installation look like a grid. In order to get a seamless installation, the installer should take individual pebbles off of the sheets and space them by hand.

▸ Use a ton of grout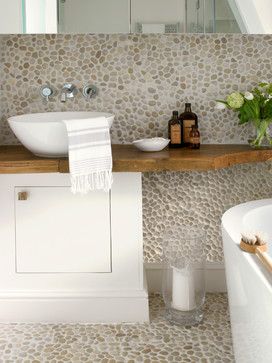 One of the biggest issues that new homebuyers have with tile in general is the grout. They don't like it, don't want it and don't want to clean it. Regardless, grout is absolutely necessary for a proper tile installation and with pebble shower floors, a TON of it is required.
With a pebble tile shower floor installation, about 2.5 times the amount of grout is used. So why is this bad? Grout is a cementous product. Cement = porous. Porous = water gets in it. As long as your shower pan (the cement part that's under the tile) is sloped properly to the drain, this is not a problem.

▸ Hold water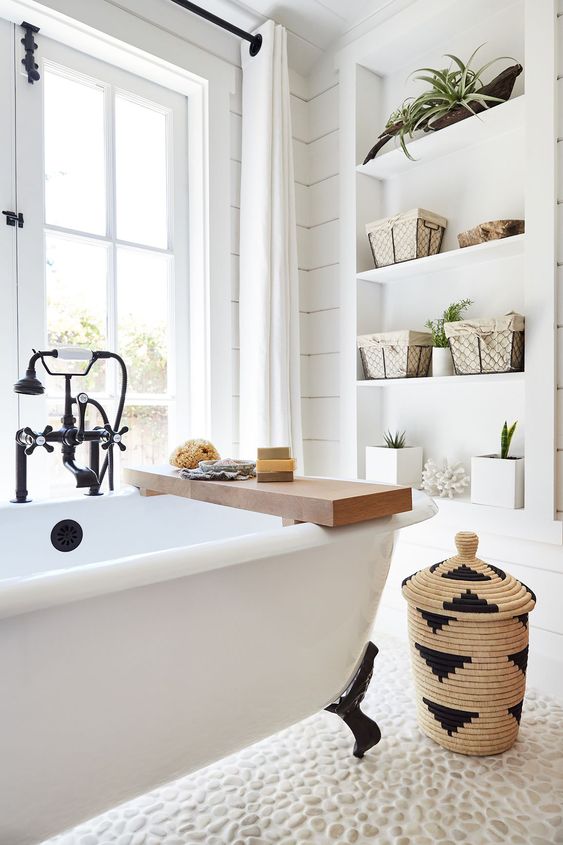 The true river rock/raised pebble style does not properly drain. Because the pebbles are raised, water can easily sit between them and not make it all the way to the drain. Many tile manufacturers have come out with "flat" or "sliced" pebble styles, which drain perfectly fine.
Go with a sliced or flat pebble tile.
Get an installer who will take the time to place pieces by hand to avoid the grid look
Choose a style with multiple colors of stones. This will help give a more cohesive look in the finished product and avoid color variations from sheet to sheet, which is common with a natural stone product
For help incorporating pebble tiles into your home, call us at 855.TALIEJANE or email [email protected].
---
Sources
1. https://www.tilelines.com/2013/04/06/using-pebble-mosaics-in-tile-designs/
2. https://www.tileshop.com/material/pebbles-stone/mosaic-floor
3. https://ezinearticles.com/?Pebble-Tiles—Main-Advantages!&id=1062780
4. https://www.aquablumosaics.com/blogs/news/pebble-tile-mosaics-for-interior-and-exterior-design
5. http://www.jshdesigncompany.com/product-analysis-pebble-shower-floors/