Other than buying a sofa to sit on and a bed to sleep in, your coffee table is arguably the third most versatile and engaging piece of furniture in your home. Considering it can also function as a desk, dining table, footrest, game table, you name it – it makes sense! (Kaczmarski, 2018)
Since coffee tables usually have prominent places in living rooms, it's important that they function in the way they are supposed to but equally important that they look good. How a coffee table is styled (or not) can completely change the overall look of a room. What is on it can also completely alter the table's function. You don't want it to be too perfect or cluttered to the point that there's no space left to make it practical, but you don't want it to be a messy holding area for keys, mail, and last night's take-out boxes either. (Kaczmarski, 2018)
Coffee table styling is a bit of an art. An empty coffee table top is a lost opportunity to add accessories. Accessorizing is adding all of the "fun stuff," as my clients say. Everything seems to come together when accessories are incorporated. They are the final touches that make a space feel comfortable, usable and polished – the lipstick of the design world that creates the finishing touch.
Coffee Tabletop displays need to be attractive without disrupting the flow of the rest of the space. Fortunately, coffee table styling is easy to master as long as you keep certain guidelines in mind.
We like to stick to four main guidelines as outlined by designer, shop owner and columnist Phoebe Howard (Bern, 2019):
Something tall
An oddball object
Something fresh
A stack of books
With just these few tips, it becomes easy to compose an arrangement that is both functional and visually appealing.

Something Tall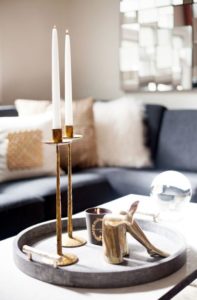 The low sofa and coffee table trend means that living rooms lack height. When all items are at the same eye level, nothing gets noticed. So, how do you bring in some much-needed height? Vary the height and scale of your decorative objects to create a more eye-catching coffee table vignette. (Styles, n.d.)
Candles offer height, aroma, and an elegant but cozy feeling to a room, as in the pictured vignette. Large glass votives of varying height can be filled to display themed décor; try items like sea shells, corks, rocks, pinecones or fruit for example. Stacked coasters can also add height while matching the room's accent colors and protecting your table. Plants are probably one of the best "go-to's" to offer the height potential needed to fill the vertical void.

An Oddball Object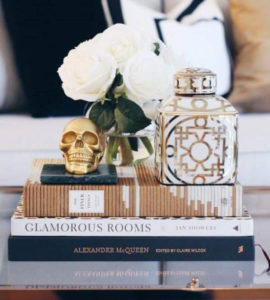 You can use your coffee table as an opportunity to display a few personal items that you're passionate about and want to share with guests. Showcasing a unique object or artifact can be a great conversation starter. While the object might seem out of place anywhere else, family heirlooms and other treasures really stand out and bring in a touch of personality to elevate the look of your table. (PotteryBarn, 2012)

Something Fresh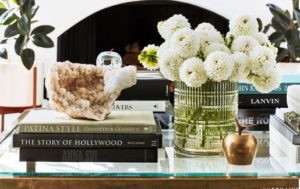 Not only do flowers and plants bring a pop of color to the room, they also add depth and texture that will help fill empty space. The coffee table is a perfect place for a low maintenance plant or fresh flowers. For those missing their green thumb, try a succulent, air plant, or even a faux plant.
There is something undeniably "homey" about adding greenery to a space. Flowers and plants can be placed in tall vases, wooden bowls, pots, glass bottles, or any unique object. Change out fresh cut flowers once a week or rotate plants from other rooms into the coffee table vignette to keep your design fresh. The styles are endless! (PotteryBarn, 2012)

A Stack of Books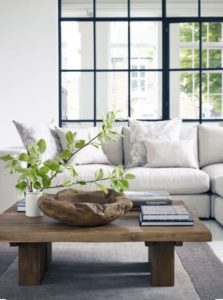 Books and magazines are often key features on a coffee table. Not only are they decorative but they provide a way for guests to be inspired to interact in your space and act as a design element that can be tied into the decor.
Use stacks of magazines to create various heights on the surface of your coffee table (again, we stress the importance of creating height variation in your coffee table styling). You can then add a unique decorative object or plant on top of a stack to create another layer of beauty. The different heights make the surface interesting to look at and allow you to highlight a focal piece if you wish.
For the right look, always stack magazines and books with the largest on the bottom and smallest at the top, and stack in groups of odd numbers for more visual interest. (PotteryBarn, 2012)

Additional Tips
▸ Maintain Balance
Arranging a ton of small decorative items will make your coffee table quickly look cluttered. Likewise, displaying bulky items will make it feel too heavy. The key is to maintain a balance. Decorate with objects of different scale and stack like-items together. If your table is looking messy, trying sticking to a color scheme or even a single color. This will unify items making them look purposeful and part of a story.

▸ Compose and Arrange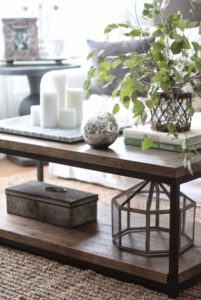 Where do you put everything? When working with anything from trendy large coffee tables to small accent tables, map the table out in a grid and place similar items in these areas. This will compartmentalize your décor and keep your items organized.
The age-old rule of threes can be an easy starting point in dividing up the space on the coffee table.
If you have a bunch of small items that need to be housed on the coffee table such as remotes or cords, try boxes and baskets to keep these hidden. Organize accent pieces and personal items with a polished look by stacking them on a serving tray. A tray gives symmetry to random objects and is a practical way to quickly clear the table. This can also give weight and form to obscure coffee tables such as using an ottoman or unique table. (Kornelia, 2018)
Another option is to pick just one side of the table to accessorize, ensuring plenty of room for drinks or kicking your feet up.

▸ Decorate Seasonally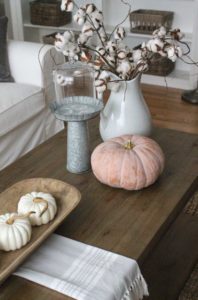 Swap out a few of your coffee table pieces with spirited seasonal items. For example, place fresh tulips in a vase for a pop of color in spring or a sea conch on a stack of books for beachy vibes during the summer. This tip can be used to decorate for holidays and seasons in a sophisticated way. For fall, try replacing one of the objects with a pumpkin and filling your wooden bowl with gourds, as in this example. (Davey, 2017)
For help styling your coffee table, contact Talie Jane Interiors at 855.825.4352 or via email at Natalie@TalieJaneInteriors.com.

– Written by Karly Deal for Talie Jane Interiors
---
Works Cited

Bern, Laurel (2019, March 3rd). How to Style a Coffee Table and How Not to. Retrieved from Laurel home: https://laurelberninteriors.com/2019/03/03/how-to-style-a-coffee-table/
Davey, C. (2017, March 14th). Design Tutorials. Retrieved from Tuft & Trim: http://tuftandtrim.com/designer-tips-for-styling-a-coffee-table/
Kaczmarski, Alaina (2018, February 14th). Coffee Table Décor Tips: How to Style Your Coffee Table. Retrieved from The Everygirl: http://theeverygirl.com/coffee-table-decor-how-to-style-a-coffee-table-2018/
Kornelia. (2018, Feburary 23). 67 Rustic Tray Ideas To Style Your Coffee Table. Retrieved from Food Lily: https://www.foodliy.com/decorations/67-rustic-tray-ideas-to-style-your-coffee-table/11/
PotteryBarn. (2012, July 10th). 6 Ways to Style Your Coffee Table. Retrieved from PotteryBarn: https://www.potterybarn.com/tips-and-ideas/6-ways-to-style-your-coffee-table/?Kenshoo=_k_Cj0KCQjwvo_qBRDQARIsAE-bsH-NAoP8ewt20DIJAScGcIvzzzEcGjngK-GmCRTmKmXdhH7Ac2UU7vcaAoxOEALw_wcB_k_&cm_ven=NonBrandSearch&cm_cat=Google&cm_pla=NonBrand_Search_DSA_Google&
Styles, C. (n.d.). 15 Designer Tips for Styling Your Coffee Table. Retrieved from HGTV: https://www.hgtv.com/design/rooms/living-and-dining-rooms/designer-tips-for-styling-your-coffee-table-pictures