Pet adoptions soared to unprecedented levels during the pandemic; people all over the country were bringing furry four-legged friends into their families. Shelters, nonprofit rescues, private breeders, pet stores — all reported more consumer demand than there were dogs and puppies to fill it. As a result, the need for pet-friendly interior design has never been higher. (1)
The key to pet-friendly interior design is choosing the right materials, furniture and fabrics to withstand the wear and tear of your new four-legged friend, while accommodating her needs AND complementing your existing design motif.
After all, an animal-friendly house is more comfortable for humans too; if a house doesn't work with dogs, it won't work with children or guests either. (2)
From selecting the right upholstery to adding doggy wash stations and designated drawers for food bowls, here are some tips on how to design with your pet(s) in mind.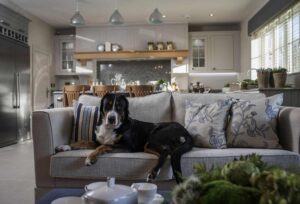 ► Choose Pet-Friendly Upholstery
Let's face it, pets can be tough on upholstery. Investing in easy-to-clean, pet-friendly performance fabrics, such as microfiber and microsuede are great options when decorating high-traffic areas of your home. (3)
Forget silk, chintz or the pet-hair magnet known as velvet. Discover the joys of Crypton, a nearly indestructible synthetic fabric that's resistant to stains, smells, bacteria and muddy paws. (2)
Stain-, fade-, and scratch-resistant leathers are also a good option for pet owners since they are durable and easy to clean. (3) Most grades of leather will suffer only scratches from Fido's or Fluffy's claws but, hey, the scratches add patina. If you see a sad irony in buying a sofa made from an animal for your animal, try pleather. It's cruelty-free, relatively inexpensive and has a timeless appeal. (2)

► Select Colors to "Match" Your Pet
Your pet can be a source of inspiration when choosing colors for your home. Paint a concrete floor the same shade of gray as your cat. Cover your sofa in a honey microfiber that matches your Golden Retriever. This isn't just an aesthetic shout-out to your pet, it's also a practical choice because the hair they leave behind won't be as visible. Put a white floor in a house with a black Lab, you're going to have black tumbleweeds everywhere! (2)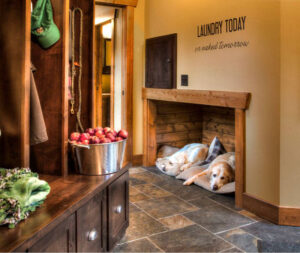 ► Opt For A Chic Pet Bed
(Or Alter Your Bedding If You Have A Four-Legged Sleeping Companion)
While many people buy cozy dog and cat beds to keep their furry friends off of the furniture, these can get covered in allergy-inducing pet hair pretty quickly. That's why it's crucial to buy pet beds with removable covers that can be cleaned regularly – dog beds should always have a removable, washable cover, so they're as comfy as the sofa but stylish enough to leave out. (3)
If your dog or cat sleeps with you, there will be accidents. (Cats barf a lot; deal with it.) Protect your mattress from the inevitable by covering it with a thick pad. Use cotton bed sheets, preferably in a medium color or a pattern that can hide the pet hair and stains between washings. For bedspreads, duvet covers work well because you can take them off and wash them regularly. Delicate-looking matelassé coverlets are surprisingly durable; their tight quilting resists pet-toenail snags and repeated washings. (2)

► Just Say No to Rugs and Carpeting
Don't buy expensive rugs. Yes, you can use rugs, but the trick is to buy inexpensive ones. Unlike carpet, rugs can be picked up and cleaned or thrown out. Sisal or seagrass mats are a good choice because they provide an elegant, neutral backdrop that will go with any decor. They're durable enough to withstand pet traffic, and they're cheap enough to toss when they get grungy. (2)
Got an incredible heirloom Persian rug you absolutely cannot live without? Treat it as art and hang it on the wall, where your dog or cat can't reach it. (2)
Similarly, I'd recommend skipping wall-to-wall carpet. Carpet absorbs odors, traps pet hair and soaks up inevitable pet-related stains like a sponge. But, if you must have carpet, choose a low pile as it's easier to clean if there's an accident. Avoid continuous-loop carpet because a pet toenail can unravel it by catching a single woven loop. Modular carpet tiles are another option. If a dog pees or a cat vomits, you can pull up the dirty tile and replace it with a new one. (2)
Bare floors are the way to go, but bare doesn't have to be boring. Painted concrete is lovely and durable, as are terrazzo and brick. Hardwood floors are simple to mop or vacuum and add a warm glow to a room, but keep in mind that large dogs can scratch wood. The best floor is ceramic tile because it's easy to clean and resistant to any stain an animal can dish out. (2)

► Minimize Wood (4)
Anyone who has owned a puppy, knows they're quite inclined to chew on things, whether that is their toys, your shoes, or the bottom of any wooden furniture you might have. Keeping that in mind, consider changing your wood furniture pieces for ones with a metal finish. Avoid exposed wicker and rattan as well as they're the easiest to chew through.

► Stay Away from Flat or Matte Paint Finishes (2)
Even if your pet goes to the groomer regularly, she will still leave smudges on walls and door jambs…a basset hound can sling drool across a room and onto a wall with a shake of his head.
Flat-finish paint is nearly impossible to clean; try to wipe off a dirty spot and some of the paint comes off as well, leaving an unsightly mark that must be repainted. Semigloss is the easiest to wipe down, but its sheen will call attention to every ding and irregularity in your walls. Satin or eggshell finishes are more elegant and are as easy to clean as a glossier paint.

► Don't decorate with breakable knickknacks (2)
Fragile items and animals don't mix. One bat of a dog's tail or swat of a cat's paw will send your collection of Will-George flamingo figurines skittering across the room like bowling pins. Try displaying fragile valuables in a china cabinet with glass-panel doors. That way you can see them, but your pet can't break them.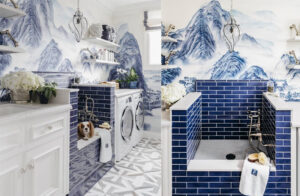 ► Set-up Pet "Stations"
Keep your pet's routine in mind when creating "stations" in your home. Hang hooks and incorporate baskets in a mudroom or entry for easy access for walks; customize built-in furniture pieces for crates, dog beds and water/food bowls. After all, just because they're animals doesn't mean your pets don't deserve a stylish eating area! If you can't afford custom built-in bowls in your home, a designated feeding drawer is the next best thing. Of course, the dog bowls should always match your décor. (3)
Avoid unnecessary cleanup when giving your pooch a bath by converting a spare bathroom or an area of your mudroom or back entry into a washing station for your pets. Avoid the bath time mess. If you don't have the space to go all out, don't worry. A few key accessories in your bathroom, like a Waterpik's dog-specific shower wand attachment, can help you handle at home grooming in style. (3)

For help incorporating pet-friendly interior design into your home, contact Talie Jane Interiors at 855.TALIEJANE.

---

Sources:

Images:
Feature Image: Pinterest
Image #1: Tips and Tricks For The Perfect Pet Friendly Interior Design (trendir.com)
Image #2: 20 Adorable Dog-Friendly Interior Ideas | Home Design Lover
Image #3: 20 Adorable Dog-Friendly Interior Ideas | Home Design Lover