Checking out the Old Town Art Festival and the Wells Street Festival on this fabulous Father's Day.
So many amazingly talented people representing art in a myriad of forms…pottery, wood working, jewelry, sculpture, painting, furniture making, etc. My favorite booth was Mistura Timepieces.
Founders and creative visionaries, Juan Felipe Barreneche and Daniel Schemel are pioneers in collaborating and harmonizing the methodology between Mother Nature and the mastery of watch making. Combining their innovative spirit and environmental consciousness to the clockwork of life, the timepiece of opulent precision was born; Mistura. Their inventive prophecy was inspired by an unspoken synopsis and collaborative union between ecological preservation and unparalleled style that impacts a breadth of culture. Fueling their passion of creating hand crafted watches and working with natural processes encompassing exotic woods, leathers, and recyclable materials. The Mistura legacy continues to redefine the public's persona of "eco-friendly" sophistication.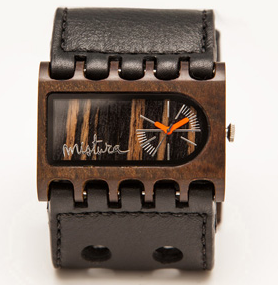 Eponymous of its hallmark signature, "to blend", Mistura amalgamates the landscape of the rainforests uncompromised beauty with intricate design application of living and breathing textures, revealing nature's innermost secrets into compelling, wearable art.
Action through art is Mistura's approach to the dedication of creating awareness of our planets widespread environmental negligence through our hand crafted watches. Resuscitating the seeds of life, Mistura is the epitome of understated elegance that moves with the demands of today's lifestyle, accompanying exotic woods and organic materials that radiate comfort couture and personify "Green" luxury.