Table: Basic article of furniture, known and used in the Western world since at least the 7th century bce, consisting of a flat slab of stone, metal, wood, or glass supported by trestles, legs, or a pillar. (1)
What's so complicated about tables? A table is a raised flat surface with four legs used to work at, eat from or on which to place things (2). Seems pretty simple. However, there happens to be a LOT of different types of tables, in a myriad of sizes, shapes, colors and materials, intended for different "work at, eat from or on which to place things" purposes. At its core, a table serves these basic purposes but, in our homes, we purchase specific tables for specific functions.
We purchase "accent tables," "console tables" and "nesting tables" for example. But what exactly are these different types of tables used for? Do you need them in your home? When should they be used and where should they be placed?
This article outlines some of the popular table types and provides guidance about the proper placement and use for each.

Accent Table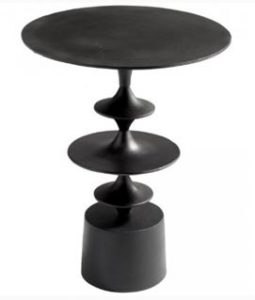 Accent furniture is a piece of furniture that stands out because it complements a room's decor. The term comes from the meaning of the word "accent," which means stress, or emphasis. (3)
Any piece of accent furniture worthy of being called that goes beyond mere functionality. It is often used for its great decorative value above all other considerations. You may not even have any practical or utilitarian need for it, but it serves to draw the eye in and create a bit of excitement, much like an accent color. Its purpose is to add color, definition, and drama to an interior space. (3)
Accent tables are often intended to complement interior design, adding color, texture or polish and can be placed for decorative reasons in any room. (4) Most often small tables that are painted, inlaid, or have some other interesting treatments are used as accent furniture. They may be made from unconventional materials, or have strong colors or lines; the choices are endless. Just make sure to choose the table for its attention drawing power. (3)

Bedside Table (a.k.a. nightstand)
Most bedrooms have at least one table, usually two in the form of a bedside table (or nightstand) flanking the bed. These necessary pieces of furniture make it helpful for placing items within arms-reach from the bed…items one may put down before sleeping or requiring upon waking such as glasses, a book or electronic device. (5) Typically, table lamps are placed on bedside tables.
Because bedside tables are often tied to the height of the bed, including the mattress and box spring, there is no standard bedside table height. In general, it is easier to raise your arms than to lower them when you are in bed. With that in mind, the rule of thumb is to have your bedside table level with the top of the mattress or two to six inches higher. (6)
I like to mix and match bedside tables; they don't need to be a formal set. Try different shapes – a round bedside table on one side and a square one on the other – or other tables such as an accent table or pedestal table, for example. Think outside of the typical square box.

Bunching Table (a.k.a. stacking or nesting tables) (7)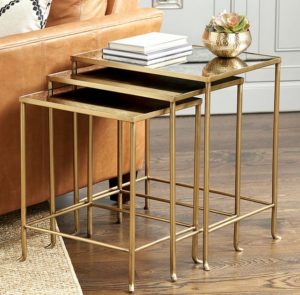 Nesting tables are cool tables that are grouped in twos or threes. They are a fun, stylish and functional way to add interest to your space.
Nesting tables are one of the most useful and flexible furnishings. These tables can neatly stack/"nest" back together to give a small space in your home appear larger.  When needed, the tables can be unstacked to hold drinks, food, or things you are using while doing work from home.
The best part….the compact storage!
 
Cigarette Table (8)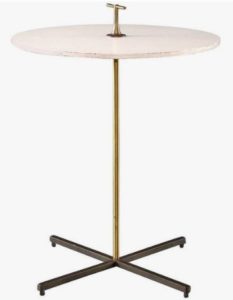 Cigarette tables are smoking hot again. The cigarette table, as one would guess by its name, once played pedestal to the ashtray. Before the 1980s, no well-dressed "chamber" could be without the ubiquitous ashtray or cigarette table.
This flexible, generally light, and mobile table has multiple uses and, because of its diminutive size, multiple locations are swift to be discovered.
The cigarette table is generally 18 to 20 inches tall and no larger than 18 inches square. As you casually place your mug of coffee, glass of sparkling water, or flute of Prosecco down, the height of these tables is in the perfect position to elegantly accept your beverage.
Try placing a cigarette table in between a set of club chairs or swivel chairs or in a home theater. The cigarette table is popping up outdoors too, in the guise of garden stools, teak cubes and stone plinths. These small tables are also useful between bulky outdoor chaise lounges and perfect for a tube of sun cream, Diet Coke and a trashy novel while soaking up the rays.

Coffee Table
Seemingly one of the most basic tables, the coffee table is typically a low table specified for use in a living or family room, in front of a sofa or in the middle of a seating arrangement. It's used for convenient placement of drinks, books or other personal items (typically candles, floral displays and decorative objects or collections).
Although simple in theory, there are an overwhelming number of coffee tables to choose from – round, square, oval, hexagonal or rectangular shaped, single plain or multi-tiered, made of metal, glass, wood, acrylic, rattan, fabric, leather, marble or a combination of these.
Consider the best shape, size, color, style and function for your space and keep in mind these basic guidelines: The proper height for a coffee table is the same height as the cushions on your sofa or 1-2 inches lower. A coffee table should be approximately two-thirds the length of your sofa. There should be between 12-18 inches of space between a coffee table and the seating surrounding it.

Console Table (a.k.a. sofa table)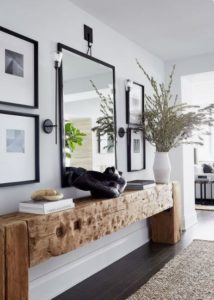 Console tables are long, thin, narrow and roughly table or desk height. They are traditionally placed behind sofas in living rooms, family rooms and libraries but can also be a nice piece for an entry way.
They can have legs, sides, or pedestals for support and can also have shelves or stretchers below the top surface or just be open underneath. They are usually rectangular but not always. One thing they usually are not is closed as in a cabinet, commode or chest. Those fall into another category, and are considered case goods. (9)
The height of a sofa table should be no taller than the sofa back, and the width shouldn't be greater than 6 inches at either end of the sofa. The average console table height is 30 inches, though designs can range anywhere from 28 inches to 32 inches in height. Because they are often placed at the back of a sofa, console tables are designed to be high enough to make it easy to reach for objects – and low enough so that they won't 'stick out' over the edge from behind a sofa. (10)

C-Table (the modern TV tray) (11)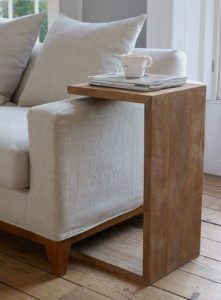 A C table is a side table with a clever cantilevered top that resembles, you guessed it, the letter C. The C table is to people of today what the tray table was to people in the 50s: a novel way to enjoy the comforts of your couch while also enjoying the comforts of your technology.
You draw your C table up to your couch, place your laptop upon it, and suddenly you are enjoying both a sofa and a desk. Or you could hold your laptop on your lap and place your food and drink on the C table, which is probably what I will do with mine.
You can also use a C table as a nightstand that doubles as a desk for reading in bed.

Dining Table (5)
Dining tables typically sit upwards of six and are usually grand affairs. They can have extra leaves to add additional setting and are usually found strictly in dining rooms and used irregularly. Standard dining room tables are either round or rectangular.
A general guideline is to allow for 18 to 24 inches for every person at your table, but that measurement can flex up or down depending on your unique space.
The recommended depth for a dining table is 30 to 36 inches (If you rely on your table for serving space, a depth of 36 inches or larger provides more room for platters, bowls, pitchers and centerpieces) and at least 36 inches between the edge of your table and other furniture or the wall. This provides enough room for someone to walk behind the chairs while others are seated or to open a door on a nearby cabinet.

Drink Table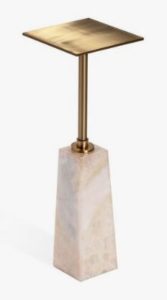 A drink table is exactly what it sounds like: an adorably tiny table to place your drink. (9)
Whatever your drink of choice, be it coffee in the morning or an after-hours cocktail, you deserve somewhere stylish to set it. Or, in my case, a piece of furniture exclusively for my glass of wine! How perfect! (12)
Drink tables can be tall but are usually on the shorter side (5) and are popping up everywhere (especially in small living spaces). Cheers to seriously functional furniture! (12)

Drop Leaf Table (13)
We're always in favor of furniture pieces that give you lots of bang for your buck, and a table that touts dual function can be an especially enticing pick. One lesser-known favorite? The drop leaf table. An undercover workhorse, the drop leaf table features two hinged leaves at either end. Pop the leaves up and it functions as a perfect dining table, or let them hang free and turn it into a console or bedside table, neatly tucked against the wall.
If you're living in cramped quarters, then you know floor space is a precious commodity. Using a drop leaf table as your kitchen or breakfast table gives you maximum flexibility. Keep your table's leaves dropped to save space, and fold them out only when needed. You can also fold out just one leaf while keeping the other leaf dropped flush against a wall. This arrangement can create a little extra kitchen workspace–a luxury that many space-crunched apartments go without.

Drum Table (5)
The drum table was created in the 1700s and is a heavy, circular table. Sometimes it's tall enough to pull up a chair to, and sometimes it has bookshelves or drawers and a tooled leather top. Today, the term sometimes simply refers to a substantial round table such as a stone coffee table.

End Table (4)
End tables are typically positioned next to a sofa like bookends. They serve as a convenient space for lighting, drink coasters, and other items within easy reach from the sofa.
Often, they come in a pair and tend to be rectangular with a height and depth that matches the sofa. They may feature a small drawer or shelf, but most end tables have a similar style.

Foyer Table
A foyer table is generally a low circular table that stands in the center of a room. (14)
Not all foyers have a table, but they are a nice convenience. A place to set down mail, keys, or purse on your way in and out of the house. Foyers may feature a table that butts up to a wall.
In a large entry that can end up looking empty, the foyer table provides a "center." For example, you can see these kinds of entry tables in the broad, open entry rooms of hotels. Large floral displays, candelabra/lanterns or collections of vases are a nice decorative touch for these tables. (14)

Ottoman Table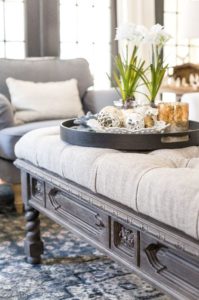 A terrific multi-purpose table option is an ottoman that doubles as a table. You can buy some large ottomans with a flat top designed also to serve as a table or use two smaller ottomans. Perhaps this furniture concept developed as a result of people always putting their feet up on coffee tables. (5)
Place a tray on top of fabric/cushioned ottomans to place drinks so they don't spill. Arrange stacked books, candles and a floral display on the tray.

Pedestal Table (15)
Stylish, architectural, and just plain useful, pedestal tables are near and dear to our hearts.
This style of table typically falls within two size categories—side table, which can be anywhere from 19 to 30 inches across, and full size, which measure in at around 50 to 60 inches across. We're diehard fans of both, but it's up to you to decide which size best fits your needs.
This table can do just about anything. Use a large pedestal table to anchor an entry way, as a desk, in lieu of a coffee table or in a dining room. Use a small pedestal table as a nightstand, in a breakfast nook or as a side table.

Kitchen Table (5)
You'll typically find kitchen tables in (ahem) kitchens. It's because they are workhorses, designed to be used daily by the family for meals, play, crafts, work and more. Sometimes they are only large enough to seat two (although usually, in that case, they're known as bistro tables). But more often they sit four to six people.

Pub Table (a.k.a. Highboy or Bar Table)
Pub tables, also called bar tables, measure around 42 inches tall. When selecting a chair to coordinate with a pub table, the seat height of the chair should measure 10 to 12 inches less than the height of the tabletop. (16)
Pub tables are making their way into homes as well as pubs and restaurants. Incorporate this furniture piece in your kitchen, game room, wine cellar, dining room or patio.

Refectory Table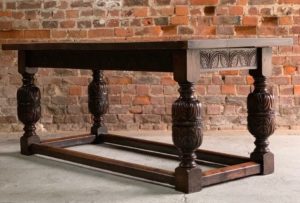 A refectory table is a highly elongated table used originally for dining in monasteries in Medieval times. In the Late Middle Ages the table gradually became a banqueting or feasting table in castles and other noble residences. The original table manufacture was by hand and created of oak or walnut; the design is based on a trestle-style. Typically the table legs are supported by circumferential stretchers positioned very low to the floor. (17)
There is a contradicting belief that claims a lack of evidence attributing any such surviving table to a monastic refectory, however. Instead, this style of table (four or more legs joined by rails and stretchers, with a fixed planked top i.e. 'joined long table'), can be assigned more accurately to domestic households during the latter half of the sixteenth century, and onwards, rather than monasteries, abbeys, priories and the like. (18)

Side Table (10)
Just as its name suggests, a side table is placed beside a piece of furniture a person would sit on, such as a couch or a bed. Its main purpose is to ensure that essential items are within easy reach.
When choosing the style and material of your side tables, remember that they aren't the focal point of your room. They usually match or complement the overall style, and are useful for introducing a new element such as color or texture.
That doesn't mean you can't have unmatched side tables in unusual shapes and materials, but to keep a sense of balance, choose tables of similar size and visual weight. This lets the side table fade into the background while the other, larger pieces become the focus of the room.

Trestle Table
A trestle table is an item of furniture consisting of two or three trestle supports linked by a longitudinal cross-member over which a board or tabletop is placed. In the Middle Ages, the trestle table was often little more than loose boards over trestle legs for ease of assembly and storage. (19)
This simple, collapsible style remained the most common Western form of table until the 16th century, when the basic trestle design gave way to stronger frame-based structures such as gateleg and refectory tables. (19)
Ease of assembly and storage has made it the ideal occasional table, and it remains a popular form of dining table, as those seated are not so inconvenienced as they might be with the more usual arrangement of a fixed leg at each corner. (19)
Trestle tables are more closely linked to traditional or rustic home styles and match well with benches. Trestle tables can feature live edges, which has become a very popular trend beyond traditional and rustic styles. (20)
---
Sources:
1. https://www.britannica.com/topic/table-furniture
2. https://en.wikipedia.org/wiki/Table_(furniture)
3. https://www.thespruce.com/ways-to-use-accent-furniture-1391610
4. https://www.furniture.com/tips-and-trends/difference-between-accent-tables-and-end-tables
5. https://www.homestratosphere.com/tables/
6. https://www.furniture.com/tips-and-trends/how-tall-should-a-nightstand-be
7. http://jenniferlynninteriors.com/stylislyyoursblog/2016/2/26/nesting-tables-what-are-they-all-about
8. http://www.27east.com/news/article.cfm/news/205806/Cigarette-tables-are-smoking-hot-again
9. https://wpldesign.com/console-table-sofa-table/
10. https://www.livingspaces.com/inspiration/ideas-advice/shopping-basics/what-is-the-difference-between-a-console-table-and-side-table
11. https://www.apartmenttherapy.com/the-modern-tv-tray-10-stylish-c-tables-215988
12. https://www.elledecor.com/shopping/furniture/g13043826/drink-table/
13. https://www.chairish.com/blog/drop-leaf-table-guide/
14. https://ohmyapt.apartmentratings.com/entry-tables-form-and-function.html
15. https://www.onekingslane.com/live-love-home/the-essential-guide-to-the-pedestal-table/
16. https://www.hunker.com/13404237/pub-table-height-vs-chair-height
17. https://en.wikipedia.org/wiki/Refectory_table
18. https://www.earlyoakreproductions.co.uk/news-blog/oak-furniture-history/news-blog-5290-what-is-a-refectory-table.php
19. https://en.wikipedia.org/wiki/Trestle_table
20. https://www.homedit.com/trestle-dining-table/