It's fireplace season! Time to enjoy a steaming cup of hot chocolate or glass of mulled wine while curled up next to a cracking, roaring fire. Sounds delightful!
Not only do fireplaces add warmth and comfort, they also create a dramatic focal point in any room, provide the perfect backdrop for entertaining and add value to your home. But with so many options to choose from, selecting the right one can be overwhelming. Read on to learn about the types of fireplaces and the pros and cons of each so you can find the one that's right for you.
Wood Burning Fireplace
Essentially, a standard wood-burning fireplace comprises these elements: Hearth (floor in front of the fireplace), Firebox (where the wood burns), Damper (the lever that opens and closes the flue) and the Smoke chamber and flue (where the smoke is drawn up and out).
There are three types of wood burning fireplaces:
Open Masonry Fireplaces – Open, inefficient wood fireplaces made of stone or brick typically found in homes built prior to 1980.
Wood Fireplace Inserts (Prefab) – Sealed fireboxes that are inserted inside existing masonry fireplaces to increase heating efficiency.
Wood Stoves – High-capacity freestanding fireplaces that are perfect for heating large areas or homes in extra cold/remote areas. More on this one later.
How it Functions
Before lighting a fire, the damper is opened to allow smoke and combustion gases to escape. Once the fire is lit, the extremely hot combustion gases begin to rise up the chimney by convection. At the same time, the fire is drawing air from the home for combustion.
Pros
Nothing beats a wood burning fireplace – it creates a cozy atmosphere with its crackling fire and woody smell, creates family moments of nostalgia, creates a focal point in any room and doesn't require a gas line and adds value to a home (by as much as $12,000!).
Cons
A wood burning fireplace is not without its drawbacks however. It's more time-consuming to light, requires maintenance of sweeping embers and annual flue inspections/cleaning, is a less efficient heat source, can produce unwanted smoke, is harder to install, is more expensive and requires the purchase and storage of wood as its fuel.
Cost
A brick wood burning fireplace can cost between $8,500 – $22,000: $5,500 to $11,000 for labor and materials; $2,500 to $10,000 install depending upon whether if there is a chimney in place; $500 and $1,000 installing a new firebox and $60 to $95 per linear foot.
http://mychimpro.com/everything-you-need-to-know-wood-fireplaces/
https://ibuyer.com/blog/does-a-fireplace-add-value-to-your-home/
https://www.fixr.com/comparisons/wood-vs-gas-fireplace
Electric Fireplace
An electric fireplace is an electric heater that mimics a traditional wood or gas burning fireplace. It is often placed on a wall or inside conventional fireplaces which are no longer used for conventional fires.
How it Functions
Electric fireplaces create flame imitation by projecting LED lights onto a screen in a randomized pattern. Some models only have one line of LED lights at the bottom while others have two or more LED strips for added flame color options, depth, and realism. Most electric fireplaces have a built-in heater that works independently from the flame so you can turn the heat off and enjoy the flames of electric fireplaces year-round.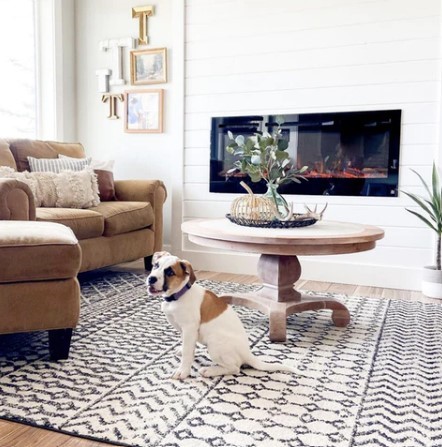 Pros
Electric fireplaces are generally more affordable than any other kind of fireplaces. They are also easy to install. In fact, a lot of them are ready to go right out of the box. Just plug them in.
Electric fireplaces create an ambiance of a fireplace without any of the mess that comes with a traditional wood fireplace. Therefore, they don't pollute the air inside your home since there is no actual burning. This is a very big benefit, especially for people with asthma, other breathing problems, or are just conscious about their health.
Electric fireplaces are great sources of supplemental heat. They are 99% efficient, meaning that there's no loss of energy as all of it is converted into heat. Electric fireplaces can be placed in any room to add warmth thus helping you save on your heating bill. Electric fireplaces stay cool to the touch which makes them safe to have around small children and pets.
Your electric fireplace will bring you joy for years with its long-lasting LED lights. Once installed, there is nothing else you need to do. Just dust it off occasionally.
Cons
Despite the ease of installation and use, there are drawbacks to the electric fireplace. They do notproduce real flames and therefore lack the real fire sounds and smells. They also can't work without electricity (therefore, it must be installed near an electrical outlet and won't work in a power outage).
Additionally, electric fireplaces can't heat the whole house, have non-serviceable parts and have a shorter lifespan.
Probably the biggest drawback from an interior design perspective, is that they can look tacky.
Installation
Most models of electric fireplaces can simply be plugged into a standard household outlet. However, you need to make sure that this outlet is on a dedicated circuit breaker or fuse. A dedicated circuit breaker means that this breaker is not shared with any other outlets or lighting fixtures and serves only one outlet. Never plug in your electric fireplace to an extension cord!
If your electric fireplace is a built-in model that needs to be hardwired, a new circuit breaker and wiring is required. Make sure to always follow the manufacturer's instructions provided in the product manual.
Cost
Electric fireplaces cost $0.22 per hour, $7.58 per week and $32.50 per month to run, on average, in the US. As a result, on average electric fireplaces increase monthly US electricity bills by 28.3%. They can range between $500-$3,000+.
Your Ultimate Guide To Electric Fireplaces (2022 Edition) — Modern Blaze
Electric Fireplace Pros & Cons (The Complete Guide) (fireplaceuniverse.com)
Cost To Run An Electric Fireplace [8 $ Saving Tips + Calc] (ecocostsavings.com)
Gas Fireplace
A gas fireplace is what most people think about when they think of a fireplace. They are built into the wall typically as part of a major renovation or new construction. Using natural gas or propane, gas inserts burn a real flame that emulates the look of a traditional fireplace without the hassle of burning wood.
How it Functions
Just flip the switch, and voila! You have fire!
Keep in mind, you will need venting for a gas fireplace. There are three types of vent systems, which one needed will be determined by the type of gas fireplace and the best vent option for your home. These are Direct, Ventless or Natural (B-Vent). Direct Vent fireplaces are the most popular option, while Ventless fireplaces give you flexibility with installation and don't require a chimney. B-Vent is the least popular, but has the most realistic flame appearance.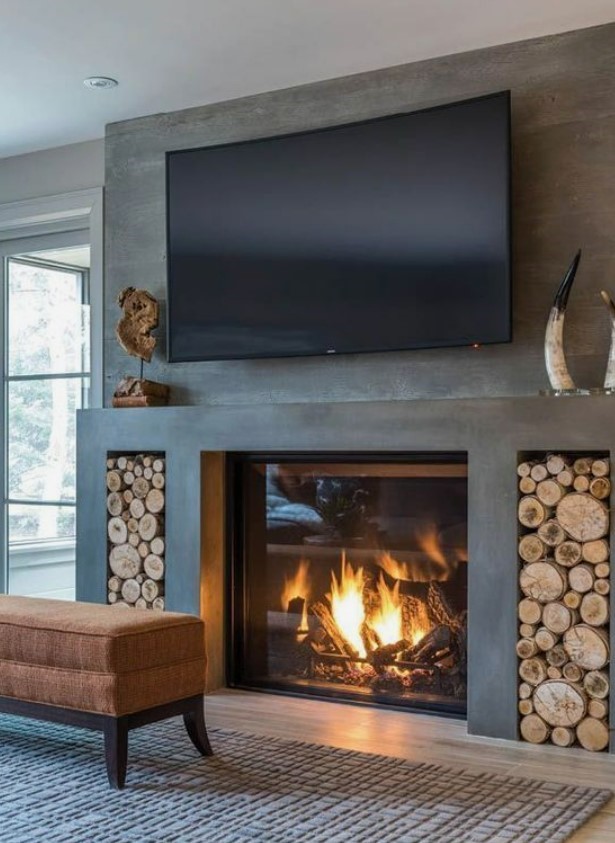 Pros
Gas fireplaces are easy to enjoy -No more hauling dirty firewood or dealing with smoke and byproducts every time you want to enjoy a soothing fire. Just flip the switch or tap your remote and let the relaxation begin!
They can also reduce your yearly heating costs.Heat the area of the home where you spend the most time (often the great room or basement) with a gas fireplace by turning the thermostat down and the fireplace up. This keeps those rooms warm and comfortable and reduces the amount of money spent heating rooms that aren't in use. When equipped with an Intellifire ignition system, a gas fireplace will provide an ignition flame only when needed and has a battery backup system that supplies power to spark the ignition flame in the event of a power outage. This means even more energy and cost savings. Gas fireplaces are low maintenance and convenient to use. No sweeping or chimney sweeps or need to purchase and store wood. All that's needed to turn on and off a gas fireplace is a switch. Yes, that's it!
Cons
Gas fireplaces have sealed glass. While this part is a necessary component to a safe fireplace, it is inconvenient for people who truly enjoy the feel of heat on their skin.
They have a smaller flame. Again, if you really love sitting in front of the fire to keep warm, a gas fireplace's flame is smaller than that of a wood burning one or even an electric one, depending on its size.
Gas fireplaces are less picturesque. This con is based mostly on personal preference, but it is a big one for some, so that's why we're including it. The advantage of a wood-burning fireplace is that it really gives off the sounds, smells, and heat we've all come to expect from fire, which can make us feel cozy and warm. A gas fireplace's flames tend to be blue (the hottest type of flame), but it doesn't leave you with that homey or even nostalgic experience quite the same way a wood fire does.
The logs' position can't be changed. Some people prefer the ability to change the position of the ceramic logs in a fireplace, but this is a bad idea especially if your gas fireplace is a direct vent one. If the logs' position and look is changed, incomplete combustion can and will occur.
Professional maintenance is required. While not entirely a downside, a gas fireplace does need professional maintenance more so than a wood-burning one. Wood-burning fireplaces are easier to clean, while gas ones require annual service in order to ensure top performance.
Installation
Depending on the chimney you have and the gas fireplace you choose, you'll either need co-axial venting or co-linear venting.
Cost
Gas fireplaces are not as expensive as you might think. Adding a gas fireplace can cost as little as $6,000 installed, resulting in a dramatic transformation to be enjoyed for many years to come.
10 Reasons to Add a Gas Fireplace to Your Home | Heat & Glo (heatnglo.com)
The Pros and Cons of Owning a Gas Fireplace – Rep-Air Heating and Cooling (repairheatingandcooling.com)
Types of Gas Fireplaces | Styles & Venting Explained | Regency (regency-fire.com)
Gas Fireplace Buying Guide | WoodlandDirect.com
Ethanol Fireplace
A bio fireplace (also known as bio-ethanol fireplace, ethanol fireplace) is a type of fireplace or furnace with combined zones for generation of heat and technological process – combustion of fuel (denatured alcohol). This fireplace does not require a chimney and gives off a real flame, not imitation. Installation is possible at any place in the room.
How it Functions
Ethanol fireplaces work similarly to a candle. They burn alcohol-based ethanol fuel. You put fuel into the burner container and light it up with a long lighter. In many models, the size of the flame can be controlled by reducing the burner opening. You can turn it off anytime by closing the burner completely.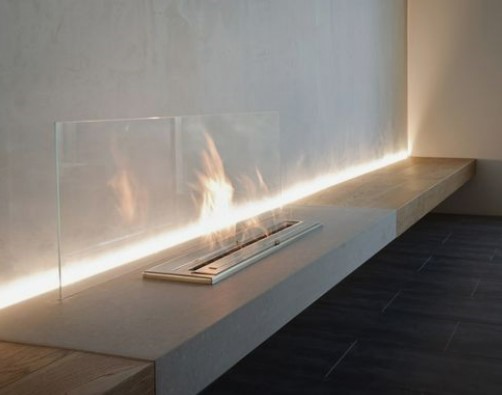 Pros
Bio-ethanol fuel is a superior, environmentally-friendly, biodegradable, and renewable fuel source made by fermenting sugars from sugar cane, beets, potatoes, and other plants.
Ethanol fireplaces are vent-free and offer easy installation. And, there's no cleanup required after igniting a bio-ethanol fireplace either.
While traditional fireplaces such as natural gas fireplaces release toxins into the air, bio-ethanol fireplace fuel burns cleanly, with the only byproducts being small amounts of water vapor and carbon dioxide.
Ethanol fireplaces produce a real fire that provides ample light and heat for an entire room. The dancing flames are bright, and you'll be surprised by how much heat they can produce while lighting up your space. Ethanol fireplaces produce a real fire that provides ample light and heat for an entire room.
Cons
Ethanol fireplaces do not generate a lot of heat so they can't supplement your home's heating system.
But's here's some terrible news. Companies that make these decorative appliances claim they're eco-friendly and safe to use. However, a recent study revealed that ethanol fireplaces pollute indoor air and are highly combustible. Yikes!
Here's more: Since ethanol fireplaces are ventless, they will use the room they are in as a flue. As the fire sucks in oxygen, it emits carbon dioxide and trace amounts of combustible particles. When these pollutants are inhaled, they can penetrate deep into the lungs. Repeated exposure to these pollutants can cause severe health issues according to a study by Fraunhofer Institute for Wood Research.
Installation
They don't require venting, flue, chimneys, gas lines, or outlets, allowing these unique fireplaces to be installed virtually anywhere.
Cost
One liter/quart of bio-ethanol will burn for around 4 hours. The cost of 1 liter of bio-ethanol varies depending on place and quantity of purchase. On average, they cost US $10 per liter (price subject to change).
1 liter = 4 hours (minimum) = $10. Therefore, 1 hour will cost you about $2.5
To put it into perspective, in order to operate a 40,000 BTU/hour gas fireplace it would cost you roughly around $0.50/hour to operate for natural gas and about $1.61/hour for propane.
What is an Ethanol Fireplace? The Complete Guide To Bio Fireplaces — Modern Blaze
Using an Ethanol Fireplace in a Small Home (thespruce.com)
Freestanding Stove
A freestanding, or stand-alone, fireplace is essentially what it sounds like. It's free-standing, so it doesn't have to be built into a home the way a traditional fireplace does. Some freestanding stoves are on legs, others on pedestals, but all sit at least a few inches above the floor.
How it functions
Freestanding stoves can be wood-burning, gas or electric and are decorative and functional, bringing stateliness, warm vibes, and real heat into a home.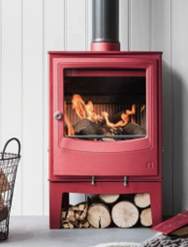 Pros
Freestanding fireplaces can be an attractive option for homeowners who want a fireplace but don't have the budget to install one in their home, as free-standing fireplaces generally cost less overall and don't require a big project.
You have alternatives when it comes to your fireplace location if you go with a freestanding one too. You can optimize your fireplace's heat output by placing it somewhere central so the heat can radiate in all directions.
Cons
Here's where a built-in fireplace pulls ahead. There's just no comparison between a classic, built-in fireplace and a free-standing model when it comes to the aesthetic value they bring to a home. If you're dead set on having the traditional fireplace look or are hoping to increase your home's value, you'll likely have to bite the bullet and incur the costs of a built-in fireplace installation.
Installation
Installing a freestanding fireplace is easier than a built-in, but there is some installation needed depending on the type you get (wood burning, gas or electric).
Wood fireplaces always need a venting system, so if you choose to get a wood stove, be sure to factor in the cost of having a chimney pipe installed.
Certain types of gas fireplaces may need ventilation as well. If you don't want to go through the trouble of having a pipe installed, you might consider a ventless gas fireplace, which doesn't need to vent to the outside. However, there is some debate over how safe these types of fireplaces are, so be sure to do your research before buying one and learn how to properly use the appliance so you don't create any safety hazards in your home.
With either type of gas fireplace, you will have to have it hooked up to a gas line, so be sure to consider the expense of installing a gas line or having a new line added as part of your total costs.
The lowest maintenance and generally cheapest option is a free-standing electric fireplace, which generates heat using electricity rather than combustion. These are easy to install, easy to use and don't require a ton of upkeep. However, they won't deliver as much heat as other types of fireplaces. They can also be pretty expensive if you want a high-end, stylish model.
Cost
It can be costly to have a fireplace added if your house does have one already. But there is a less costly option: the freestanding fireplace. Having a built-in fireplace installed can cost $10,000 according to HouseLogic.com. Comparatively, HomeAdvisor.com says wood stoves cost $3,000-$4,000, including installation, while other types of freestanding units often cost much less.
Should You Get a Free-Standing Fireplace? | Quicken Loans
Outdoor Fireplace
An outdoor fireplace is just that – a place for building fires outside of the home. Similar in construction to an indoor fireplace, an outdoor fireplace is usually added to a stone, brick, or concrete patio. It often consists of a firebox and a chimney. The firebox is typically constructed with a smoke shelve incorporated although straight firebox designs are not uncommon since chimney draft is not always a concern for an outdoor fireplace.
While indoor fireplaces are traditionally designed for heating, an outdoor fireplace is usually used for cooking. Many are designed to double as wood-fired ovens that allow homeowners to create mealssuch as pizzas. An outdoor fireplace can simply be a decorative element also, which allows homeowners to enjoy a crackling fire while entertaining in the backyard.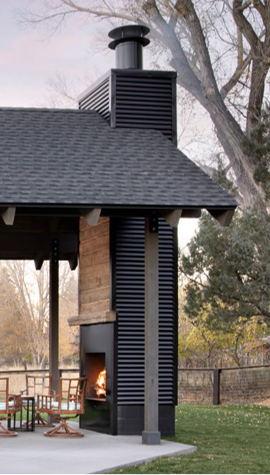 How it Functions
Outdoor fireplaces are made of stone, stucco, stainless steel, or other materials, and have a number of options for fuel. While some DIY or home-built outdoor fireplaces may use wood for fuel, most high-quality fireplaces use propane to burn more cleanly, efficiently, and reliably. It is also possible to run a natural gas line to an outdoor fireplace in some cases, but this is generally difficult.
Pros
Outdoor fireplaces are among the trendiest and most sought-after outdoor features. The addition of an outdoor fireplace will add both character and value to your home. It will provide a warm gathering place where family and friends can make lasting memories together.
Depending on the fuel, model, and other factors outdoor fireplaces generally have BTU outputs between 30,000 and 100,000. That's nothing to take lightly. While we wouldn't expect anyone to be having any mid-January backyard pajama parties thanks to their fireplace, they're perfect for making a chilly evening on the patio cozy and comfortable.
Cons
As with indoor fireplaces, an outdoor fireplace requires cleaning and maintenance to keep it looking and working at its best. While an outdoor fireplace may not need to be cleaned as often, it will need to be cleaned regularly in order to keep it reasonably tidy and maintained and to remove ash build.
Installation
Be aware of local codes before installing your outdoor fireplace. Consider the distance to the nearest structure, proximity to your property line, chimney height, etc.
Cost
Cost depends on a number of factors, including brand, model, installation, and more. A simple wood-burning fireplace could go for as little as a few hundred dollars, while high-quality propane models sometimes sell for several thousand. If you want an outdoor fireplace, you should be able to find something in your price range.
Everything You Need to Know about Outdoor Fireplaces – Brothers Pool Blog
Pros and Cons of Different Outdoor Fireplaces – US Brick and Block
Call Talie Jane Interiors at 855-TALIE JANE (855-825-4352) for help with your fireplace design.
Article by the Talie Jane Interiors team.
Images sourced from Pinterest.