A staple in the 1960s and '70s, grasscloth wallpaper has lately become a hot commodity. A natural material, it's one of the most versatile decor items, complementing almost any design style from tropical to rustic, traditional to modern. (1)
It offers unmatched visual texture for walls, ups the elegance quotient and can provide distinctive color too. (2)
But despite its good looks, and timeless yet trendy design, grasscloth is a "fussy baby" in the big family of wallcoverings. It is delicate and isn't exactly a breeze to install — but it's worth it when done right. If you're considering grasscloth, here's what you need to know. (1)

What is Grasscloth Wallpaper?
Grasscloth is an umbrella term commonly used to describe wallcovering made from hand-woven strands of natural fibers on an unpasted rice paper backing. The fibers include hemp, jute, sisal, cork, reed, sea grass, arrowroot grass, bamboo and raffia. (1)
These materials are usually woven together through a complicated process using thin cotton threads and sea grass strands. (3) Most grass-cloth wallpapers have a single linear texture that's usually installed vertically, although some may have a basket-weave pattern that offers both vertical and horizontal patterning. (2)
While grasscloth fell out of favor for a while, it's recently come back into the spotlight in part because it's natural and eco-friendly. (4)

History (5)
Asian wall coverings made from silk or grass are among the oldest wallpapers we know of. Around 107 – 220 AD, wall treatments were already made from elaborately embroidered silk in China. The grass wallpapers we know and love today also originated in ancient China.
Compared to expensive silk wallpapers, they were much cheaper to produce, and they also provided fantastic heat insulation. It didn't take long until they became a very popular wall treatment all over Asia, and soon they reached European shores via maritime trade routes.

Advantages (5)
There are many advantages to natural, grasscloth wallpapers. Here are just a few:
Sustainable: Environmentally friendly
Suitable: Appropriate for a large array of interior design concepts
Breathable: Higher permeability allows the transfer of water vapor from the wall cavity to the open air of the room
Comfortable: Provides humidity regulation, sound and heat insulation and a calming ambiance
Disadvantages (1)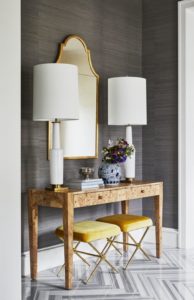 Despite being the perfect backdrop to most any decor style, grasscloth isn't the right choice for every room in your house. Living rooms, dining rooms, studies and bedrooms are generally better rooms to indulge one's grasscloth fantasies. Here's why:
Water woes: Grasscloth's nemesis is water. Some grasscloth fiber types are more forgiving than others, but in general, it is highly susceptible to water marks after making contact with water or high humidity. In keeping with the natural material theme, many grasscloth wallpapers are also colored with natural dyes, which can actually bleed off onto other materials and furnishings.
Cleaning: Because water and grasscloth don't mix, grasscloth wallpaper can't be cleaned in the traditional sense (I'll touch on maintenance later). So, installing grasscloth near a sink where it can be easily splashed or around a toilet can be a hygienic disaster.
Claws for concern: Many cats find the natural scent and texture of grasscloth wallpaper irresistible for sharpening claws. If you have indoor cats, it may be prudent to install grasscloth wallpaper above a chair rail instead of the entire wall length.
No easy cure for bangs and bumps: Grasscloth wallcovering is somewhat delicate and, unlike standard printed wallpaper, doesn't take patched repairs well without being noticeable. Be careful about installing grasscloth in hallways, especially narrow ones, where it may be frequently banged by passers-by or furniture moving.
Not so sunny: Like many other natural materials, grasscloth wallpaper, especially those dyed dark colors, can fade in sunlight. Although grasscloth may seem like a perfect wallcovering for your sunroom, its lifetime there will likely be curtailed. Instead, interior rooms or those with adequate window shades (or an architectural overhang, such as the exterior porch in this example) are better alternatives.
Pricing: Grasscloth tends to be rather pricey. Although yardage can vary, most bolt prices range from $100 to $550, with the average from $200 to $250. (1)
Use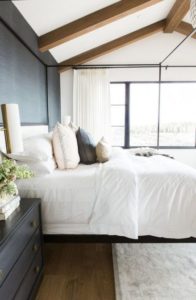 Grasscloth wallpaper adds natural texture and color to a room, and its sophisticated aesthetic can be applied to a range of styles, whether contemporary or traditional. But generally, grasscloth wallpaper doesn't withstand either high traffic or moisture, making it unsuitable for a number of rooms. For examples, hallways with lots of foot traffic, kitchens which often endure food splatters and spills, humid bathrooms with a shower or tub, or walls close to t toilet in a half bath should be avoided. (2)
In all other areas, it is entirely up to individual preferences whether a gorgeous grass wallpaper is used for just one feature wall or for the entire room. Furthermore, the delicate pattern structures do not have a major impact on the layout of a room (as opposed to, say, large-scale geometric patterns etc.). The only aspects to consider are the size of the room, and the amount and type of light. (5)
Less is more – natural wallpapers benefit from clear shapes and simplicity. This is why they are perfect for Asian-style furniture with their sought-after minimalistic purism. Retro revival styles like the Mid-Century Look or a modern take on the Country Look take full advantage of the beauty of grasscloth wallpaper. (5)
Bright artificial colors are not the best fit for natural wallpaper materials; we recommend to choose subtle natural hues or neutral tones for furnishings and accessories. (5)
Natural materials like wood, bamboo, stone or plants and flowers emphasize the unique character of grass wallpapers beautifully. Having said that, metal or plastic elements provide an interesting contrast if furniture and accessories are kept simple, modern or abstract. (5)


Purchasing Considerations
▸ Variation
Like snowflakes, no two strands of grass are the exact same. Therefore, it is impossible to match one piece of grasscloth to another. Imperfections and slight variations of color are inherent in natural materials, but that is part of what makes the finished product so beautiful. (3)
Fibers on one roll may vary in size, color or value from the next roll. The horizontal filaments will never line up side-to-side from one roll to another and the striated pattern will look offset up on the wall, resulting in a paneled effect. (1)
In fact, the variation can be so inconsistent that many people initially cite a manufacturing defect. Most manufacturers disclose a disclaimer about grasscloth being a natural, hand-made product. (1)
Don't worry! It's not designed to be matched. You should expect grasscloth rolls — unlike other types of wall covering made in controlled factory conditions, such as printed papers — to be (delightfully) inconsistent. (1)

▸ Packaging
Grasscloth Is Packaged Differently Than Standard Wallpaper. It has different dimensions than standard wallpaper does because the sheets are wider. A double roll of grasscloth measures 36 inches wide by 24 feet long.  Most other wall coverings have standard double roll width sizes of 27 inches and 21 inches respectively. (3)

▸ Installation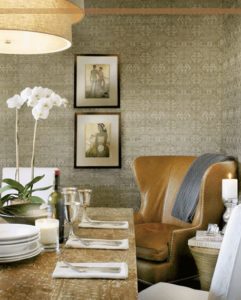 Grasscloth is one of the most challenging wall coverings to install. There are likely a few DIY-er's out there who have had great success. Compared with standard wallpaper, its installation is different and requires specialized know-how, tools and impeccable wall prep with particular materials, not to mention an approximately doubled installation time. Not all experienced wallpaper installers are competent with grasscloth installation, so be sure to hire one who is. (1)

Here's a lowdown on some of its installation complexities:

▸ Maintenance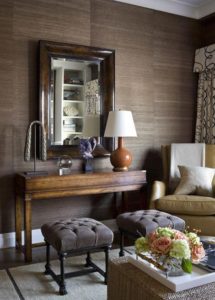 Grasscloth wallpapers are water-resistant but not "washable" or "scrubbable" like other wall coverings. This means that they cannot be cleaned with water, and removing stains is a delicate process. (5)
If the stain is fresh, it should be removed with a clean paper towel and the area should then be dabbed very carefully with a damp cloth without rubbing or soaking the wallpaper. (5)
Some manufacturer cleaning instructions indicate to "wipe gently," but because the finish on some grasscloths can dull with the slightest contact with water, it's always a good idea to first test it on a leftover piece or an inconspicuous area. Grasscloth can also be lightly vacuumed to remove surface dirt and dust. Just be careful not to abrade the surface. (1)

▸ Synthetics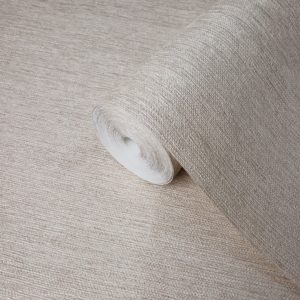 If you'd love grasscloth wallpaper in your home but find it too finicky, don't despair. There are some vinyl grasscloth alternatives on the market. (1)
Wallpaper manufacturers are getting better at making these "fakes" seem more real and lifelike every single year. Sometimes you can even find a better print that cuts down on that non-matching look, if that is a sticking point for you. (3)
Some of the faux grasscloth patterns from certain designer collections, like Candice Olson's Luxury Finishes, are made so detailed with the design, color, and texture, that you can barely tell it's not authentic unless you get really close and touch it. We would highly recommend faux grasscloth for high traffic areas, homes with small children, or for bathrooms with showers that don't have exhaust fans. (3)
---
Sources:
1. https://www.houzz.com/magazine/roll-call-why-trendy-but-tricky-grasscloth-wallpaper-is-worth-it-stsetivw-vs~75802704
2. https://www.bhg.com/home-improvement/walls/wallpapering/grasscloth-wallpaper/
3. https://totalwallcovering.com/blog/the-absolute-beginners-guide-to-grasscloth-wallpaper/
4. http://blog.wallpaperwarehouse.com/what-is-grass-cloth-wallpaper/
5. https://www.wallpaperfromthe70s.com/lookbook/blog/grasscloth-wallpapers-what-you-should-know-about-this-gorgeous-natural-wallpaper

Images courtesy of Pinterest and wallpaperfromthe70s.com.