We are always looking for ways to add storage, whether our bathroom needs a place for spare towels, or our living room needs a home for a library collection.
Most people think of shelving as a way to display art and accessories, but if done correctly, floating shelves can display everyday household items AS art. What's the best part about adding shelving storage solutions? They are 100% customizable, relatively inexpensive and require little tools to install.

What to load them with
Since shelves are exposed, they can be a less ideal solution when finding a home for personal items. Gather items you wouldn't think of putting out in the open. These interesting pieces can act as beautiful design accessories. Save the closed storage for clutter.

▸ In the kitchen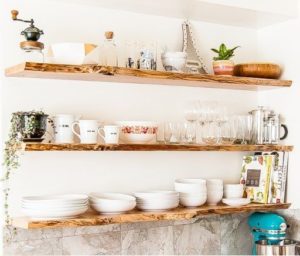 Recipe books, cake stands and serving dishes can be placed on the top row. These hard-to-reach items will not be used every day and don't need to be as easily accessible. Stack matching plates, bowls and dishes for easy, daily access. Accessorize with greenery and some serving dishes and voila, you have storage as art!
▸ In the bathroom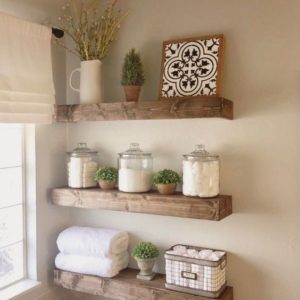 Fill glass jars with everyday essentials like Q-Tips and cotton balls. Get a cute basket to house spare toilet paper rolls and save the vanity storage for messy personal belongings. Roll or fold spare towels and place on higher shelves.
Not only do these items look great, but guests will have easy access to needed essentials.
▸ In the bedroom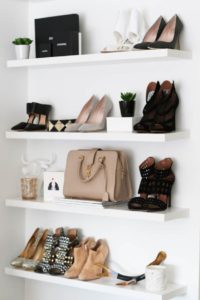 Bedrooms always seem to be overflowing with personal items. Incorporate your fashion accessories such as hats, shoes, purses and jewelry out of the closet and display them in an organized manner. This display creates décor and art using some of your favorite stylish fashions.
Where to put them
Floating shelves do not have to be limited to a bedroom or living room. Here are some unique spaces to add floating shelves for instant storage:


>
Where to buy them
The beauty of the internet! With online DIY shops like Etsy, finding custom floating shelves is relatively easy. Most shelves come in standard sizes, but some companies offer custom sizing. You provide the proper specifications needed (i.e. length, depth, and height) and these companies create just what you're looking for. Try Lowes and Home Depot first before going the custom route. These superstores carry limited stocked sizes and finishes but it's worth a look-see in order to be most budget conscious.

Trending Now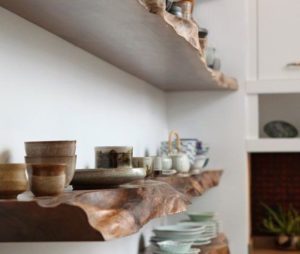 There are hundreds of different wood species, stains and finishes for any design aesthetic. With the increasing popularity Hygge or "cozy" design, floating shelves made from rustic or reclaimed woods have become extremely popular. The more natural wood species such as pine, hickory and cedar provide a warm touch with a nice texture.
Live-edge slabs used as floating shelves provides anything from a clean mid-century modern feel to a rustic mountain vibe. The rounded edges found naturally in these slabs will soften spaces. Try live edge wood shelving in the kitchen where the juxtaposition between natural, organic materials and heavy, linear structures really shines.(1)
Open shelving, in place of upper cabinetry in the kitchen, has become a hot design trend in the last year. Having open shelving instead of upper cabinets gives a kitchen an open, airy feel. Floating shelves are much less bulky than traditional closed-door cabinet boxes, allowing for light to travel and give the illusion of more space, a great benefit for smaller kitchens. With the attention placed back on the walls, shelving as upper storage allows for a show-stopping tile display. Use this space to create a beautiful counter-to-ceiling tile wall or backsplash slab feature. (2)

Designer Tips and Tricks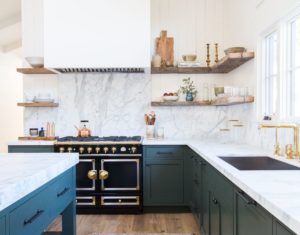 Order paint-grade wood shelves, to the exact size of your niche. If Finished in the same color as the wall, your shelves will appear to be a customized built-in feature.
Avoid overloading wall shelving, otherwise the space can look cluttered. (3)
Create a harmonious look by keeping similar items together.
Install the bottom of the first shelf 4' – 4.5' off the ground. In kitchens, start around 2' from the top of the counter to the bottom of the shelf, and adjust as needed.
Consider 16" as a standard spacing between shelves. Depending on what you intend to store, you may want them closer or further apart.
Start with shelves 10" depth and increase as needed for the sized of your storage/display items.
WRITTEN BY Karly Deal for Talie Jane Interiors
---

Sources:
1 – https://www.hayneedle.com/tips-and-ideas/live-edge-furniture-trend/
2 – https://www.rcwilley.com/blogs/Room-To-Talk/34/2018/8/7861/Trend-Alert-No-Upper-Kitchen-Cabinets
3 – https://sebringdesignbuild.com/top-trends-in-kitchen-cabinetry-design/