Granny Chic, Modsy

Not surprising, the trends for the next year are expected to revolve around reactions and feelings invoked during the 2020 pandemic. The theme for the next year's design trends can be described in a few words:

Nostalgia
Connection with Nature
Comfort
Calm
Personal Expression
1. Granny Chic style (1)
The biggest trend in the upcoming year is the Grand-Millennial style or fondly referred to as "Granny Chic". It is an ode to traditional design, with a modern twist.
With the world stuck in a pandemic and people spending more time in their homes, personalized design is becoming more popular. With a mix of patterns, colors, and texture, the Granny Chic look reflects the millennials' desire for spaces to show their individuality.
"At the heart of this trending design style that falls halfway between minimalism and maximalism is a sense of juxtaposition," says interior designer Stefani Stein.
This modern take on a traditional style adopts old-school trends like patterned upholstery, floral wallpaper, and wicker furniture, with a fresh spin. The style remains nostalgic and comfortable – a much needed feeling in this unprecedented situation.

2. In harmony with nature
With the pandemic-imposed stay-at-home restrictions, people are longing to be in touch with nature. And, in order to maintain a certain level of connection with nature and to improve health, psyche and an overall ecosystem, people are transitioning toward design trends that bring nature inside their homes. (2) This idea is being translated into multiple variations. Some of the popular trends are:

► Plants
Indoor plants made a comeback. With a lot of people sheltering-in-place and taking up hobbies like gardening, biophilic design has entered the mainstream conversation. The use of reclaimed wood in design, hanging plants, and living walls are some of the main trends that will shape interior design in the coming years. (2)

► Natural fabrics, wicker, and rattan furniture
People are thinking more about sustainable materials. The usage of natural materials with different textures such as cane, jute, wood, leather, ceramic, wicker, rattan, hemp, and other organic fibers will be a major trend in the upcoming year. (3) Even fabrics used for furniture and bed sheets are seeing a shift to natural fibers rather than synthetic ones.
► Natural light
Lighting is an important aspect of interior design; in fact, the perfect lighting can transform a space. Natural light has a tendency to make any room feel more spacious. With the increase in people's desire to be in harmony with nature, seeking natural light has been a key trend in the past year and is only projected to increase.

3. Comfortable furniture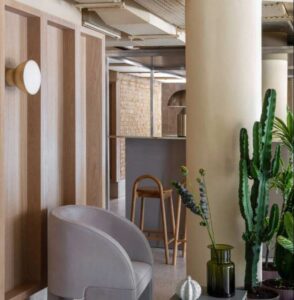 As we have discussed, the majority of the design trends for 2021 are determined and fueled by the pandemic and the need for comfort is no exception.
With people spending a majority of their time at home they are looking for, "overstuffed furniture, softer curves, and traditional styles [that]…provide comfort and support…during these unprecedented times," says Alessandra Wood, the Vice-President of Style at Modsy. (3)
Chairs, coffee tables and couches are being designed with voluminous curves that take us back to childhood – a young, fun, and modern take on furniture design. This trend is spearheaded by furniture with rounded edges and tubular forms, also known as neotenic design, an exaggeration of childlike features. (2)

4. Handle-less kitchen cabinetry (2)
Calming, clean designs are becoming increasingly popular, especially in kitchens. When it comes to kitchen cabinetry, invisible push-style latches, integrated handles or edge style cabinet pulls are the trend. The objective is a minimal space that provides a seamless and sleek look.

5. Color (3)
Neutral wall tones were the rage in past years, with pops of color though artwork or accent walls. But predictions are that full walls with bold colors are going to take over interiors in the coming year.
Experts and designers attribute this trend to peoples' disconnect with the outside world and their yearning to express themselves in their homes, creating a space reflective of their personalities. Intense color palettes in spaces like living rooms, dining rooms and kitchens bring a fun flair.

Author: Akshaya Sivasankar for Talie Jane Interiors

---
Sources
1. https://www.bhg.com/decorating/lessons/expert-advice/grandmillennial-style/
2. https://www.archdaily.com/945290/interior-design-trends-that-will-shape-the-next-decade
3. https://www.insider.com/popular-home-decor-trends-in-2021-according-to-designers-2020-11#people-will-also-be-buying-pieces-that-have-a-natural-look-for-their-homes-in-2021-11