Wall-mounted flat screen TVs are everywhere. They are being installed in family rooms, bedrooms, home gyms and offices, laundry rooms, playrooms and kitchens. And why not, with their falling price points, even 80" flat screens are now within reach.

HOW DO WE INTEGRATE THESE LARGE BLACK BOXES INTO OUR ROOMS?
Designers have been tasked with this challenge time and again and have gone to great extremes to hide these "monstrosities" from plain view – putting them in cabinets and armoires, installing panels, mirrors and sliding doors to cover the screens, retracting them into walls, ceilings and bookshelves and even nixing TVs from rooms all together.
Rather than hide them however, my partner, Ryan Schiestel, came up with a fantastic way to integrate flat screen TVs into the décor by "dressing them up" and making them look like works of art. In fact, it's become a signature of sorts for Talie Jane Interiors. Ryan works with our custom framer to frame the TV so it appears to be artwork rather than just the necessary, flat, black rectangle.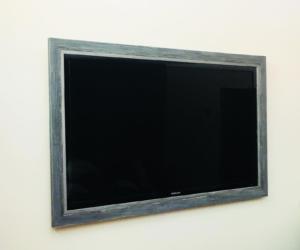 Below are some tips from Ryan for selecting your frame and installing it around your flat screen:

▸ Use a custom framer; pre-made picture frames will not work
Find a great framer
Take accurate measurements, down to the 1/16" inch or it will not fit your TV correctly
Be price conscious but not price averse; pricing is very reasonable, depending on the frame you select, because you don't need glass, a backing on the frame, nor picture wire
▸ Select a substantial frame; scale is key
Don't use a skinny frame on a large TV, it will look lost
Try a 2.5" – 4" frame
▸ Match the frame style and color to your room
Pick a simple, plain frame, regardless of the style and color, so it does not distract from TV viewing
▸ Attach the frame to the TV with flat steel metal brackets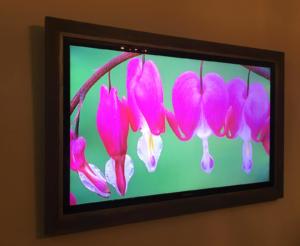 USE LOW-PROFILE TVs SO THEY APPEAR MORE LIKE ARTWORK.
Our recommendation is Samsung; their TVs have an average depth of 1.25." Use low profile wall mounts too. Otherwise, purchasing a low-profile TV will defeat the purpose because it will stick out more than necessary. Ideally, the entire unit, (TV, mount and frame) will only stick out a maximum of 2.5" from the wall. IMAGE 5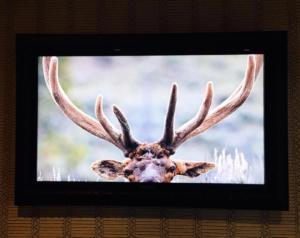 USE THE SLIDESHOW SETTINGS ON YOUR APPLE TV.
This creates a slideshow of artistic images, making your TV appear to be a piece of artwork, especially with its custom picture frame.
Under Settings, click General; Screen Saver; Apple Photos. You can select Animals, Flowers, Landscapes, Nature or even Images from your own phone. Under "Transition," select "Ken Burns" which enlarges the picture in the screen and creates a slight, dramatic movement (pans in/out or up/down).


"MATCH" THE SLIDESHOW PRESENTATION WITH THE DESIGN OF THE ROOM.
For example, in a formal living room, we select landscapes. In a kid's bedroom, animals. In a kitchen, flowers. But, it' up to you.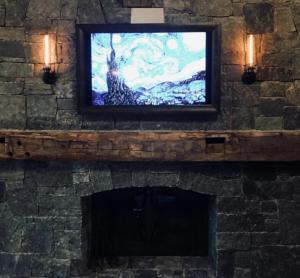 ANOTHER OPTION IS TO DOWNLOAD THE "ARTYST" AP.
Here, you can select your favorite artist (choose from Edgar Degas, Vincent Van Gogh, Claude Monet, Auguste Renoir, Rembrandt Harmenszoon van Rijn, Paul Gaugin, etc.). His/her works will then be displayed as a slideshow. The downside to this is that many of the works were done on square canvases, leaving large black borders around the artwork.
If you are interested in having Talie Jane Interiors customize your TV and turn it into a piece of customized artwork, please contact us at Natalie@TalieJaneInteriors.com or 855.825.4352 and we will send you an installation kit, complete with customized frame and mounting hardware.