It's been almost a year since we started to "shelter in place" in response to the COVID-19 pandemic. This past year has brought many changes in the way people lead their lives including where and how they work, attend school, stay active and socialize. These changes have profoundly affected design, especially residential design, since people are spending more and more time at home.
Homes have taken on multiple roles. Home is now a school, office, gym, restaurant, and even cinema and park. It's also a safe haven. Therefore, people are asking more of their homes than ever before and are transforming them to accommodate these extended uses which are expected to continue into the foreseeable future.
Not surprisingly, home-improvement projects have seen a considerable increase since the start of the pandemic. According to a recent Bank of America study, "more than 70% [of people] have decided to tackle home improvement projects, with more planned for 2021." (1)
Interestingly, home improvement and small fundamental design changes have long been linked to world pandemics. According to Forbes, "it was during the 1918 flu pandemic that homeowners started installing small bathrooms on the main levels of their homes so guests could wash up without traipsing through the entire house." (2)
So, what are the popular home improvement projects people are engaging in, in response to the pandemic?
Entryway
Entryways, foyers and mudrooms have gotten extra attention since the pandemic, which many designers attribute to the cognizance of maintaining sanitary areas and a clear division between indoors and outdoors. (3) This renewed emphasis on the foyer is more functional than aesthetic. Multifunctional storage in the foyer is all the buzz right now. Built-in cabinets to hang coats, shoes, kids' backpacks, etc., have become more common than ever.
In homes without a dedicated mudroom, designers are creating designated entry spaces. Adding storage cabinets, benches and cubbies near the entry separate and define the entry from the rest of the home.
Space-saving ideas like turning coat closets to storage cabinets and creating a valet area (a small mudroom near the garage entrance) are also becoming common.
Home office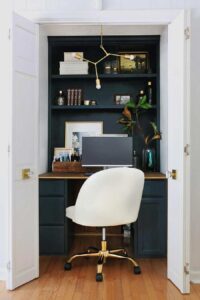 Home offices have been mostly small, casual spaces where people go to pay bills and check emails. But nowadays, home offices have gained huge importance. Large work surfaces with ample storage and comfortable seating have become a requirement in most homes. Requests for multiple home offices are on the rise, too, as people strive for a proper workspace for all members of the household. (3)
Learning Space
To provide a safe learning space for kids and young adults, schools and universities have turned to remote learning and online classes. So now, not only do adults require a private workspace, but kids and young adults do as well.
Students need a separate, private space with fewer distractions for their zoom classes. This calls for a proper workspace. But many are not seeing this as a permanent need as the home office and learning space may become redundant after the pandemic.
Partition walls, transformation of closets, flexible and transformative furniture are vital in creating designated areas for study/work without requiring a major renovation.
Kitchen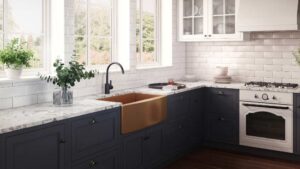 Kitchens have always been the hub of the home. This is especially true with the pandemic as people need a place to socialize; kitchens have become the control centers of the house. Naturally, this has turned the interest toward making kitchens more comfortable, welcoming, and at the same time hygienic and sanitary.
That's why huge sinks and touchless faucets are becoming all the rage right now. Touchless faucets are gaining popularity and soon will nearly be a standard feature in most kitchens this year. Faucets that are voice-activated or activated by sensors are more convenient and sanitary. Elbows and dirty fingers are no longer needed to turn on faucets, and these touchless options can be beneficial when with small children in the house.
With an emphasis on cleanliness and hygiene on the rise, durable and easy to clean materials are also gaining popularity. Metals, especially with anti-microbial properties like copper, brass, and bronze, are being sought after for sinks, faucets, and hardware that are used daily. (4)
Multi-Use Bonus Room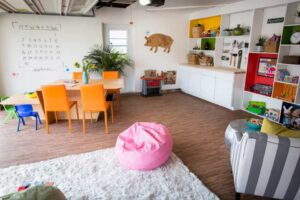 Flexibility is key in "pandemic design." For the homes to function successfully as an office, school, gym, restaurant, etc., rooms need to serve multiple purposes. Spaces like under-utilized basements, guest bedrooms, and garages can double as a gym, movie theatre, entertainment space and even additional home office and study space for the rest of the household. Designers are tasked with creating separate "stations" within a space so rooms can be maximized to their full potential.
Recreational Park
People miss the outdoors. Gathering at parks is no longer allowed. So, people are looking to designers for ways to bring the outdoors in. Nature-inspired designs are gaining popularity. Incorporating indoor plants, bringing in more natural light, using floral wallpapers, and soothing green hues for walls and cabinetry are ways designers are adding biophilic design to homes. Colors that promote peace and well-being, natural materials, and wood textures are other ways people are enhancing their connection with the environment.
The pandemic has had a profound effect on how we live and therefore is affecting the role and function of home. Home is now an office, school, gym, restaurant, and refuge. As such, people are making essential home improvements to adapt more easily to our "new normal."
Contact Talie Jane Interiors for ideas on how to make your home more multifunctional. 855-825-4352
---
References:
1 – https://www.marketwatch.com/story/home-improvement-projects-are-underway-during-covid-19-with-millennials-spending-the-most-says-bank-of-america-2020-06-24
2 – https://www.forbes.com/sites/blakemorgan/2020/09/28/4-ways-covid-has-changed-home-design/?sh=169708a56843
3 – https://www.dwell.com/article/coronavirus-pandemic-interior-design-impact-0bf0f8a1
4 – https://www.fossilblu.com/blogs/news/the-future-is-now-2021-kitchen-trends-have-arrived

Images:
1 – https://livinator.com/10-creative-uses-basement/
2 – https://homemadebycarmona.com/formal-family-room-office-nook/
3 – https://www.ruvati.com/products/rvh9660cp-30-inch-apron-front-farmhouse-kitchen-sink-copper-tone-matte-bronze/
4 – https://mrkate.com/2019/10/01/garage-playroom-makeover/?utm_source=pinterest&utm_medium=social