This month, we asked the TJI team to invite our readers into their favorite celebrity homes. From A-listers like Kendall Jenner and Ellen Pompeo to power couple Ashton Kutcher and Mila Kunis, we're taking you inside their remarkable homes. Each of these celebrity homes have that undeniable "wow" factor. So, what does this have to do with the typical homeowner? It's all about inspiration!
Ashton Kutcher and Mila Kunis (1)
High Powered Hollywood Couple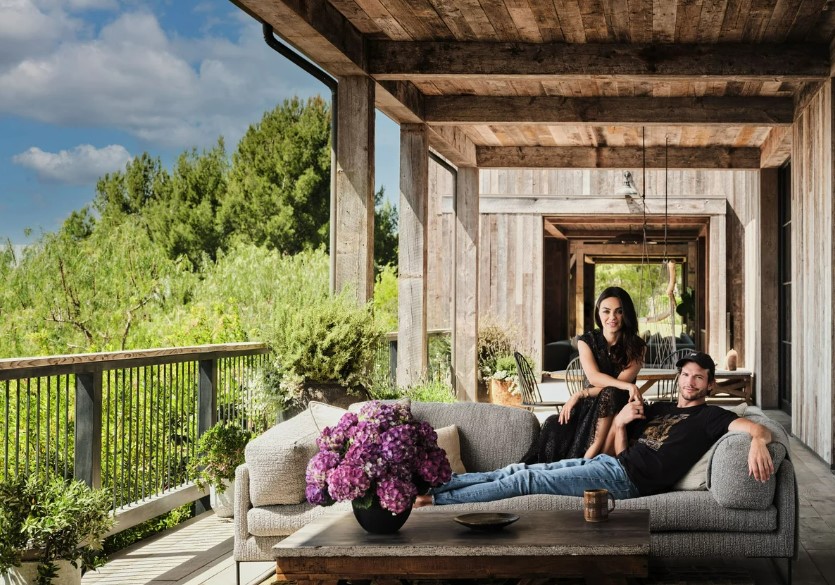 "Architectural Digest featured Kutcher's and Kunis's LA Farmhouse in its August 2021 issue. In fact, it made the cover. It really stuck with me, obviously, since I'm still loving it two-plus years later. The design is very "Tahoe-esq." I love that it's a luxury home but still casual and livable. Mixing barnwood walls with velvet upholstered pieces, creating indoor/outdoor living and juxtaposing the refined with the rugged is brilliant – elaborate elements (like an enormous formal chandelier and custom silver throne chairs) meld seamlessly within the space." – Talie Jane, Owner and Principal Designer
"We wanted the house to look like an old barn, something that had been here for decades, that was then converted into a house. But it also had to feel modern and relevant." – Kutcher and Kunis
About The Home
The six-acre LA property was first designed in the 1930s, before being renovated in the 1980s.
Dubbed "KuKu Farms" by Kutcher and Kunis – which obviously takes "Ku" from both surnames – this French-inspired neoclassical residency is a thing of great pleasure.
From the reclaimed wood, floor-to-ceiling windows, right down to the freestanding barbecue pavilion by the pool, it's the kind of place where life is allowed to move a little slower; and that's OK.
Designed by Howard Backen and Vicky Charles.
J Balvin (2)
Latin Grammy Award-Wining Artist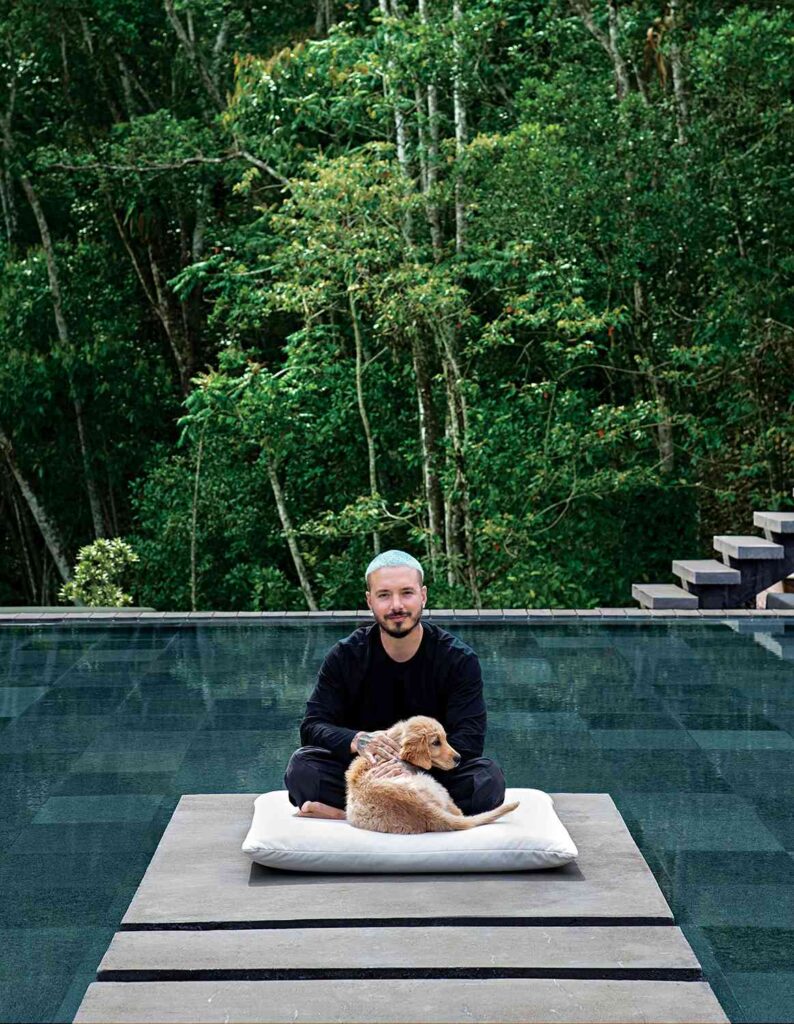 "I picked J Balvin's home because when I saw him in Architectural Digest, I was amazed by how simple and balanced his house looked. Also, since I am Latin, I wanted everyone to see Latin American talent, J Balvin and the designer, 5 Solidos, are both from Colombia." – Christine, Assistant Designer
"A house should be a place where you can rest your spirit. I've tried to create places that feed my soul, not my ego…Water calms me down. I love being out there, especially at night, surrounded by the trees and the darkness," – Balvin
About the Home
Located in Rio Negro, Colombia.
The design concept was proposed as an ode to Japanese simplicity juxtaposed with Scandinavian design.
It is composed of two perpendicular volumes and a tall-pitched roof; connected by exterior beams.
Main architectural elements are blackened wood siding and shoji-like framed doors to resemble Japanese aesthetics.
Designed by Cinco Solidos.
Kendall Jenner (3)
American Model and TV Personality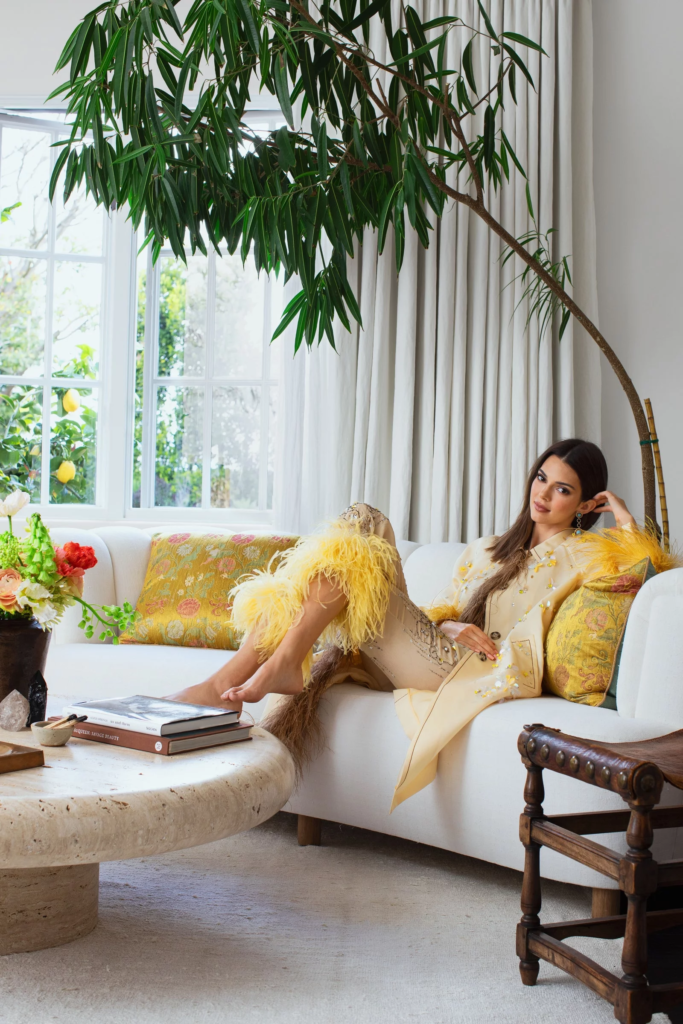 "When I saw Kendall's home tour on Architectural Digest, I could not stop talking about it. I was surprised to find out that her style was more laid back, compared to that of her sisters'. There are many elements of her home that I would incorporate into my own one day. For example, I really love the living room layout and how it was not centered around a TV like many other homes. I also appreciated the dance between her earthy vibe and vibrant color moments." – Mallory, Assistant Designer
"I like a house that has character. When I walked into this place, I was immediately drawn to the peaceful Spanish-y, farmhouse-y vibe" – Jenner
About The Home
Designed by Kathleen and Tommy Clements.
Designers were asked to create a "down-to-earth" mood throughout the house.
Kendall wanted a home "that feels serene, a place where I can simply zone out and relax."
Ellen Pompeo (4)
Award-winning actress and star of one of the top 10 longest running prime time shows – "Grey's anatomy."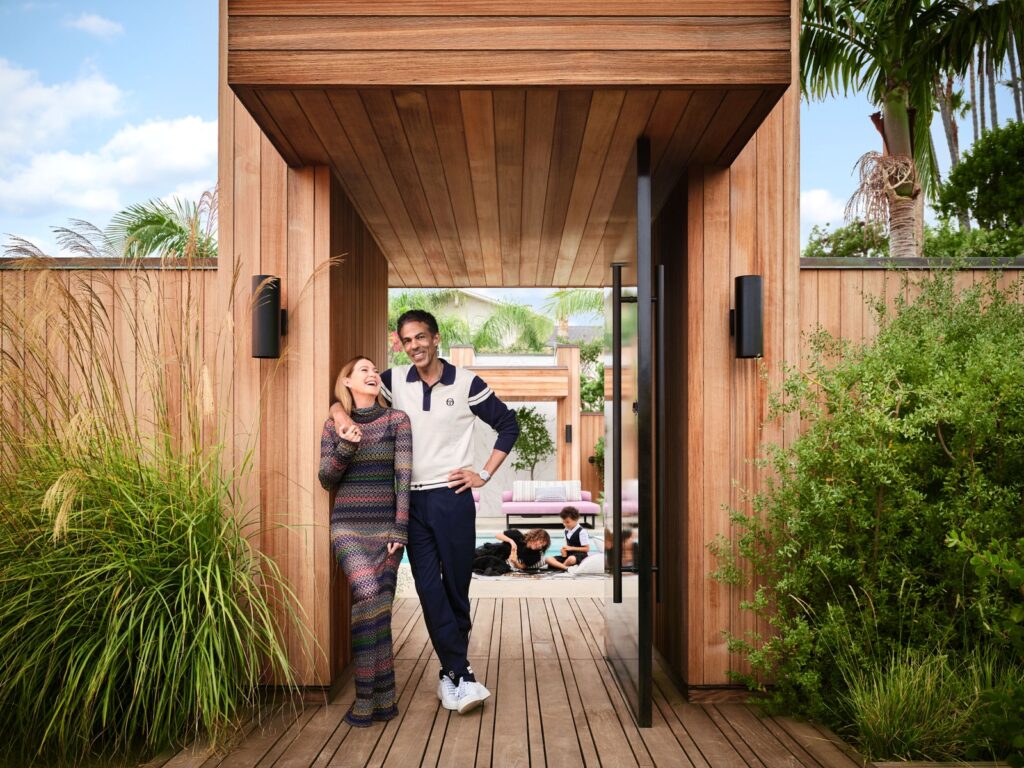 "I chose this celebrity because I really liked her from Grey's Anatomy, and I love that she's so family-oriented. Even though her house is bold and dramatic and probably not for everyone, I like that she thought about her kids while designing all the spaces in her house." – Akshaya, Associate Designer
"I think we really came up with everything together. The house needed layers and it needed more architecture," says Pompeo.
About the Home
This is a Midcentury Beach house in Malibu, CA.
The house was designed by mid-century architects Conrad Buff & Donald Hensman.
The remodel and design were completed by Ellen Pompeo, along with her interior designer friend Martyn Lawrence Bullard who has designed celebrity houses for Cher, Elton John & several members of the Kardashian family.
Dita Von Teese (5)
American Burlesque Star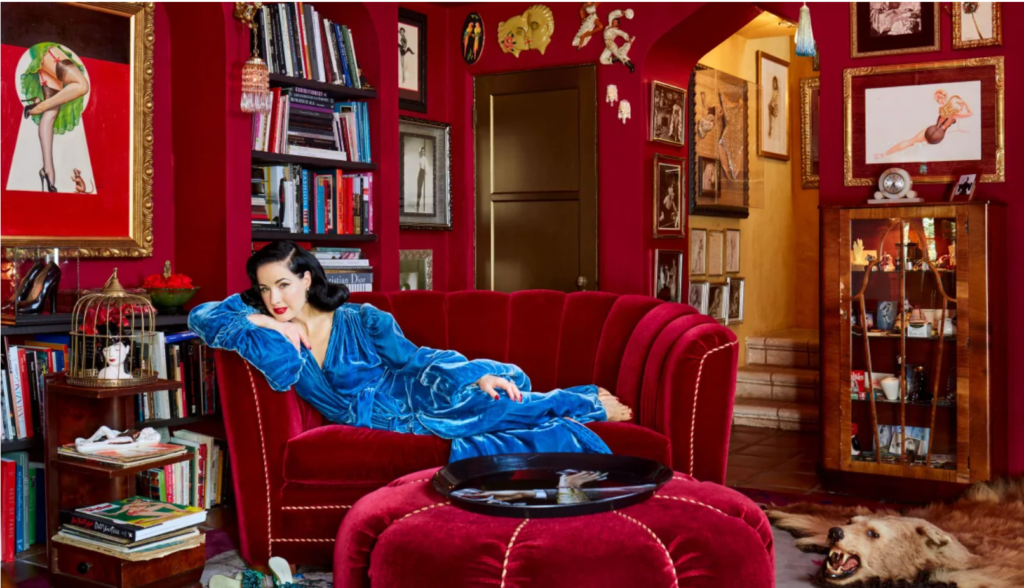 "I am a big fan of minimalistic design and practical places. I was intrigued by Dita Von Teese's home because it was the opposite of my design style. She has an eclectic taste in design and a sentimental view of her preferred living environment. Her personality has been reflected in every element of the design -she was a key figure in reviving Burlesque dance, and she also collected vintage and retro style objects and materials." – Nastaran, Assistant Designer
"I like feeling like I am living in this house in a very similar way to the way somebody did in the '20s or '30s," she shared. "It made a big difference to me when I was buying the house that someone lived here for so long and raised their children here. The owner even got married here." – Von Teese
About The Home
Von Teese wanted the home to feel nostalgic, sentimental, romantic, and eclectic.
When Von Teese moved in, the entryway was a kind of beige color. "My worst nightmare," she recalls. "I have all these pictures in my home decor inspiration file—they're all pictures of castles and historic interiors that haven't been touched in a hundred or more years.
Caroline Lizzaraga was the decorative artist behind the project.
Mike Green (6)
NHL Hockey Player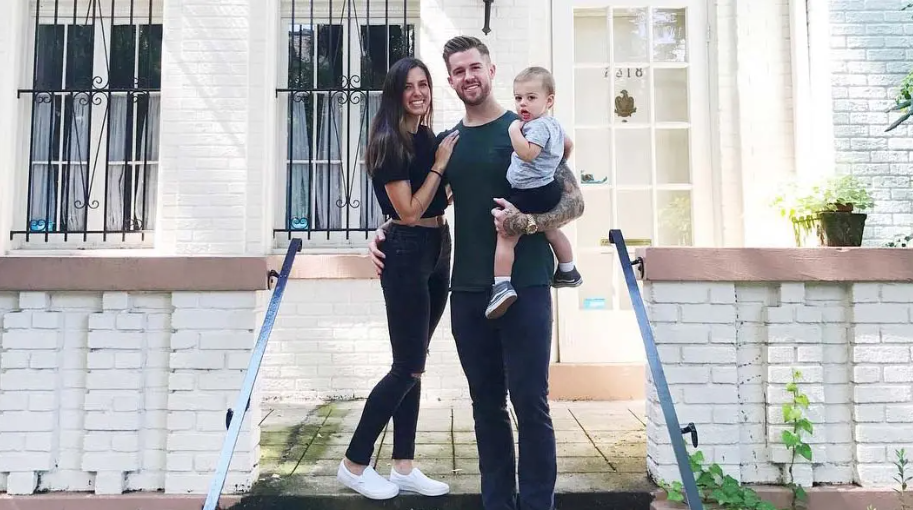 "I chose a famous hockey player because my kids play hockey, and I thought their home looked beautiful." – Beth, Associate Cabinetry Designer
"Let's just say we knew it needed some love," says Courtney, wife to Mike Green. She and her husband, a former professional hockey player who spent ten seasons with the Washington Capitals, had established deep ties to the city during Mike's playing days. The couple knew they wanted to raise their three children in the capital city.
About the Home
When Mike and Courtney spotted a dilapidated, 1914 row house for sale in Washington D.C.'s Kalorama Triangle neighborhood back in 2017, they were fully aware of the challenges ahead if they wanted to call it home.
This beautiful and serene home looks like it could be an apartment in Paris!
The designer behind the project is Jeremiah Brent, a California-based interior designer and husband to Nate Berkus.
Which celebrity home is your favorite? Contact Talie Jane Interiors at 855-TALIE JANE (855-825-4352) to bring your favorite celebrity elements to life in your own home.
Article by the Talie Jane Interiors Team.
Sources
1. Ashton Kutcher And Mila Kunis Debut Gorgeously Rustic LA Farm House (bosshunting.com.au)
2. https://www.architecturaldigest.com/story/j-balvin-home
a. https://www.archdaily.com/948910/dos-aguas-house-cinco-solidos
b. https://cincosolidos.com/Casa-Dos-Aguas
3. https://www.architecturaldigest.com/story/kendall-jenner-los-angeles-home
4. https://www.architecturaldigest.com/story/ellen-pompeo-malibu-beach-house
5. Images: https://www.pdxmonthly.com/style-and-shopping/2016/04/how-we-fell-for-dita-von-teese
a. Image: https://www.architecturaldigest.com/story/dita-von-teese-los-angeles-home
6. https://thisisglamorous.com/2022/04/a-three-story-1914-row-house-in-washington-d-c.html/
a. https://www.architecturaldigest.com/gallery/step-inside-the-super-chic-dc-town-house-of-one-former-nhl-player-designed-by-jeremiah-brent
Images
Architectural Digest and Pinterest