It's officially spring! The season of transformation and renewal. As flowers start to blossom and days get longer, we feel more energized in our daily activities. This makes spring an ideal time to deep clean and refresh our homes. Cleaning and adding spring décor will surely brighten our homes, creating an interior that embodies the true essence of the changing season.
SPRING CLEANING
Spring-cleaning requires getting into those often-avoided nooks and crannies and taking on projects that are regularly put on the back burner. Oftentimes living spaces may look clean on the surface level, appearing organized and sanitized; however, when searching into the depths of closets, drawers, and baskets, there is much more clutter than meets the eye.
Getting through that laundry list of cleaning projects is a great way to start the season. According to the Personality and Social Psychology Bulletin, "women who described their homes as 'cluttered' or full of 'unfinished projects' were more depressed, fatigued, and had higher levels of the stress hormone cortisol than women who felt their homes were 'restful' and 'restorative.' (4) Your home should be a sacred haven of relaxation and comfort.
Reflecting the freshness of spring not only starts your season on a positive note, but also provides you with a sanctuary to clear your thoughts and feel motivated for the summer festivities ahead. Yes, summer is actually coming!

DEEP CLEANING
When it comes to spring cleaning, be sure to clean your home as you regularly would, vacuuming, mopping, and clearing off counter space. Then put in that extra 2% and pay special attention to those often-avoided deep cleaning tasks:
Washing baseboards
Dusting light fixtures, blinds, and shutters
Cleaning air vents and filters
Organizing pantries and cupboards
Sanitizing appliances inside and out
Washing area rugs and mats
Wiping down walls for dirt and grime
Disposing of unused knickknacks
ORGANIZING
Once the basic deep cleaning and sanitation is complete, start organizing your living space down to the minute details. "Well organized closets, storage areas and office space can help you save time, open up your living space, and restore beauty and order to your home." (3)
Eliminating clutter is a key part of spring-cleaning. As the seasons change, so do our needs. That means it's time to swap out winter coats for summer apparel and get rid of any items that no longer serve a purpose to us. In other words, "Edit. Go through your coffee table books, get a new tray and organize your jewelry, rearrange your bookshelf…you get the idea." (5) When considering what to keep, honestly ask yourself, "have I worn this piece of clothing or used this item in the last 30 days?" If the answer is no, toss it or donate it. Try to avoid hoarding any unworn clothing or jewelry in hopes of one day wearing it. Instead, find a more appreciated home for this item by creating a donation bag for a local charity. This will condense your wardrobe, free up space, and allow you to clearly visualize the items you truly care about and use on a regular basis. Some areas ripe for organization:
Closet spaces
Medicine cabinets
Spice cabinets & kitchen pantries
Unpacked boxes
Inside drawers and shelving areas
Storage baskets
SPRING HOME DÉCOR
Adding spring décor to the interior of your home will allow you to appreciate the season to a whole new level. There are various ways to accomplish this look, which are quite simple and inexpensive. It is not necessary to complete a drastic home makeover with the change of each season; simply adding color and spring accessories can surprisingly go a long way.

COLORS
Colors are often used in a symbolic sense, having the ability to speak to the soul. Displaying a spring color pallet evokes lighthearted emotions and can really brighten the overall ambiance of your home. Cory Connor Designs notes, "Nothing makes (him) feel more like spring is in the air than pops of color! Switch out some of your darker and cozier winter throw pillows for fun and bright, coral and turquoise pillows. Fold up your cashmere and cable knit throws, and replace them with light and vibrant ones!" (5)
Neutrals with bold pops of color are trending in interior design this season, and the best tones to use are gelato colors, says House Beautiful. It is a modern twist to the typical pastel pallet.

ACCESSORIES
▸ Wood
Wood elements are perfect for creating organic beauty within your home. Wood accessories could include wall art, side tables, or even planter boxes. (2) Wood emphasizes the natural beauty of spring and comes in a variety of tones to match your preferred color palate.
If your wood furniture piece is looking worn and is reaching the end of it's lifespan, it may be the perfect time for an upcycling project. A fresh coat of paint can often do wonders and allows you to enjoy the look of a new furniture piece while still conserving cash. Now that the weather is starting to warm up, grab a paintbrush and start refreshing!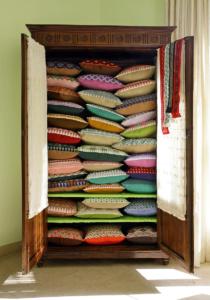 ▸ Furniture Coverings & Throw Pillows
Designer Beth Webb mentions "one significant thing (she does) to refresh a room for spring or summer is cover the upholstered furniture with crisp, white, cotton or linen slipcovers. It's an instant facelift for any room." (5) Doing this also helps accomplish the spring look of combining neutrals with pops of color. Having a clean white backdrop with some lively throw pillows will surely zest up your entire furniture ensemble.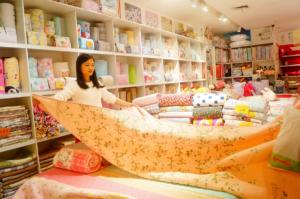 ▸ Bed Sheets
Changing up your bed sheets is one simple yet impactful way to alter the design of your room. Playful prints and bursts of color liven the mood and revert away from the cool blue and grey tones associated with winter. Plant prints and geometric shapes are also emerging as a trend this season, so keep an eye out for one that speaks to you.

Window Treatments
"On the topic of light and airy fabrics, you may also want to take a look at your windows. If they're framed by a dense, moody fabric you might be missing out on that gorgeous, natural spring light that lends everything it touches a nice, healthy glow. Rotate in drapery in a soft linen blend and your home will feel refreshed in a flash." (5)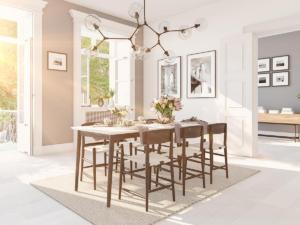 ▸ Plants
Health benefits of indoor plants are limitless. They are known to provide cleaner air, boost your immune system, brighten your mood, and enhance concentration and memory. (1) Each of these benefits encompasses the rejuvenating spirit of spring. Spring is often directly associated with budding plants and flowers, so tying these elements into your home can really brighten the mood and embody the essence of new life. "Place them in each room, use hanging plants for shelves and mantelpieces and some lovely leafy beauties for bare corners and coffee/side tables." (6)
Incorporating plants into your living area is also an opportunity to add vibrant vases and pottery. "Whether it is a large centerpiece bouquet, mason jars with fresh cut wild flowers, or tiny bud vases with tulips" (5) you can tie in the color scheme and add in unique prints and textures.

Overall, spring is a time to feel refreshed and get ready for the summer ahead. Clearing out your home and adding some colorful décor will allow you to break away from the winter blues and get excited for the changing season. It provides a clean slate for the budding adventures of springtime and will surely start your season off in the best spirit possible.
For help incorporating spring into your home, contact Talie Jane Interiors at 855.825.4352.
– article by Emily O'Halloran
---
SOURCES:
(1) https://www.healthline.com/health/importance-plants-home#Overview1
(2) https://www.decorilla.com/online-decorating/8-spring-decorating-ideas-to-make-your-interior-design-bloom/
(3) https://www.marthastewart.com/274691/spring-cleaning-closets-and-drawers
(4) http://www.busyclean.co.uk/blog/7-amazing-impacts-of-cleanliness-on-your-mental-and-physical-wellbeing/
(5) https://www.kathykuohome.com/blog/6-spring-refresh-tips-from-interior-designers-we-love/
(6) https://www.housebeautiful.com/uk/decorate/looks/news/a3221/top-spring-summer-2018-interior-trends/

ADDITIONAL RESOURCES:
https://www.marthastewart.com/275122/spring-cleaning-organizing-tips?slide=3392570
https://www.laurelandwolf.com/blog/6-chic-easy-indoor-plants-spruce-home-spring/
https://www.laurelandwolf.com/blog/spring-cleaning-easy-guide-organizing-clothing/