Another fantastic experience at the annual Interior Design show in Las Vegas (The Market). The Market is the most comprehensive cross-category furnishing showcase in the United States. Therefore, it attracts thousands of industry professionals who come to see the latest furniture, bedding, casual/outdoor, home décor and gift products from more than 4,000 exhibitors and brands We spent three full days covering more than 5.4 million square feet (approximately 25 miles of walking) of permanent showrooms and temporary exhibits. A jam-packed, exhausting and invaluable experience! While processing all of the brilliant new pieces and exploring the myriad showrooms, our team took note of several design elements trending for this year that we'd like to share:
Metallic
Metal is a staple material when it comes to furnishings, but this year we saw metal design trends take on a new meaning. Metallics were found in everything, even soft goods! One of our favorite custom rug companies had metallics woven into the handmade rugs, and you wouldn't believe how soft they were. Many other textiles like bedding, throw blankets, and upholstered furnishings also had metallic accents. Paintings were made into 3D works of art by incorporating gold, chrome, bronze, and silvers. Using these subtle metallic accessories can add a touch of high end glam to any design style.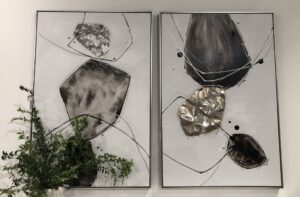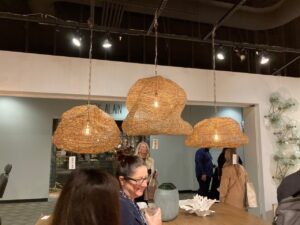 Organic Shapes
We found many curvilinear pieces with rounded, circular edges intended to mimic the shapes found in natural objects such as leaves, plants and animals. Organic shapes are used to create a calming, flowing atmosphere and can help soften sharp lines in other parts of your room. Love the use of organic shapes in lighting fixtures (shown), vases, decorative objects, rugs and even accent furniture pieces.
Acrylic
Acrylic was invented as an alternative to glass for its weight, flexibility, and cost. It became popular in the 60's and 70's, but this retro material is making a comeback in a big way. At Talie Jane, we've used acrylic accent pieces to lighten up a mountain modern design, but market had much more than just accent tables. We found acrylic chairs, lighting, tables, bar stools, and more. The beauty of using acrylic is that it can fit into any design style due to its opacity and simplicity.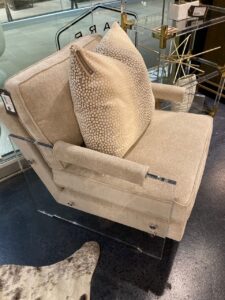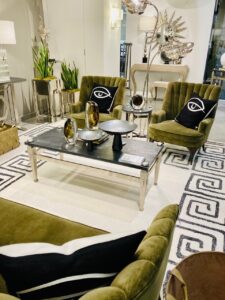 Sage Green
Perhaps I'm biased because green is my favorite color, but green, sage green in particular, was everywhere! Sofas, chairs, artwork, painted accent walls, bedding and throw pillows all donned the beautiful jewel color. Can't wait to incorporate this color palette into our upcoming projects.
Metal/Leather Chair Arms
We consistently saw amazing chairs that featured thin, dark metal frames, including on the arm rests. These were either left plan (as metal) or were wrapped with thin leather straps/bands for an added design element and additional comfort.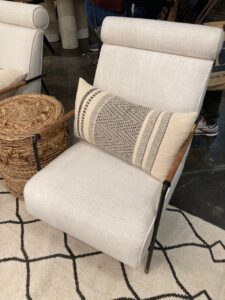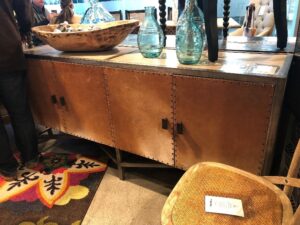 Cowhides
Cowhide rugs, as we mentioned in our previous blog, are one of Talie Jane Interiors' "signature pieces." And this year's market assured us that we are on trend. We saw an increasing use of cowhides and not just in rugs, but in furniture and accessories too.
Cowhide benches and poufs were in abundance in almost every market showroom. But we also saw cowhides being used in sideboards, consoles, and even coffee tables! It's the year of cowhides and we can't wait to expand the use of this material in our designs.
Mixing Materials
Cowhides were so prevalent at this year's market that they were mixed with other materials like leather and suede and fabric to allow for additional uses of the material. Sofas, chairs, benches and cabinetry, constructed of wood, metal or a combination, also combined leather, suede or cowhide. This creates an interesting texture and finish for a one-of-a kind piece.
We also noticed this mix of materials in lighting. Leather is a popular accent in pendants and table lamps this year, creating a great layer of texture and an added character element.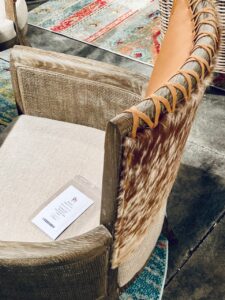 For assistance incorporating the latest design trends into your home, please contact Talie Jane Interiors at 855-TALIE JANE (855) 825-4352.