Simply put, aging in place means choosing to stay in your home with family, friends, and neighbors — instead of moving to a residential facility designed to support long-term care, such as an assisted living facility — as you grow older. (1)
THE NEED
The need for aging in place is significant and is becoming even more so. Senior citizens make up the country's fastest-growing population, according to the latest U.S. census results. They're outpacing the growth of the general population at a rate of 15.1 percent to 9.7 percent, and the total number of individuals over 65 is projected to nearly double before 2050! According to the World Health Organization (WHO), about 1 in 6 will be age 60 or older by 2030. And adding to this initiative is that fact that 90% of US residents aged 45+ say they prefer to remain in their homes even when they need assistance. (2)
This phenomenon is significant and deserves discussion. Designers have the ability to prolong an individuals' ability to safely live at home. There's a true responsibility here.
Aging in place is strongly linked to greater health and happiness outcomes for seniors, particularly when social isolation concerns are addressed, but it has historically been perceived as a viable option only for those who can afford home health aides or whose family members can provide full-time care.
While social and health services for seniors are critical, even the smallest residential design retrofits can have potentially life-saving impacts.
From preventing falls through something as simple as choosing the right kind of carpet, to designing beautiful, welcoming shared spaces to help address social isolation, architects and interior designers have the chance to improve, and even extend, the lives of seniors.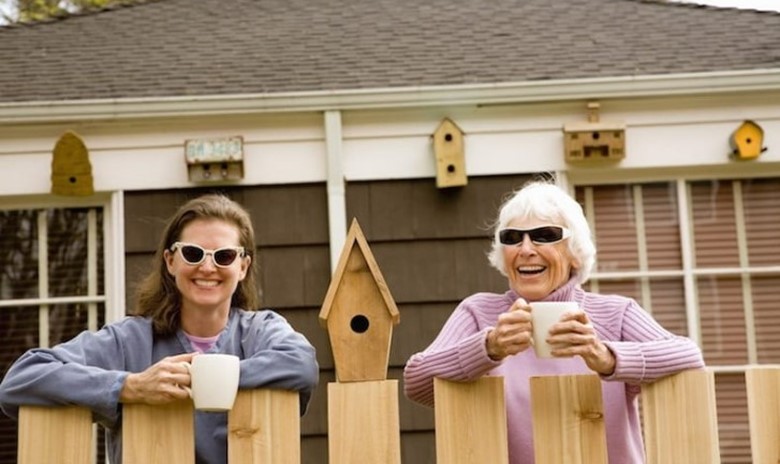 THE BENEFIT
There are many benefits to aging in place (3):
Familiarity. Of course, trying new things and getting out of your comfort zone are a huge part of growth, and lifelong learning and personal growth are what keep our brain plasticity strong. However, I also understand the major comfort in the familiarity and sacredness of your own home. Moving to an assisted living facility can mean having to sacrifice this as you enter unknown environments, where you don't necessarily control the schedule or surroundings.
Independence. We'll all of course, over time, begin to lose our independence as our bodies decline and our reliance on others will likely grow. However, there are not only home care solutions and other options we can take to maintain our independence in life, but we can also take preventive measures and act now to take care of our mental and physical health. By focusing on community, growth, health and giving back you'll be amazed at how much longer independence will last.
Convenience. By aging in place, you'll have the convenience of living on your own terms, rather than following a facility system's schedule and protocol.
Comfortable environment. Part of the beauty in aging in place is you maintain the freedom to keep your home as your own personalized sanctuary. You have full liberty to do as you please in the privacy of your own home.
Savings. Moving and uprooting your life can be such an expensive hassle. Not only can you avoid moving costs, but by aging in place you can also avoid expensive assisted living costs. Plus, most US residents are close to paying off their mortgages by retirement.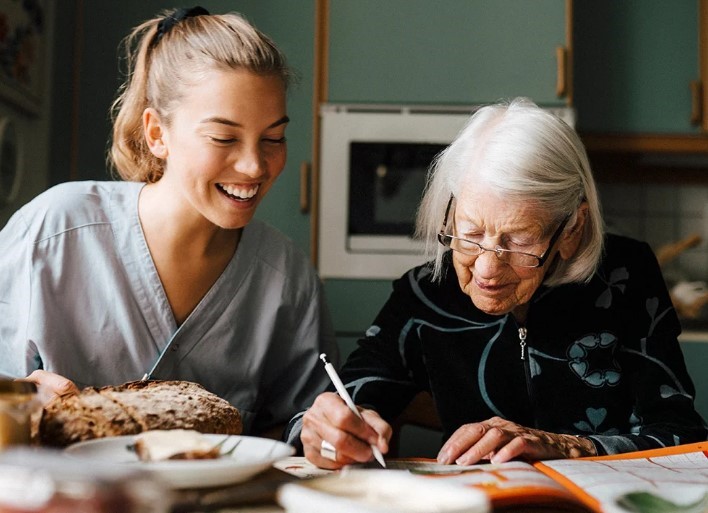 THE DESIGN
Simple design choices can allow seniors to safely live independently for longer (4-11).
Aging-in-place remodeling usually targets a specific need. Design is convenient and comfortable but modifications are often noticeable. On the other hand, Universal Design refers to building design elements that make a home accessible to all people, regardless of age or ability. It is most common in new buildings, and looking ahead to future adaptability is part of the plan. The intent is for the accessible design elements to be convenient and comfortable but transparent…many people wouldn't even know they were there.
We've identified key areas and aspects of the home that can benefit the most from Universal Design.
Flooring
Consider the following when selecting the appropriate flooring materials:
Eliminate hazards. Take care when choosing your flooring. Avoid rugs and other trip hazards, like transition pieces between types of flooring. Level, non-polished surfaces allow everyone to traverse safely, especially those with mobility devices. Tile can also be a great choice if grout lines are minimalized. Slip resistance is key.
Prioritize ease of travel. Can someone who is using a cane walker or wheel chair move across it easily?
Account for cleaning and maintenance. How much work does it take to maintain?
Consider comfort. How does it feel underfoot? Does it offer some shock absorption in the event of a fall?
Opt for soft, smooth surfaces. Cork, rubber, and linoleum are good choices. These softer surfaces will be kinder to joints but won't pose a trip hazard, like high-pile or excessively padded carpets can.
Avoid natural stone, ceramic and porcelain tile.
Signal changed in flooring levels. Where level changes are unavoidable, signal them with a change in material, texture, or color, but avoid strong patterns or shiny surfaces that may interfere with depth perception.
Staircases
Eliminate clutter. A cluttered stairway is a fall waiting to happen. Keep the stairway free and clear of clutter by removing any potential obstacles, such as boxes, shoes, clothes, extension cords, or furniture.
Install stable handrails on both sides. Install one, or two, on every staircase, including along the steps to every entry door, between levels or floors, and down to the basement.
Install an anti-slip product for steps or stair treads. Stairs should have carpet or a non-slip covering which is even and well-attached. For added peace of mind, consider placing fluorescent tape strips on the first and last step to heighten awareness, notably if your senior suffers from poor vision.
Add additional lighting. Based on your budget and decor, there are many economical ways to beef up the lighting above the staircases in an older home without compromising style.
Consider adaptive equipment. If your aging loved one's muscle strength isn't what it used to be, they may need a walker, wheelchair, or other mobility aid to get around. That said, another safety tip is to find them a stair assist device. Available in different styles and price points, examples of adaptive equipment include:
Stairlifts
Stair climbers
Threshold ramps
Walker stairs
Half steps or blocks
Grab bars or handrails
Accessibility ramp
Lighting
Vary the type of light sources. Include task lighting, accent lighting and ambient lighting to address the different activities that occur in a home. Appropriate lighting will help reduce glare and shadows, which create trip hazards for seniors with bad depth perception.
Install LED fixtures. This can help reduce the number of times a bulb needs to be changed. Between 2,700 and 3,000 is the recommended level of kelvins.
Install two-way light switches. Two-way switches are particularly useful in bedrooms, so you can turn the light on upon entering through the doorway and turn it off from the bedside. If this isn't possible sensor or voice activated lighting can be helpful.
Install outlets at 18-to-24 inches off the ground. This will reduce how far the individual will have to bend down to access them.
Kitchens
Create contrast. Contrast helps people understand the boundaries of a space. Ideally, there would be contrast between the flooring and cabinets and between the cabinets and the countertops so that anyone with vision impairments can safely identify where surfaces change from horizontal (the floor) to vertical (cabinetry).
Layer lighting. Natural light is ideal, so embrace it when you can. However, additional kitchen lighting is still necessary. Task lighting above certain areas, like the island and cooktop, supports safety during food preparation and cooking. "We recommend dimmable lighting for overhead lights as well as under-cabinet lighting at prep surfaces.
Convert cabinets to open shelving. Open shelving not only makes it easy to spot the items you're looking for, but it also makes those items easier to access. Replacing closed base cabinets with open shelves also removes barriers for those who have difficulty opening doors or drawers and eliminates the clearance necessary for opening doors.
Select a single lever faucet. A single-lever faucet to ensure people of all abilities can turn the water on and off. Single-lever models can be managed with either an open hand or a closed fist, making them perfect for homes with people who suffer from arthritis. Touch and Voice activated faucets are also great options!
Install cabinet hardware. Cabinet doors and drawers without hardware are difficult to grasp. For better accessibility, install D-shape door and drawer pulls, which are easier to use than knobs for people with arthritis or other mobility issues. Choose a large pull that's at least 3 inches wide and avoid styles that are narrow or have a low profile. Ample space between the hardware and the cabinet makes it easier for everyone to grab.
Choose simple countertops. Countertops are a major kitchen surface that should be easy on the eyes and body. Light, neutral colors and simple patterns for countertops because they make it easier to see what's on the surface. For those that have vision impairments, matte finish for lower reflective qualities.
Give appliances space. Be conscious of appliance placement within the kitchen layout. Universal design avoids tucking appliances into corners and against walls because it can inhibit an appliance from fully opening or limit a user's access to it.
Replace the range. If space allows, a wall oven and cooktop will give you the same cooking capabilities with a more flexible and accessible installation. Wall ovens can be installed at any level along the wall, allowing the positioning to be set by universal design standards or to be customized according to the homeowner.
Upgrade to induction. Consider trading out a gas or electric cooktop or range for an induction model. Induction cooktops are the most user-friendly for everyone, you can turn the cooktop on, but unless a pot or pan makes contact, there's no heat coming from the cooking surface, and this is great for homes where there's young children and aging adults struggling with memory loss.
Reconsider the refrigerator. Opt for a side-by-side refrigerator model so that someone at any height or mobility can reach both the refrigerator and the freezer. Refrigerator and freezer drawers are another smart solution. Stacked or side-by-side, these appliances fit below the countertop for better accessibility for all people. Plus, because they pull out, it is easy to see what's inside.
Lower the microwave. Installing a microwave in a lower cabinet makes it more accessible for everyone. Plus, it frees up counter space and eliminates potential hazards from pulling things out of an over-the-range microwave.
Bedrooms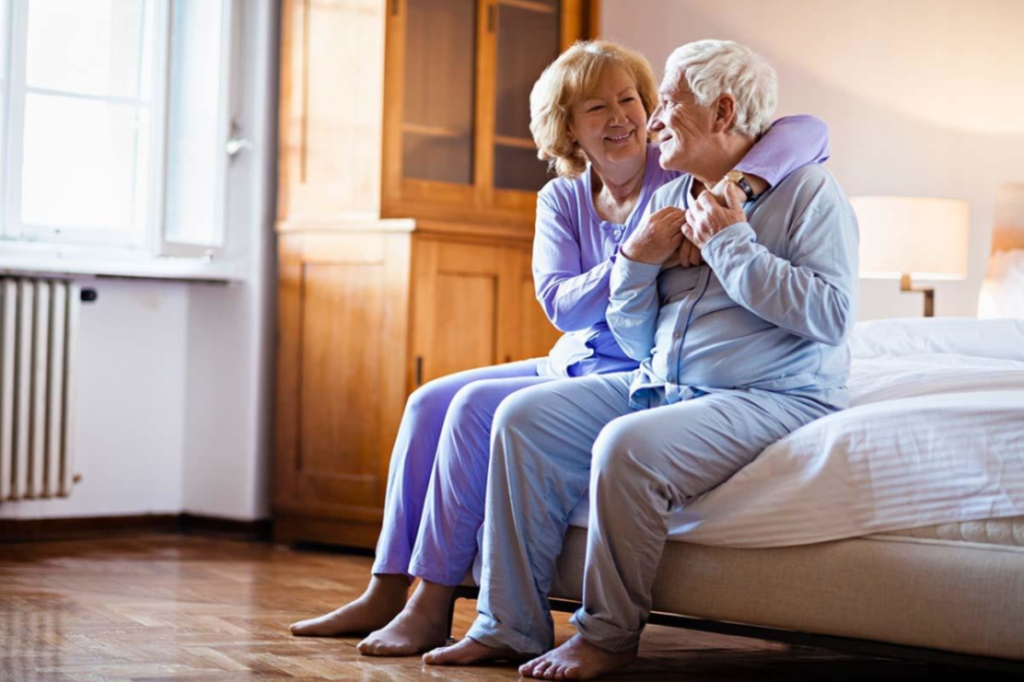 Design the primary bedroom on the main level. Include a bathroom on each floor if in a multi-level home.
Choose a low-profile bed. It should be 20-23" from top of mattress to the floor. An adjustable mattress is a great option as well.
Install bed rails. This can provide both safety and peace of mind. You can find bed or side rails in a variety of styles, including ones that adjust for height and length. No only do the rails keep you from rolling and falling out of the bed, the offer stability and balance when you need to get in and out of bed. Note that not all beds can be fitted with rails. These include waterbeds, platform-style beds and certain Sleep Number beds.
Place a phone next to the bed. Communication is a must for any senior living at home and aging in place. The bedroom should have a working landline phone located next to the bed. This phone should be easy to handle with a keypad that's backlit and large enough to read. A phone that allows for programmed numbers makes it easier to reach family, friends, and emergency assistance when needed.
Purchase new bedding. You may want to invest in new bedding as part of the bedroom remodel and upgrade. If you do look for new bedding, avoid bed skirting or any type of bedspread, comforter, or duvet that reaches all the way to the floor. Feet can get tangled in these types of bedclothes, and a fall can result
Allow for access and maneuverability. There should be adequate clearance around beds, dressers and closets to accommodate the use of assistive devices like wheelchairs and walkers.
Bathrooms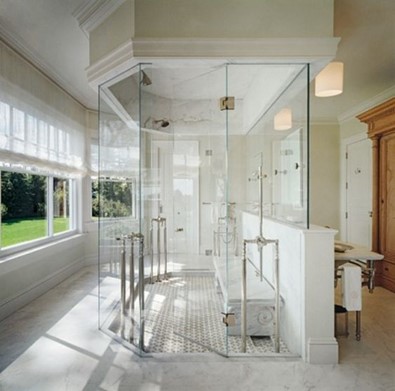 Choose a curb less shower. When remodeling for aging in place, the traditional combo bathtub and shower isn't an ideal choice. It can be slippery and dangerous to climb in and out of, regardless of your age. Walk-in tubs with bench seating and doors for entry are possible choices for those who love a good soak. However, many people forgo tubs for roomy, zero-clearance showers with linear shower drains. Built-in benches are more attractive and stable than portable plastic and metal models.
Install grab bars. Falls are particularly dangerous as we age. Like kitchens, bathrooms have a bad rep for safety due to hard, slippery surfaces. So, select textured tile or vinyl flooring that provides a good grip. Extending the same non-slip tile into a glass-enclosed shower not only aids foot stability but also creates a feeling of greater space.
Select non-slip flooring. Falls are particularly dangerous as we age. Like kitchens, bathrooms have a bad rep for safety due to hard, slippery surfaces. So, select textured tile or vinyl flooring that provides a good grip. Extending the same non-slip tile into a glass-enclosed shower not only aids foot stability but also creates a feeling of greater space.
Consider vanity heights. Wall mounting of vanities and sinks makes it easier to get close to those fixtures when in a wheelchair. For a vanity that reaches the ground — useful because you can fit in more drawers — it's essential to include a deep kick space for feet whether a person is standing or in a chair.
Opt for higher toilets. Standard toilet seat height is 15 inches but increases to 19 inches in comfort-height models. The higher bowls can cause legs to dangle uncomfortably for young children and anyone who is short, so retain a standard height toilet in another bathroom.
Widen doorways. Bathroom doors typically are 32 inches wide. Increasing width to 36 inches accommodates assistive devices, such as walkers and wheelchairs. These doors should open outward so that if anyone falls inside the bathroom, access isn't blocked.
Create ample lighting. When analyzing potential changes in lighting, consider both natural and artificial illumination. If windows exist, can they be expanded to increase access to natural light throughout the day? Is the addition of skylights possible? Natural lighting does more than saving energy; studies have shown that access to it increases the feeling of wellness.
Technology (12-13)
Another way in which interior design can provide assistance for those who choose to age in place is through the use of technology.
People are relying more on technology not only to remain safely at their homes longer, but also to provide additional peace to the family caregivers who might not live as close to their loved ones.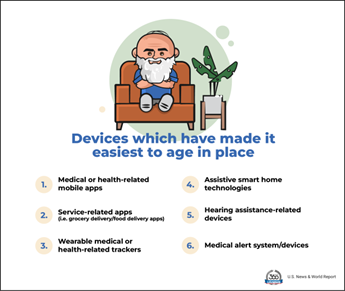 Avoid falls. Falls can lead to serious injury, loss of independence. Start with a low-tech option like motion activated lighting that will illuminate a path. There are more advanced motion sensors that can monitor a room and automatically contact emergency help when a potential fall Is detected. There are even smart watches that can help monitor vitals and detect risks; most of these watches also have a SOS feature.
Get medication reminders. This is one of the most popular and easy way to introduce technology into the home. Reminders can be as basic as a smartphone app (I use an alarm to remind me) or pillboxes with alarms. There are also high-tech smart devices that alerts the caregivers and offer 24/7 support for a monthly fee.
Prioritize safety and security. Doorbell cameras are the No.1 tech for older people. In fact, it's a feature everyone prefers in their house regardless of their age. Video doorbells from Ring, ADT or SimpliSafe and some common brands that are popular and offer many older adults and their families, additional peace of mind. These are controlled by a smartphone app and can even be controlled through voice activated commands which are simple enough to be taught to older adults.
Consider a Smart Home.These I would say are the higher end of the spectrum of having technology run the show. Smart home systems like Google home or Alexa together can be programed to operate lights, run them on a schedule, or have a routine that's triggered using a particular voice command, which can be a boon for people which vision issues.
Technology is constantly changing and adapting. More features are added to these smart-tech every day; aging in place is becoming even easier nowadays. The best thing to do is approach any new technology with an open mind since all these tech options are extremely customizable, and the options are endless.
For help designing your home to age in place, contact Talie Jane Interiors at 855-TALIEJANE (855-825-4352).
Article by the Talie Jane Interiors team.
Resources