It's always nice to have a designated entry space. Even for those among us who prefer to come and go with less to-do, an entryway space serves a functional purpose. It's somewhere to take off shoes, set keys and hang up a coat. It also imparts the first impression of your home, thereby setting the tone for the rest of your space. Think of your entry as your very own three-dimensional welcome mat: It's well-traversed, but most people don't spend much time there. (1)
Entryways can be challenging in terms of design. In fact, I've recently, had a few design projects with "entry way challenges." Specifically, our clients' front doors opened directly into their living rooms or dining rooms, without a formal entry space.
However, despite the lack of entry space in these existing layouts, we were able to create the feeling of a formal entry in each of these cases. We did so through the innovative use of flooring/rugs, lighting, furniture placement, artwork/mirrors and styling.
Below are some designer tips for creating the feeling of a formal entry, even when you don't have one.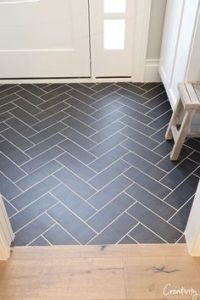 ▣ Create an Entry Pad
Install impervious flooring in the area taken up by the swing of your door or just beyond. It will help keep your living area clean and will visually suggest an entry. Just be sure to keep whatever material you choose level with rest of the room's floor coverings.
You can also create this same "grounded" sense with a small area rug. Adding an area rug or a floor mat that fits the entry space you have created will enhance the perception that you really do have an entry. (2)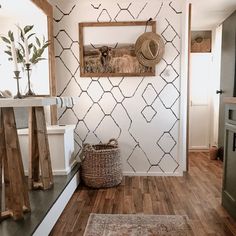 ▣ Paint or Wallpaper
A small entryway means you can get away with a bold accent wall. Try accenting the space with a different paint color or wallpaper. A single hue can give a barely-there entry some extra oomph, making it feel like a thoughtful, fully designed room. And, patterned wallpaper can add definition and instant personality that might overwhelm elsewhere. (3)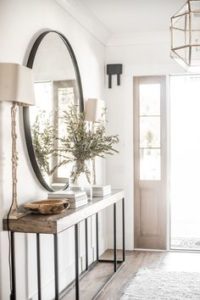 ▣ Install a chandelier
The presence of a chandelier by the front door will help designate the space as a formal entry. A chic chandelier or pendant light can be truly transformative. (1) If ceilings are low, try a semi-flush mount fixture. It gives the illusion of a chandelier but is a step-up from a true flush-mount light.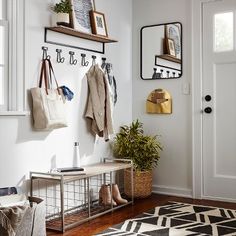 ▣ Add Hooks and a Bench
A simple way to make guests feel at home is to have a seat positioned prominently in your entryway. Benches and chairs alike provide a practical opportunity to sit down while putting on or taking off shoes. Entry seating can also be easily accessorized with throw pillows that showcase your personal style as a preview of the rest of the home. (1)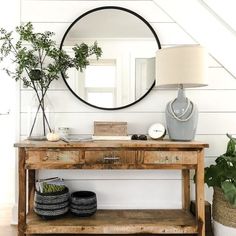 ▣ Get A Skinny Console
Have enough floor space? A small or slim console table is a classic choice for adorning an entryway and can serve as a practical storage area. Style a vignette with personal items, a table lamp and a few chic pieces. There's enough surface area to set keys or mail (or a hostess gift, should we be so lucky). (1)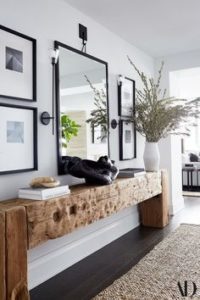 ▣ Style Your Space
With a little attention to styling, even a small console becomes a major design statement. Always remember the "rule of threes," especially for an entryway table. A few examples on how to mix heights and textures: Try an interesting lamp, catch-all tray, floral arrangement and a sculptural object on a stack of books next to a photo frame. (1)
This includes mirrors and artwork as well. Strategically hang a mirror to reflect more light and give the appearance of a larger space. (1) Or, hang a gallery wall. Instead of placing your photos and art sporadically around the room, cluster them together. This move deliberately defines a wall as your entry, sectioning it off from the rest of an open layout. (3)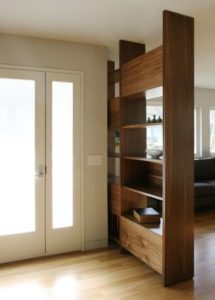 ▣ Define Your Entry
A shallow, two-sided bookcase can literally define an entry area. It takes up very little space and adds style and function. (2)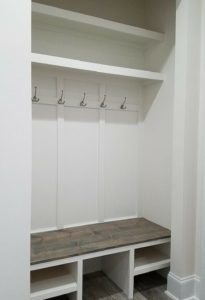 ▣ Re-imagine Your Closet
Open up a cramped space and gain a helpful spot for extra seating by ditching the closet door. Hooks and baskets look decorative, but still provide ample storage. Add a little built-in bench with cubbies and storage for coats, mittens and scarves. (2)
If you prefer, once you ditch the doors, you can add a chest and artwork/a mirror instead of installing a bench and cubie storage. This new space will fool the eye into believing an entry exists. Adding a great lamp on the chest enhances that impression, especially if you leave it on all the time (with a low-wattage bulb). (2)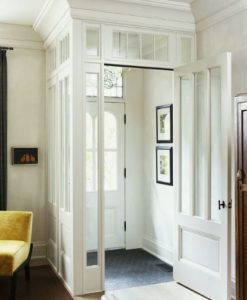 ▣ Build an Entry
Is walling in and sectioning off your front door too over-the-top? If you live in a climate frequently beset by inclement weather, an entry like this will help keep the cold, wind and wet out. (2)
A simplified version? Build a pony wall. If your front door is at the end of your living area rather than in the middle, a pony wall could be an excellent way to create a sense of division and the suggestion of an entry. (2)
For help designing your formal entry space, contact Talie Jane Interiors at 855-825-4352 or [email protected].
---
Sources:
1. https://www.mydomaine.com/entryway-decorating-ideas-4767850
2. https://www.houzz.com/magazine/no-entryway-create-the-illusion-of-one-stsetivw-vs~26568992
3. https://www.goodhousekeeping.com/home/decorating-ideas/g2462/fake-an-entryway/?slide=1