Area rugs in our homes are like shoes to a well-put-together outfit. You wouldn't go to the trouble of selecting your best outfit for a night out and then go barefoot. It's the same principle with rugs. Shoes complete an outfit and, in some instances, will actually outshine what you're wearing, if you want them to that is. It's the same with rugs. They can be a game changer on how a room looks and feels.  Rugs can either sit in harmony with your room, or they can make a statement by adding an element of surprise, and I for one, love surprises! (1)
Rugs create a visual pathway, add warmth and character, enable texture, color and dimension, enable room flow, provide sound absorption, define a space, connect a space, tie a design together and even act as wall art. Ultimately, they provide comfort.
Since area rugs play such an important role in design, it's critical to select the right rug for your space. With the need to consider size, material, and functionality, it's hard to know where to start. We've tackled some of the hard questions for you below.
Rug Materials, Care & Maintenance (2)
One of the most important considerations when selecting an area rug is material. What fiber or fibers are being knotted or woven together to create your ideal rug? The material(s) used effect durability, texture/hand and care and maintenance. Check out some of the most popular materials:
Wool
Wool is the most common material used for rugs and is prized for its durability and softness.
Why we love it: Wool is strong, has good water and stain repellency, has excellent insulating properties and is cozy underfoot.
Things to consider: Wool is not good in damp places as it absorbs humidity; it's subject to fading and some shedding may occur but will lessen over time.
Best for: Living rooms, dining rooms and high-traffic areas.
Care: Best vacuumed twice a week with a soft, bristled vacuum head with an adjustable roller. Any stains should be blotted with a towel or clean cloth; rubbing will cause the stain to set into the wool. (3)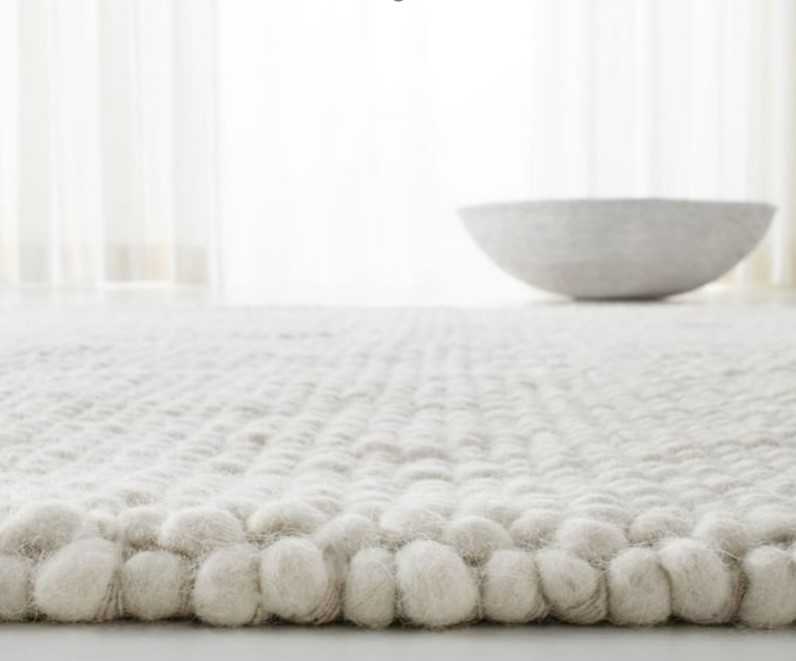 Cotton
Cotton is most frequently used to make flat-weave rugs such as dhurries and kilims. It's also a sustainable and natural fiber that is well suited for those with allergy sensitivities.
Why we love it: Generally, it's more affordable than wool or silk and it's easy to clean.
Things to consider: Cotton doesn't always wear well over long periods of time.
Best for: Kitchens, children's rooms and casual spaces.
Care: Shake first to loosen dirt trapped inside the fiber; vacuum tightly using a nozzle attachment. A rug shampoo, cleaner or mild soap can then be used but should be rinsed thoroughly. Excess water can be removed with a wet dry vacuum or squeegee. Any fibers squished in the above process can be restored by running a quick vacuum. (3)
Jute, Sisal & Seagrass
Durable, natural grasses and other fibers combine neutral, earthy palettes and rich textures, making them the ultimate design chameleons.
Why we love it: These materials are very strong, are renewable and are typically free from chemical processing.
Things to consider: These materials are inherently absorbent and shot bot be placed in damp environments. Come varieties can be coarse and difficult to clean.
Best for: Living rooms, high-traffic and sunny areas.
Care: Vacuum regularly with a brush attachment. Any fibers that sprout from normal wear and tear can be clipped off with scissors. (4)
Silk
Luxurious and lustrous, silk rugs are adored for their softness and subtle sheen.
Why we love it: Silk is very soft and has a sumptuous feel with finer details than wool.
Things to consider: Silk requires professional cleaning, can show footprints and is easily damaged by abrasion, heat, light, strong chemicals and in some cases even water.
Best for: Bedrooms and low-traffic areas.
Care: Use an absorbent pad or paper towel to blot spills. Heavily mist area with a solution of equal parts vinegar & cool water. (3)
Animal Hides
Available as complete hides, stitched panels or woven strips of tanned leather, animal hides have many variations.
Why we love it: Hides are both soft and durable, are generally easy to clean and are very unique (no two animals are alike).
Things to consider: Hides are not great for damp or humid areas. Dyed and printed hides should be kept out of the sunlight.
Best for: Bedrooms, offices, dens and low-traffic areas.
Care: Maintenance varies from hide to hide but generally you can beat the rug outdoors or use your vacuums brush attachment in the direction of the natural 'grain'. Liquid stains should be soaked up immediately. Oil-related stains (lipstick, chewing gum) can be removed by scrapping in the direction of hair. Then use Eucalyptus oil softly on the spot and rub spot with damp cloth with soapy water. (3)
Polyester
Polyester area rugs are absorbant and fast-drying which means they are far less prone to mildew and mold.
Why we love it: Polyester rugs are extremely popular because they're great to have in a house with kids or pets. They are affordable, easy to maintain and are great for the outdoors. Easily replaced, they come in a wide variety of colors.
Things to consider: Polyester is not resistant to oily stains, and in fact an oily spill or spot left without proper cleanup can oxidize and even chemically bond with and become part of the fiber.
Best for: Entertainment spaces or relaxation areas.
Care: Vacuuming should be frequent. A suction- only canister vac will give the best result and prevent excess pulling and fuzz. (3)
Synthetic
Synthetic rugs consist of man-made fibers including viscose, nylon, and polypropylene. They have been improved over the years to mimic the characteristics of natural fibers.
Why we love it: These rugs are easy to clean, are family-friendly and can be used in damp environments. In fact, many types can even be used outdoors.
Things to consider: Synthetic rugs don't always feel luxurious.
Best for: Hallways, outdoors (note: not all synthetic rugs are suitable for outdoor use), high-traffic and sunny areas.
Care: Vacuum regularly have it professionally cleaned annually. (3)
Sizing and Placement
Rug size is another key component in determining the best rug for your space. Aside from the actual room dimension, the type of furniture and its placement will also dictate the best size and shape needed.We've gone room-by-room to provide the best tips for each space.  
Entries
Select a rug that's wider than the door opening.
Run the rug horizontal to the door opening; (3 x 5 is a standard size) for a front door mat look.
Consider a runner instead; runners are usually 2' to 3' wide and come at lengths of 6', 8', 10', or 12' and are great for narrower entry spaces.
Go with the oversized entry rug trend; fill the entire entryway rather than laying a front door mat; use more than one rug – layer a second on top.
Kitchens
Try a vintage rug in your kitchen; we love them! Mass-manufactured runners are often too narrow for today's kitchens that have wider walkways.
Ensure 6" of space between the cabinets & runner; runner should be extend beyond the cabinetry.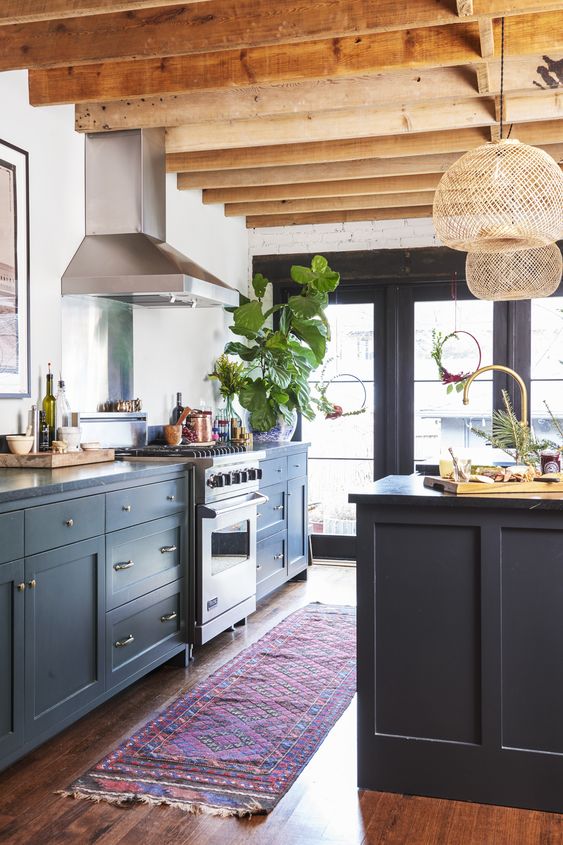 Living Rooms
Make sure your furniture is either fully on or halfway on (front legs) the rug; side tables can either be on or off the rug but should not be half and half for stability.
Lay the rug in line with the sofa back (typically).
Purchase a rug that's larger than your sofa, always!
Dining Rooms
Ensure that the dining chairs will sit fully on the rug when pulled out.
Measure so that the rug extends past the table about 24."
Mimic your dining table shape (i.e., round rug for round table).
Bedrooms
Install your rug so that the bed and nightstands either sit fully on the rug or pulled the rug approximately 6" in front of the nightstands.
Leave enough room for a bench and walkway space at end of bed, approximately 18."
Layering (5)
Layering rugs is a great way to have fun with color, pattern, and texture. You can layer an area rug on top of wall-to-wall carpet or layer it over another existing area rug. Layering has to be done right.
What does layering do?
Allows you to play with the lines and angles of the room and draw the eye to your focal point.
Creates texture, interest, character and color and a focal point (if desired).
How do I layer?
Lay the base rug down straight, aligned with the furniture. Add a smaller, accent rug with a change in orientation.
Installing the accent rug on a bias will call attention to the rug so make sure this is your intention.
Some people find a colored carpet covering their entire floor to be too much, so layering allows for a neutral base with a smaller pop of color; the key is to find colors that complement each other and the rest of the items in the room.
For other people, a single rug doesn't offer enough color. Fortunately, there's no reason why you can't layer color on color. Layering patterned rugs on top of each other is a little trickier than layering a patterned rug on a solid rug, but it's possible. When experimenting with this look try to use colors that are of the same intensity. For instance, don't mix pastels with jewel tones.
You don't need to use multiple colors and patterns to make this look work for your home—layering rugs that are different textures on top of each other is a fabulous way to add depth to a room.
Consider a cowhide rug on top of a sisal rug, a sheepskin on top of a jute rug or anything soft on top of a flat weave—add interest in a more subtle but equally effective way.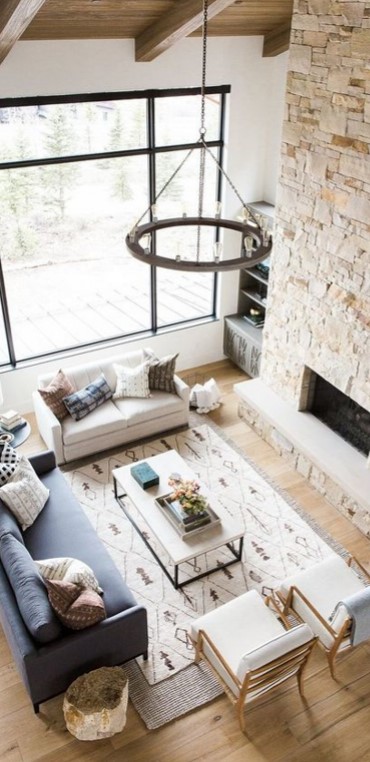 Rug Pads (6)
We would be remis not to mention the importance of rug pads in our area rug discussion. Rug pads are an important part of the final feel and function of your rug.
What is a rug pad?
A rug pad is a sheet of material that serves as a buffer between your area rug and the floor. It holds the rug in place, softens the floor, makes cleaning easier and dampens sound. The type of flooring you have in your home and the feel you want your rug to have will dictate the type of rug pad choice. There are typically four main types of rug pads; Natural rubber, felt, memory foam and PVC.
Natural Rubber
All natural and eco-friendly, natural rubber provides maximum grip, helping to hold in place even the most slippery rugs.
This is a great match for most floor finishes, except for certain vinyl finishes that aren't meant to mix with rubber.
Unfortunately, natural rubber does not provide a great deal of cushioning.
Felt Rug Pads
Felt is dense, soft, and comfortable. It also offers soundproofing, rug longevity and floor protection.
Scratchy rug types, such as jute, should always be paired with a felt rug pad.
You won't get a great deal of grip from felt, so this material pairs best with a rug that doesn't need too much help staying in place.
Memory Foam
Memory foam provides dense, plush, cushioning and is made from viscoelastic polyurethane foam, select re-bonded foam or soybean oils and natural minerals.
Note, that memory foam does not prevent slipping. So, memory foam pads pair best with larger rugs that don't require a non-slip pad.
PVC Pads
PVC pads are made from a high-performance soybean oil polymer blend and are the superior rug pad choice as this material is excellent at providing both grip and support. And, it's completely safe for your floor.
These are engineered to be extra dense to resist compression. That means your rug will conform to your footsteps, creating a soft yet firm floor surface.
Note that traditional PVC pads can be problematic, causing stripping and staining of your floor.
For area rug help in your home, contact Talie Jane Interiors at 855-TALIE JANE (855-825-4352).
Article by the Talie Jane Interiors team.
Sourcing
Images: Pinterest