It's the day after Thanksgiving and I'm already looking forward to watching my favorite Christmas movies! Not only do I love the nostalgia, Christmas songs (in some cases) and crazy family interactions, I love the sets of these movies. Below is a countdown of my all-time favorite Christmas movies and the beautiful sets that make them so memorable.
#5: A Christmas Story (1983)
Starring: Peter Billingsley, Melinda Dillon, Darren McGavin
Directed by: Bob Clark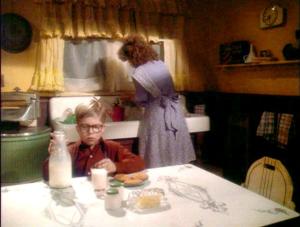 Plot: "In the 1940s, a young boy named Ralphie attempts to convince his parents, his teacher and Santa that a Red Ryder BB gun really is the perfect Christmas gift." (1)
The movie A Christmas Story is arguably one of America's favorite holiday films. Over the years, this modest little movie has grown into a Yuletide perennial. And it's a favorite of mine too!
The setting for the movie was based on Hammond, Indiana the home town of author Jean Sheperd. "Sheperd grew up on Cleveland Street and went to Warren G. Harding Elementary School. Just like Ralphie." (2)
The movie was actually filmed in Cleveland, Ohio and Toronto, Ontario. The house from the movie is located just outside downtown Cleveland (The Parker family home is 3159 West 11th Street in Tremont, south of downtown).
To find an American city resembling an Indiana town of the 1940s, director Clark sent his location scouts to twenty cities before selecting Cleveland, Ohio, as the site for filming. The decision to film in Cleveland was due to the willingness of Higbee's (an actual department store) to allow the movie to be filmed inside the store. (2)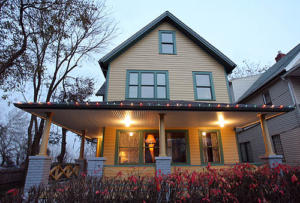 The now well-recognized house was built in 1895: a colonial-style home in an area comprised largely of families whose men worked in the nearby Flats. It's a wonderful adaptation of a Midwestern home in the 1940's.
The Parker house features many of the key elements of Forties design (3):
Linoleum!
A strong, jewel-toned color palette
Wall-to-wall carpet
Tufted stools, chairs and sofas
Abstract artwork
Blond wood furniture
Large scale floral, striped and plaid wallpapers
Chintz draperies
Colonial furniture
Floral slipcovers
Ruffled and scalloped edges
Built-in furniture and banquettes
Wood paneling
Small print hooked rugs
Knotty pine
Bamboo furniture
Pennsylvania Dutch/ folkloric details
Space saving kitchen amenities
High contrast bathroom tile
Glass block
Chenille bath rugs
#4: National Lampoons Christmas Vacation (1989)
Starring: Chevy Chase, Beverly D'Angelo, Juliette Lewis, Johnny Galecki
Directed by: Jeremiah Chechik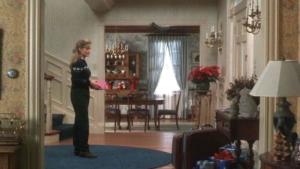 Plot: "The Griswold family's plans for a big family Christmas predictably turn into a big disaster." (4)
A modern classic. While set in a snowy suburb of Chicago, Christmas Vacation [the third in the series] was lensed primarily in sunny Los Angeles (along with a few exteriors shot in Colorado). "The set of the Griswold family's traditional clapboard house is located on the backlot of the Warner Brothers Ranch facility in Burbank (RV not included)." (5)
"Due to the fact that the residence is used for filming on a regular basis (it has appeared in American Beauty, ER, Moonlight, Pleasantville, Small Soldiers, and a series of 2012 Christmas Vacation-themed Old Navy commercials, to name a few), its façade has been changed repeatedly throughout the years and is now almost unrecognizable from the time that Clark W. Griswold (Chevy Chase) hung lights there in 1989." (5)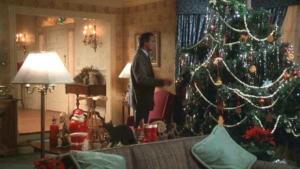 In fact, it's the same house featured on Bewitched as well as The New Gidget. Except it's not a house at all; it's part of the Warner Brothers back lot, located on what is known as Blondie Street. The rest of the Griswolds' neighborhood is on a studio back lot as well. And if the home of their snooty neighbors, Todd and Margo, looks familiar, that's because it's where Roger Murtaugh (Danny Glover) and his family lived in Lethal Weapon.(6)
The home's interior is very warm and welcoming. It's traditional 80's and 90's design with country style kitchens, chintz, busy wallpapers, crown molding, wainscoting, white millwork and trim, full-length, sweeping drapery treatments and gold accents is beautifully done. Although I could have done without the typical 80's pink bathroom! There are a lot of similarities between the interior design of this "home" and that of my next top favorite. Seeing as they are both supposed to take place in the Chicago suburbs and were filmed one year apart, it's not surprising.

#3: Home Alone (1990)
Starring: Macaulay Culkin, Joe Pesci, Daniel Stern
Directed by: Chris Columbus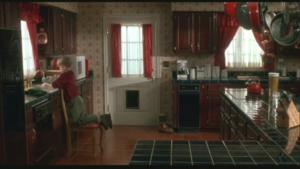 Plot: "An eight-year-old troublemaker must protect his house from a pair of burglars when he is accidentally left home alone by his family during Christmas vacation."(7)
I love that this movie was filmed a few towns over from where I grew up! There's also the famous scene at O'Hare Airport (American Airlines terminal) when the family is running through the concourse to catch their flight, without "Kevin," of course. I think of this scene every time I walk through the terminal. Luckily, I haven't yet had to reenact the scene to catch a flight.
Unlike a lot of movies, which film on a studio lot and simply re-dress house-like structures, Home Alone filmed its exteriors at a real residence.
 
"Some scenes in the film were shot in a three-story single-family house located at 671 Lincoln Avenue in the village of Winnetka [just north of Chicago].vThe house was built in 1920 and features five bedrooms, a fully converted attic, a detached double garage and a greenhouse."(8) It was chosen partly for its look and partly because the production needed a house that had the properties – like front steps – needed to pull off some of the film's stunts.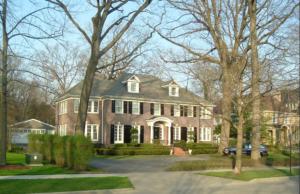 "The kitchen in the film was shot in the house, along with the main staircase, basement, attic and most of the first-floor landing. The house's dining room, and all the downstairs rooms (excluding the kitchen) were duplicated on a sound stage to allow more room for equipment and crew."(8)
The home really is beautiful. The detailed millwork is truly exceptional. I love the arched hallways and entryways, crown molding and white wainscoting. However, what really jumped out was the color palette. The house's interior features reds, forest greens and golds, traditional Christmas colors. The house was designed for Christmas! The entry stair runner is bright red; the kitchen countertops are dark green tile and the wallpaper is a busy holiday floral pattern. It's the perfect house for a Christmas movie!

#2: A Christmas Carol (the 1984 version)
Starring: George C. Scott, Frank Finlay, Angela Pleasence
Directed by: Clive Donner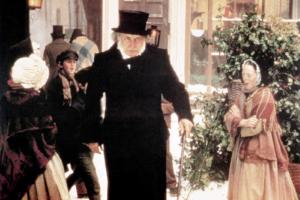 Plot: "An old bitter miser who rationalizes his uncaring nature learns real compassion when three spirits visit him on Christmas Eve." (9)
An absolute classic! As a native of Chicago, I used to see A Christmas Carol performed at the Goodman Theater every year. Such a wonderful way to get into the holiday spirit.
"Besides the Christmas stories that are Biblical in origin, Charles Dickens' 1843 classic telling of A Christmas Carol remains one of the longest-running, most-adapted, and most-relevant holiday tales to date. More than 170 years after the infamous miser-turned-do-gooder Ebenezer Scrooge entered our culture for the first time, there are still quite a few folks out there who could do with taking this timeless lesson to heart." (10)
The 1984 version is a "British-American made-for television film adaptation of Charles Dicken's famous 1843 novella of the same name. It was filmed in the historic medieval county town of Shrewsbury in Shropshire [west midlands of England]"(11) which was transformed into Victorian London for the classic tale.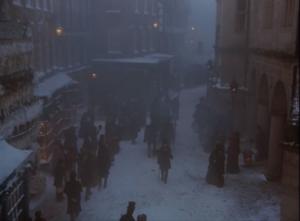 The town of "Shrewsbury was one of Dickens's favorite places, so it was appropriate that the film should be made there…In fact it was in the Music Hall in Shrewsbury that Dickens gave the first ever public reading of A Christmas Carol." (12)
Amazingly, "more than 450 people from the town were used as extras during the filming." (12) In fact, "the Square was used for the opening scenes of the film, covered in snow with people walking about in Victorian dress…[And] the grave of Ebenezer Scrooge is still to be seen in the churchyard of St Chad's overlooking the Quarry."(12)
The town/street scenes in the film are spectacular and are my favorite filming locations of the movie. The transformation of the town is amazing. The damp, dark street scenes, filled with fog and snow, always give me a chill as if I'm there. Horse and buggies, the dimly lit street lamps and carolers in period costume bring the Victorian town to life.

And, my number one most favorite Christmas movie…

#1: White Christmas (1954)
Starring: Bing Crosby, Danny Kaye, Rosemary Clooney and Vera Ellen
Directed by: >Michael Curtiz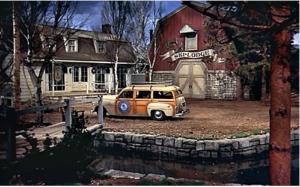 Plot: "A successful song-and-dance team become romantically involved with a sister act and team-up to save the failing Vermont inn of their former commanding general." (13)
This movie has it all, romance, comedy, dancing and singing! One of my favorite Christmas songs, which most people have never even heard of, is "Snow," sung by the foursome (Bing Crosby, Danny Kaye and Rosemary Clooney) as they make their way on the overnight train to Vermont. And for these reasons, I watch it every year.
Like in many good films, the locations play very important roles and are almost like characters themselves. Interestingly, if you try to find Pine Tree, Vermont (where much of the film takes place) on a map or go there for a stroll…you're out of luck." (14) No part of the film was shot in the Green Mountain State. "The town is fictional [and] lives only inside the Vistavision musical that sings and dances nonstop on laptops and TV sets this time of year."(14)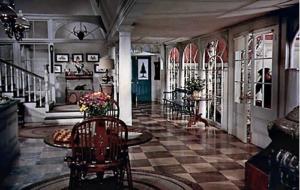 General Waverly's Columbia Inn in fictional Pine Tree, Vermont, made its debut a decade before, in Holiday Inn. The set on the Paramount lot was refurbished for the next Christmas classic." (15)
Nonetheless, the set of the inn is absolutely gorgeous, especially when the snow finally begins to fall.
The lobby of the inn features a glass double-door entry, arched floor-to-ceiling windows, loads of white trim, columns and lodge charm. I love the checkerboard floors, white banister and decorative millwork. Every detail is so welcoming, down to the game table and round area rugs.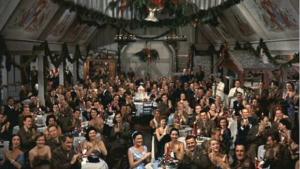 The expansive dining room is my favorite room at the inn, with its cathedral ceilings, exposed beams and stonework. There are even murals painted in the ceiling panels! The sitting room adjacent to the dining room features a wrap-around window seat with patterned cushion and elegant legs. It's a nice juxtaposition to the open firepit and copper chimney. It is all tied together with swooping Christmas bows, bells and bows. The perfect place for Wallace and Davis to perform!
The beautiful wood beds in the cabins are magnificent, even if they are up against the closets and don't really make sense in their layout. Not everything needs to make sense in the movies.
---
Sources:
1. https://www.imdb.com/title/tt0085334/
2. http://www.achristmasstoryhouse.com/a-christmas-story-movie-facts/trivia/
3. https://www.apartmenttherapy.com/american-style-1-151058
4. https://www.imdb.com/title/tt0097958/
5. https://www.lamag.com/citythinkblog/scene-it-before-the-griswold-house-from-national-lampoons-christmas-vacation/
6. http://mentalfloss.com/article/60330/27-things-you-might-not-know-about-christmas-vacation
7. https://www.imdb.com/title/tt0099785/
8. https://en.wikipedia.org/wiki/Home_Alone
9. https://www.imdb.com/title/tt0087056/
10. http://collider.com/a-christmas-carol-adaptations-ranked/#scrooge-or-marleys-ghost-1901
11. https://en.wikipedia.org/wiki/A_Christmas_Carol_(1984_film)
12. http://news.bbc.co.uk/local/shropshire/hi/people_and_places/newsid_8589000/8589877.stm
13. https://www.imdb.com/title/tt0047673/
14. https://www.burlingtonfreepress.com/story/news/local/2014/12/24/white-christmas-imaginary-vermont-town/20767323/
15. https://www.goodhousekeeping.com/holidays/christmas-ideas/g2997/white-christmas-movie-facts/