Like baseball, fireworks, and sweltering temperatures, the Adirondack chair is the epitome of an American summer. (1) Famed for its simple wooden design, sloped back, and wide armrests, this chair is perfect perched around fire pits, by lakeside cabins, or anywhere in the great outdoors. (2)
But before you kick back in one, you should know that there's actually a whole lot more to the Adirondack chair than just a comfy place to put up your feet! (2)
Here's a brief overview of how the Adirondack chair came to be and why it's considered a timeless summer classic. (1)

What is an Adirondack Chair? (3)
The Adirondack chair is a distinctively styled outdoor chair characteristically made of wood. Originally made with a flat seat and back composed of 11 flat wooden boards, it featured wide armrests parallel to the ground. Today a concave back and contoured seat are the norm.

How is it built? (4)
Constructed from an assembly of spaced wooden laths, the Adirondack chair is identifiable by two special features: its wide armrests and a back that slants at an angle. The chair was either left in its natural state or painted — often a redwood brown, chestnut, green, blue-grey or white.

▸ What is it made of?

The best quality chairs are high-end teak, durable shorea, and more modern weather-resistant polyresin models. (4) These materials will weather well and last for years. Lesser woods such as plywood and pine are second choice in the materials department. Looking for something cheaper and low maintenance? Plastic Adirondack chairs are lightweight, affordable, and easy to hose off at the end of a sticky day. (2)

Where did the design originate? (5)

The history of the Adirondack chair begins in the Town of Westport, NY with the inventor of the Westport chair – Massachusetts native Thomas Lee. Lee's family owned a house in Westport, and he spent many of his summers there around the early 20th century.
As the story goes, during one summer in Westport, Lee felt a desire to create a chair that could handle the rugged terrain of the Adirondacks. This chair would have to be sturdy, balanced, and comfortable on everything from sandy ground to a small hill.
From 1900-1903, Lee worked on making this new chair. In order to perfect it, he had his family members test out each prototype before moving on to the next. Eventually, Lee came up with what he considered the perfect chair: wide armrests, a high back, and a slanted seat (the seat and back were made from single pieces of wood).

How did it become so popular? (5)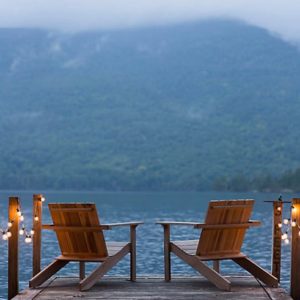 Soon after Lee finalized the design of his Westport chair, he met up with his hunting friend Harry Bunnell, who owned a carpentry shop in the town. Bunnell was worried about the upcoming winter because of a lack of resources that year, so to help him out, Lee gave him the chair's design.
Bunnell began to build and sell these chairs to the surrounding community, and he soon noticed how popular they were. After modifying the design to make the chair a little narrower, Bunnell patented his Westport chair design in April 1904.
Over the next 20+ years, Bunnell developed a successful Westport chair-making business, and he left his signature on each one. The Westport chair grew in popularity because of its durability and high comfort level, but as the years passed, the design began to change into the modern Adirondack chair.

How did the design evolve?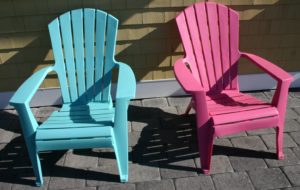 The best explanation for the design change is the difficulty in mass-producing chairs made from a single, knot-free plank. To make construction easier and sell their own chairs, different carpenters began to innovate the Westport chair design. (5)
Both the Westport chair and the newer Adirondack chair feature extra-wide armrests, high backs, and slanted seats. However, the seat and back of the Adirondack chair are made out of multiple slats of wood lined up; the Westport chair was built from whole pieces of wood cut from a single, knot-free plank, which made the design harder to construct. (5)
The popularity of this updated design spread, and because the chair originated in the Adirondacks, it was widely-known as the Adirondack chair. The exception is in Canada, where the chair is called the Muskoka chair, likely due to its popularity in the Muskoka region. (5)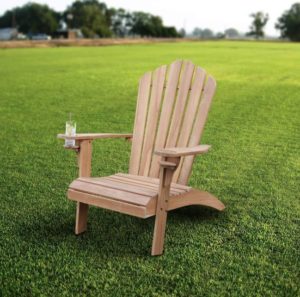 In 1938, Irving Wolpin of New Jersey acquired a patent for another design change. Described as a "lawn-chair," Wolpin's chair had the slanted seat and wide armrests of the Westport chair, was constructed out of smaller slats, but also featured a rounded back and contoured seat. Wolpin's design is the most commonly replicated Adirondack chair today. (5)
In the ensuing 100+ years since its initial inception, the chair has been adapted again and again. The back is often raked, made out of between 3 and 7 slats of wood instead of the single plank of the original Westport chair. (6) A few Adirondack chairs sport a curved upper portion and some rock back and forth, but the most traditional design stands firm and features a straight back made with three to six slats. (2)
Newer variations include slots to hold beverages and modern takes that include hip colors like chartreuse, aqua, white, black and even bright pink. (4)
Despite these adaptations, Adirondack chairs are remarkably recognizable, and unflaggingly popular. Their endurance shouldn't be too much of a mystery (6): simple, comfortable, affordable, and unpretentious—all qualities that make it appealing for apartment balconies, beach houses, mountain cabins, lawns, backyards, and front porches. All qualities that make it a quintessential summer trademark. (1)

Does it go by any other name? (4)
Throughout the years, Adirondack chairs have gone by slightly different shapes and various names, including:
Cottage chair
Muskoka chair
Laurentian
Westport plank chair
Miles Comins chair, a version of the Wolpin chair, designed by Comins in his gas station basement during the early 1940s.
Is it only for outdoor use? (2)

Of course, this outdoor chair was made for lakeside lounging, but it can also reside on your covered porch, in a sunroom, or as part of a casual arrangement in a family room or den. Rustic decor is a good match for Adirondack chairs inside the house.

What is the cost? (2)
Quality Adirondack chairs cost more, but the payoff is that they'll last for years. Cheaper plastic versions start at $20 at stores such as Home Depot, while high-end pieces can run several hundred dollars, such as the Loll version at Design Within Reach for $480.

How do I care for it? (2)
If your chairs will be exposed to the elements, make sure they're sealed with a weather-resistant finish. But even with this coating, you should bring chairs in over the winter months to prolong their life.

For help integrating Adirondack chairs into your home design, contact Talie Jane Interiors at 855-825-4352 or Natalie@TalieJaneInteriors.com.
---
Sources:
1. https://housemethod.com/lawn/history-of-the-adirondack-chair/
2. https://www.realtor.com/advice/home-improvement/adirondack-chair-brief-history-and-more/
3. https://en.wikipedia.org/wiki/Adirondack_chair
4. https://www.thespruce.com/brief-history-of-the-adirondack-chair-2736486
5. https://www.adirondack.net/history/adirondack-chair/
6. https://www.apartmenttherapy.com/adirondack-chairs-quick-histor-118981