"…and it was all yellow."
With summer in full swing, it's the perfect time to dive into the world of outdoor furniture. As the temperature rises, so does our excitement to share another blog with you all! Whether you're looking to redesign your backyard, deck, or patio, knowing the right type of outdoor furniture to choose from can make all the difference in creating your own little oasis. When it comes to outdoor furniture, durability is going to be the key factor. You want pieces that can withstand whatever Mother Nature throws at them – even with harsh Tahoe winters! In this blog, we will look at different outdoor fabrics, types of metal furniture, wicker, teak, and even outdoor furniture made from recycled materials like milk jugs! So, grab your lemonade, dust off that pollen, and let's begin!
Outdoor Furniture Materials: Metal, Wicker, Teak, Recycled plastics
Metal
Maybe you've decided that outdoor fabrics aren't for you and you need something even more durable for your space. Then selecting from these different metals is your best bet. Offering sleek design and durability, these pieces can withstand all different weather conditions.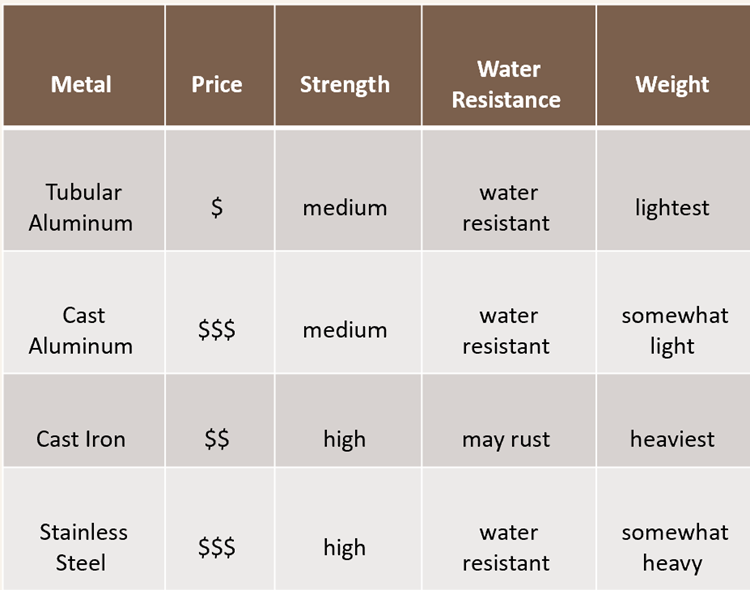 Aluminum
Pros
Sturdy, Affordable, versatile, available in a lot of different styles, recyclable.
Aluminum is a great all-weather material.
Cons
While Aluminum does not rust, it can still corrode, especially near saltwater & chlorine.
Not as heavy as other metals, hollow aluminum is not suitable for windy areas.
Iron
Pros
Heavy & durable (once powder coated)
Cons
Doesn't resist corrosion very well on its own.
Heavy & can be difficult to move.
Will need periodic rust prevention and possible touch-up paint to stave off rust.
May need cushions for added comfort.
Steel
Pros
Weighs less than iron, is very durable and can handle long-term, repeated use.
A powder-coated finish, an anti-corrosion coating, or some other kind of waterproof finish will extend the life of your furniture and prevent rusting.
Cons
Can be hot to touch.
If the finish on your furniture gets scratched or chipped, it is important to cover the damage with a spray-on treatment to prevent it from rusting.
Wicker
What is Wicker?
Wicker refers to the weaving technique that can be used with various materials to create unique and stylish furniture pieces. Rattan, bamboo, reed, willow, or synthetic fibers are usually used for crafting wicker furniture. With a history dating back to ancient Egypt, it has proven to be a popular choice for outdoor furniture due to its durability, lightweight nature, and versatility.
Can everyone have organic wicker furniture?
If you live in an area like Tahoe with hard winters, consider choosing synthetic wicker. Synthetics are made with high-quality materials like polyethylene, resin, and vinyl.
These options are more durable and weather-resistant and can withstand harsh climates better than organic wicker. While organic wicker offers a classic, organic aesthetic, it requires more care and will not hold up over time.
Synthetic wicker, though less authentic in appearance, is typically more durable, easier to maintain, and often more affordable.
Teak
What is Teak?
Tropical hardwood that comes from the Tectona Grandis tree.
Pros
Weather Resistant – even when not treated with oil or varnish.
Long-Lasting – properly aged and dried teak contains natural oils that make it more weather-resistant than just about any other type of wood.
Cons
Affordability – one of the most superior-performing timbers but one of the most expensive; while it costs more upfront, it's likely you won't have to replace it as early as many inferior timer pieces.
Versatility – not as readily available as some other timbers.
Grades of Teak
Not all teak is made equal. Teak wood is classified by the region it is grown in and grade. Knowing whether teak is Grade A, Grade B, or Grade C can tell you about the age, quality, look, and durability of the wood you are buying.
Grade A: To qualify as Grade A teak, the wood for your patio furniture must be cut from the center or 'heartwood' of a mature teak tree. Fully mature teak trees are usually 20 years old or older.
Grade B: Refers to timber cut from the outer part of the heartwood. Grade B teak isn't as reliable or long-lasting for outdoor furniture because it doesn't have as much of the wood's natural protective oils.
Grade C: Teak is timber from the outer sections of a sapwood, or from immature trees. Grade C teak is uneven in color and has very little if any, natural protective oils. It is also very soft and can be easily damaged.
How can you care for your teak?
While teak can be left uncovered, you can choose to cover your teak furniture in the winter. It's integral to cover with a breathable material that allows air to flow.
Use a mild solution of soapy water or a diluted mixture of Marine SimpleGreen and water to remove accumulated dirt, rinse with clean water.
Recycled
What is recycled outdoor furniture?
You might be wondering, what exactly is recycled plastic patio furniture? What's it made of, and why should you choose that material over others? Purchasing patio furniture made from recycled plastic is a great way to help the environment and engage in quick and easy sustainability practices.
Generally, when we say, "recycled plastic," we are most often talking about a material that is made from Recycled high-density polyethylene (HDPE).The main compound that makes up most HDPE you can buy today is a raw plastic material that was used by consumers at one point.
Examples:
Detergent Bottles
Milk Jugs
Shampoo Containers

Maintenance
Another great benefit of recycled plastic patio furniture is that it is basically maintenance-free. You won't have to worry about refinishing it like teak furniture, no rust, and no repainting. Seasonal storage is not required. You can leave your HDPE out year-round.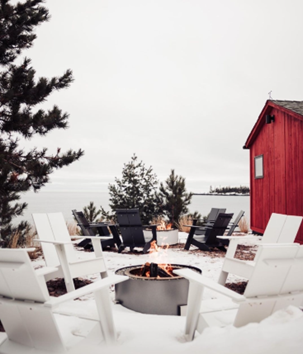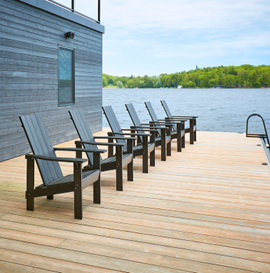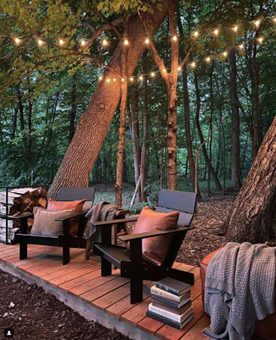 Outdoor Fabrics
When it comes to outdoor fabrics, you have some options. These materials are specially made to resist fading from the sun and are also water resistant.
Solution Dyed Acrylic
Made from a liquid acrylic solution that is mixed with the dye and spun into a yarn which is then woven into fabric.
These fabrics are great because they have the soft quality of an indoor fabric, they're naturally water resistant, and can withstand direct sun exposure.
Polypropylene
Has excellent properties of cleanability, abrasion resistance and resistance to mildew and chemicals.
It's not as soft as acrylic and is mostly used for making outdoor furniture covers.
Marine Grade Vinyl
High UV resistance, color-fading, and mildew resistant and holds well in high-traffic environments like restaurants and hotels.
A huge downside is that when used in warmer climates, the surface can become extremely hot to the touch.
Spun Polyester
Unlike solution dyed acrylic, spun polyester is woven first and then screen printed. This allows for a wider range of colors & patterns.
Though this is less expensive, it tends to be stiffer and rougher to the touch.
Great option for indoor bench fabrics that are near a window and more prone to sunlight.
For assistance designing for your outdoor space, contact Talie Jane Interiors at 855-TALIE JANE (855-825-4352).
Sources
1)
https://blog.grandrapidschair.com/the-ultimate-guide-to-outdoor-fabrics-for-commercial-furniture
2)
How to Choose Metal Outdoor Furniture for Your Patio | Overstock.com
9 Pros and Cons of Aluminum Patio Furniture | Live Your Best Backyard
The Best Materials for Your Patio Furniture (houzz.com)
3)
https://liveyourbestbackyard.com/wicker-vs-rattan-patio-furniture/
4)
Grade-A Teak & Why it's Best for Outdoor Furniture | Neighbor (hineighbor.com)
Why Teak is the Best Wood for Outdoor Furniture (teakwarehouse.com)
Teak outdoor furniture | What are the pros and cons? (ecooutdoor.com.au)
Best A-Grade Teak Furniture Care Guidelines | Teak Warehouse
5)
https://www.sustainablejungle.com/sustainable-living/recycled-plastic-outdoor-furniture/
https://www.patioproductions.com/blog/features/recycled-plastic-patio-furniture-buyers-guide/#number5
https://www.polywood.com/coastal-chaise-with-wheels-sw2290.html?polywood_frame_color=49&sling_color=85
Images: Pinterest, Google Images, Loll Designs.
https://pinecrestfabrics.com/fabric-knowledge/sustainable-solution-dyed-fabric/
https://www.coverstore.com/outdoor-modular-sectional-sofa-loveseat-cover?cat=46
https://www.visitfrisco.com/restaurants/outdoor-seating/?view=list&sort=rankAlpha&bounds=false
https://www.thisoldhouse.com/furniture/21018912/all-about-window-seats
Article by the Talie Jane Interiors team.