The terms rattan and wicker are often used interchangeably due to misconceptions that they are one in the same. In today's day and age, both rattan and wicker are becoming increasingly popular in indoor and outdoor home design. While they both offer a similar look and feel, there are some key differences to keep an eye out for to ensure you are using the most fitting product for your intended design project.

WHAT IS RATTAN?
Rattan is made from a type of vine closely related to palm trees which grow in countries such as Indonesia and Malaysia. (4) These vines are extremely durable and typically grow 1-3" in width and hundreds of feet tall. (2) The practice of weaving rattan first requires steaming the material. This allows the rattan to become malleable so artisans can then weave it into intricate designs. Despite its eastern roots, rattan has been woven for more than 150 years in Sweden, the motherland of rattan furniture. (3)

WHAT IS WICKER?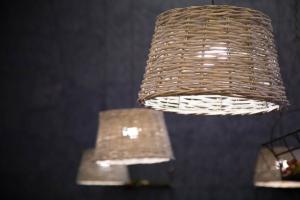 Wicker is an ancient weaving technique that incorporates various types of natural materials such as willow, bamboo, straw, rush, and even rattan. (2) In order to make wicker products, these natural materials are first soaked in water to become flexible, then hand-woven into intricate patterns. (7) This ancient art form originated in Egypt, and has since become widely used in modern home ensembles. Wicker weaving reached its height of popularity in the 19th century due to an influx in rattan trade between Asia and Europe. (4)

Classifications of Wicker
Authentic wicker products are hand-crafted by skilled artisans; however, synthetic options are extremely durable and may be better for outdoor use. "Natural wicker tends to be available in two to five color finishes depending on where it is made. Whereas, outdoor resin wicker is available in up to ten designer finishes." (7)

▸ A-Grade Natural Wicker
This classification ensures you are purchasing a top-quality product made with true craftsmanship. "The low cost of the natural wicker material is slightly offset by the high quality and craftsmanship used to make the products." (7)

▸ Synthetic Wicker
Due to recent advancements in technology, there has been an influx in synthetic substitutes for wicker. These man-made alternatives may be referred to as "all weather wicker, outdoor wicker, and indoor/outdoor wicker or resin wicker". (7) These products are made with an aluminum frame and have a long-lifespan if cared for properly.

KEY DIFFERENCES BETWEEN RATTAN AND WIKER:
Rattan is a vine material while wicker is an ancient weaving technique that incorporates various types of natural materials. (2)
In a general sense, rattan is more durable because it has a solid core adding stability to the finished product. (3)
Wicker is better for outdoor furniture due to advancements in all-weather resin.
CONTRIBUTING FACTORS TO INCREASED POPULARITY:
Advancements in technology have led to close product substitutes for rattan such as polyethylene and polypropylene. (5) These alternatives provide more affordable and durable options for consumers leading to increased popularity.
Continued growth in bohemian trends have made both rattan and wicker more widely showcased. (1)
Advancements in all-weather resin have made wicker more desirable in outdoor patio furnishings. (7)
OUTDOOR USE: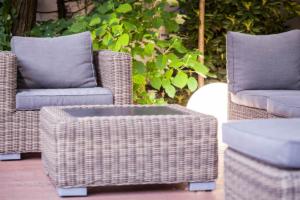 Rattan furniture fades when exposed to natural light for an extended period of time. This makes rattan a better indoor material in comparison to wicker. (2) Synthetic wicker is often best for outdoor patio settings; however, if you are considering outdoor rattan furnishings, be sure the pieces are coated in a UV stabilizer. (5) To avoid weathering, keep out of direct sunlight or use furniture coverings.

UPDATING WORN RATTAN OR WIKER:
When your furniture becomes weathered, it may be time for a face lift. There are numerous ways to spruce up these old furnishings and upcycle rather than tossing them away. For instance, adding custom cushion pieces adds new life to a furnishing and ties in surrounding color schemes and patterns. Fun throw pillows are also a great way to add new life. If your furniture is chipping or sun-stained, a new coat of paint may be due. It is a simple and cost-effective way to give your furniture a makeover.

COMMON USES FOR RATTAN AND / OR WICKER: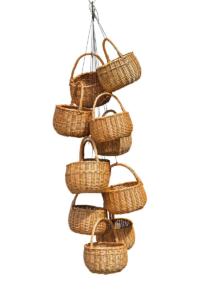 Despite the differences, rattan and wicker have synonymous uses.
Furniture
Baskets
Carpets / Rugs
Window Treatments
Light Fixtures
Planter boxes
Peacock chairs
Patio tables
Coffee tables
Stylist storage bins
Bedframes
Decorative Chairs
Hanging Adornments
Centerpiece Accessories
Woven Partitions

Overall, both rattan and wicker make beautiful home accessories and are able to blend with a variety of interior design styles. If you are interested in designing a space to include rattan or wicker furnishings, be sure to consider their key differences to make your space exactly what you desire.
– article by Emily O'Halloran
---
SOURCES:
(1) http://www.hgtv.com/design-blog/design/wicker–rattan–what-s-your-take-on-the-boomerang-design-trend-
(2) https://www.homedit.com/what-is-the-difference-between-wicker-and-rattan-furniture/
(3) http://www.impressiveinteriordesign.com/difference-between-wicker-and-rattan-furniture/
(4) https://www.nytimes.com/2017/08/15/t-magazine/design/wicker-furniture-larsson-korgmakare-soane-bonacina.html
(5) http://www.outdoorlivingdirect.com.au/blog/index.php/wicker-furniture-buyers-guide/
(6) https://www.patioproductions.com/blog/fascinating-stuff/wicker-vs-rattan/
(7) https://www.wickerliving.com/blog/all-about-wicker/
ADDITIONAL RESOURCES:
http://interiorcollective.com/creativity/11-ways-to-add-wicker-into-your-home
http://www.hgtv.com/videos/painting-outdoor-wicker-furniture-87893
http://www.hgtv.com/design/outdoor-design/outdoor-spaces/how-to-refresh-a-rattan-peacock-chair