Area rugs are a great example of timeless interior décor, and you would be hard-pressed to imagine a stylish and comfortable home without one. There are many factors to consider when you're selecting a rug, and each will affect the way it looks and feels in your space.
Here's a 5-point cheat sheet to help you get your interior styling right:

What is the Primary Purpose of the Rug?
The first thing you need to decide is what the rug will be used for.
Is it to simply add visual appeal or luxury to your interiors, or will it be used regularly?
Should it blend in with your décor or stand out as a statement piece?
How much traffic do you expect it to see?
How easy is it to clean?

Rug choices can also make your space seem larger or cosier, so consider the kind of space where they will be placed as well as the mood you want to create.

What Kind of Space Do You Want to Create?
The rug you choose can make or break the interior space it's placed in, so understand what kind of effect you want to create.
Deep hues and rich textures create a warm and intimate ambience, while brighter colours and bold patterns add a vibrant feel.
Soft patterns in muted shades create a sense of serenity, while cooler hues can be used to make a room seem calm and refreshing.
If you want to make a space more formal, opt for deep jewel colours or warm earth tones, with traditional patterns and smooth finishes.
Luxury rugs made with leather or cowhide are perfect for formal settings such as offices, meeting rooms and studies.
Where is Your Rug Going to Be Placed?
The next thing to consider is where the rug will be styled, i.e. which part of the house and the specific area within that space.
Typically, rugs placed in dining rooms should extend far enough beyond the table so chairs can be pulled back without going off the edge.
In a bedroom, they should cover the space under the bed as well as 2-3 feet outside of it, to keep your feet warm when you get out of bed.
Rugs for living rooms need to be large enough so couches fit on them completely, unless you're placing furniture around the rug instead.
Gaps between furniture and area rugs can make a room seem larger, but make sure that you arrange furniture symmetrically around a central rug.
If you prefer smaller rugs instead of large focal pieces, try layering them on top of larger neutral rugs to create a cohesive and finished effect.
Which Rug Style Best Suits Your Lifestyle?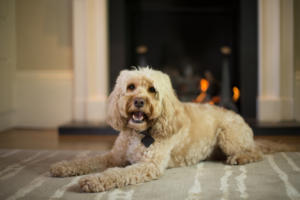 You may be tempted to buy a stylish rug just because it looks good, but consider the practical aspects of your lifestyle as well.
If you have kids or pets running around your home, you need natural rugs that are sturdy, non-slippery and easy to clean.
In spaces used for entertainment or dining, choose cowhide rugs that can be wiped down or dusted off if anything spills on them.
Bedrooms, family rooms, playrooms and other leisure spaces should be furnished with rugs that are inviting, comfortable and soft on your feet.
Contemporary rugs are usually designed to take heavy foot traffic, but you should opt for natural materials such as leather, wool or hide.
What Materials and Patterns Will Work Best?
There's a huge range of styles, materials and patterns available in rugs these days, so it's a good idea to understand what works for you.
Neutral colours are perfect for spaces with busy furniture or décor, but you could also pick a secondary colour from furniture patterns for extra appeal.
With plain, solid-coloured furniture and walls, use a patterned rug in vibrant shades or rich textures to brighten up the area.
Traditional patterns such as florals or medallions add elegance to formal spaces, while geometric or abstract designs in contemporary rugs add a modern touch.
If you enjoy a blend of both styles, transitional designs such as asymmetrical or lasered rugs might be the best choice.

– Guest post by Kura Perkins, Founder, Design & Elevate

---
Sources:
1. https://valiant.com.au/blog/rug-styling-101-%E2%80%93-a-cheat-sheet-on-how-to-spot-the-best-rug-styles-for-your-space
2. https://www.arthide.co/