Japan, Costa Rica, Peru, Ecuador, Morocco, Madagascar, Belize, Western Europe, and beyond….I am extremely lucky to have traveled to some of the most beautiful and intriguing areas of the world. But, there are so many more places to see and explore!
Each country/city/location has its own unique design. Local artisans craft some of the most exceptional pieces.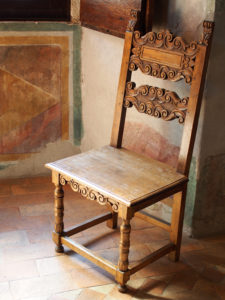 India, Pakistan, Iran, Afghanistan, Turkey and Nepal are known for their rugs; Mexico is known for its pottery and leatherwork; Murano, Italy is known for its blown glass; Tibet, China is known for its knife makers; Hokitika, New Zealand is known for its Jade Lapidaries; and Lisbon, Portugal is known for is Azulejo tile making.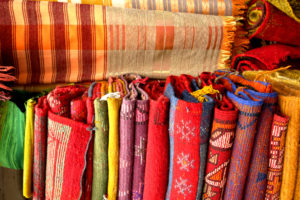 You get the idea. Buy antique furniture in China, carved wood chairs in Italy and native fabrics in Africa.
These "ethnic accessories" bring a worldly feel to your design, adding depth, dimension and interest. Not to mention, one-of-a-kind pieces that distinguish your home from your neighbors, friends and page three of the latest Crate and Barrel catalogue.
During my travels, I love to bring home souvenirs. They act as a constant reminder of my travel memories. And, these keepsakes personalize my home, making it truly mine. The myriad pieces I've collected over the years create a meaningful treasure trove of remembrances.
And I'm not alone. Visitors create a connection with the places they journey and explore. It's not easy leaving these places or experiences behind. Luckily, one can relive the memories with souvenirs. I'm not talking about airport gift shops (although I absolutely love the shops at the Johannesburg airport).
I'm referencing artifacts made by locals.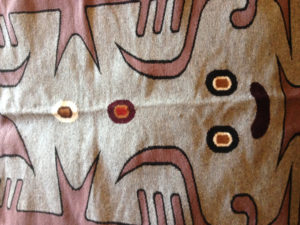 For example, while in Peru, I purchased a tapestry. Taken at face value, this piece seems quite common. However, when I tell you that I watched the dyes being made with local "ingredients" and witnessed the artisan make the tapestry from these colored yarns, it becomes much more significant and meaningful. And, when I add in the fact that it was a family vacation, the significance increases even more.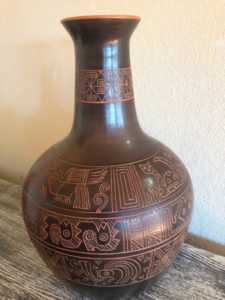 Too, I purchased an oversized vase. Again, seemingly typical. However, I met the artist (Pablo Seminario), toured his pottery-making facility and saw some of his other works on display in a local museum.  Working in partnership with his wife, this world-renowned artist creates artwork and sculptures based on ancient Incan symbols. Another meaningful memento to include in my home.
These are just two of the most recent purchases I made (on my latest trip to Ecuador, the Galapagos and Peru).  But there are many other pieces I've collected on previous trips, and will continue to collect on future adventures.
Some of the pieces I've collected/look to collect are:
————————————————————————————————————
Plates Jewelry Lanterns Pillows
Vases Belts/Clothes Fabrics Statues/Sculptures
Trays Canisters Books Rugs
Mirrors Candelabra Blankets Tables
Chairs Object d' Art Cabinets Tchotchkes
————————————————————————————————————
Plates can be hung on walls, displayed on shelves or actually used for the intended purpose of serving food. Jewelry can be framed in 3D box-frames and displayed on walls or shelves. Likewise, clothing, blankets, fabrics or belts can be framed for display.
Be creative with your purchases; they don't have to be used in the traditional way they were intended.
Don't panic about sending your purchases back to the states. Most reputable stores will ship directly to your home. Or, bring another suitcase to fill with your goodies. Carry the most fragile pieces with you on the plane, if possible.
Where to next? No matter the destination, I'm sure to find "gotta have it" treasures to incorporate into my home, providing a lifetime of memories. I hope you will too.
Talie Jane is the owner and principal designer of Talie Jane Interiors. Call 855.TALIEJANE today for help incorporating your travel souvenirs into your home.