Since its inception, Talie Jane Interiors has been searching for quality suppliers, from stone and tile manufacturers to furniture and artwork showrooms and everything in between. "We're always on the lookout for unique businesses we can partner with to better our designs and provide our Clients' with one-of-a-kind spaces," says Talie Jane.
"One such partner we are proud to recognize is Phillips Collection. We have been working with them for years and are in love with their products, especially their wall decor. In fact, many of their pieces grace the walls (and tabletops and floors) of some of our Clients' residences," she says.

About Phillips Collection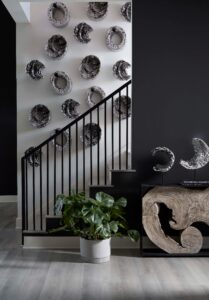 Phillips Collection is an award-winning, contemporary, furnishings company that works to create unique pieces that are defining the global style. The company sells to the trade only and its products stay true to Phillips Collection's tagline: "Every Piece a Conversation."
Phillips Collection was started over 37 years ago by Larry and Sherry Phillips, along with their son, Mark and daughter-in-law, Julie, with the goal of bringing the beautiful, unusual and unique to the Interior Design world. The family's eye for artifacts and hand-crafted objects, coupled with their love for travel, discovery and design, have been the primary drivers of Phillips Collection's success.
Phillips Collection truly embodies the term "family business." When Larry's and Sherry's son, Jason, graduated from The University of Michigan with a degree in Industrial Design, it was a new start for the company. Jason began creating innovative and contemporary home furnishings for the Phillips Collection product line and received numerous accolades like the ARTS Award for "Product Designer of the Year" and The Pinnacle Award given by the American Society of Furniture Designers.
Daughter Jessica joined the company as well, to develop its hospitality division. With her master's degree from Columbia University, she found her place within the family business after working for high-profile marketing firms in New York. (1)
Talie Jane Interiors had the opportunity to talk to Jessica about her family's business.

An Interview with Owner Jessica Phillips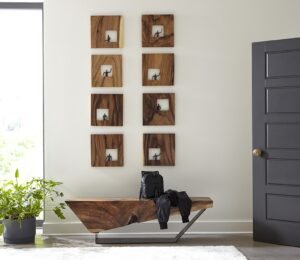 ► What are your biggest sellers and most popular items?
Jessica proudly started our conversation by referencing the Phillips Collection tag line – "Every Piece a Conversation'. She believes it is the drama, flair and need for an alternative to the regular framed wall art that brings people to Phillips Collection. She says, "we position ourselves as the jewelry of the room, that last accessory that really catches your eye and makes it complete."
Wall décor is the best-selling category and many of the pieces are meant to be hung in multiples, like the Figure Square Wall Tiles: "The slim figure adds a whimsical accent to the reclaimed wood frame that also brings a textural appeal to a room. Powerful on its own, this piece of art can be combined with five other abstract figures, each playing its part within the cutout in the square wood wall plate."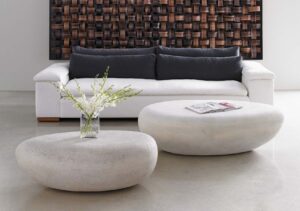 The River Stone coffee tables, suitable for both indoor and outdoor use, is still one of the incredibly popular items, despite debuting over ten years ago. The Riverstone Collection was designed by Jason Phillips and inspired by nature's ability to shape a hard surface into something beautiful.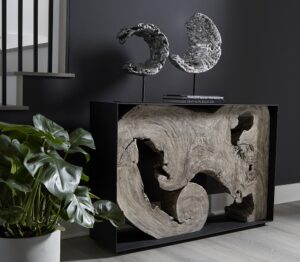 The Origins Collection is also a fantastic-selling line. These are one-of-a-kind wood consoles and dining tables. Sustainability and sourcing responsibly are part of Phillips Collections' core mission. Pieces in the Origins Collection are made from discarded wood around the world. These are then carefully and sustainably processed to create unique designs that are truly a work of art. We "transform the beauty of nature into an element of design," says Jessica. "Today, we seek out the perfectly imperfect, turning discarded wood into astonishingly beautiful furniture."


► Where are Phillips Collection products made?
The company started in New York, and in 2001, moved to High Point, North Carolina to be in the hub of the furniture-making industry.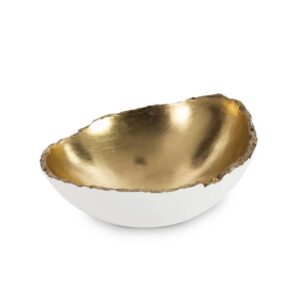 ► Do you have in-house designers and artists?
Phillips Collection has an inhouse designer – Mandy Shanahan. She, along with the Vice President of Phillips Collection, Jason Phillips, designs a lot of pieces. "Mandy looks over the overall designs and functionality of the collections," says Jessica. In addition to that, Jessica adds "we really love discovering new talent. Although most of the Phillips Collection products come from overseas, we have worked with Dan Foley in the US, who designed the Broken Egg Collection. We also work with other artists and credit them whenever we use their products, so that people spread the word on who the artist is. It helps grow their careers as well."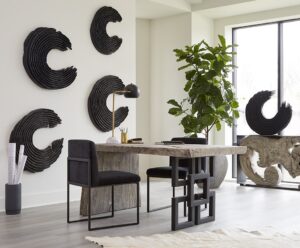 ► What is your design process for new and current products? How do you all work together?
"We have a weekly product development meeting," says Jessica. "We go over new designs, perfecting some of the cast designs and working with the factories. Everyone pitches in their opinions to perfect the designs," she adds. "We want to bring an element of surprise but also a great design, so we put a lot of thought into that."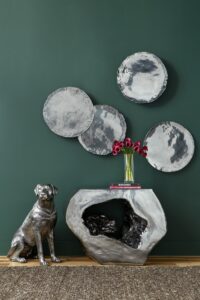 ► What sets you apart from other manufacturers and furniture designers?
"I think our unexpected design is something that sets us apart. People know that they can come to us for something whimsical but also chic. Maybe you can't decorate your entire house with silver leaf cast dog sculptures that are life-size, but you can throw one of them in and you are definitely going to garner a conversation about it."
Also, Phillips Collection has a 400,000 sq ft. warehouse in High Point, North Carolina, which has allowed it to maintain high inventory levels, which is not necessarily the case with other vendors currently struggling through the effects of the pandemic.

► What do you want designers/customers to know about Phillips Collection?
"Informing people that sustainability is part of our ethos is really important. In today's world, we want to move people toward a responsible design thought-process."
Another important take away for Jessica is out-of-the-box thinking. "Once you understand our brand and you see what we can offer, there are many more opportunities to expand on the design concept." "We have dining tables," she says, "but there's no reason they can't be cut down into shelving or turned into a headboard or barndoor."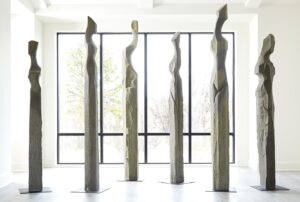 ► Where did the inspiration come from for your wood and cast wall pieces?
"When we find something that's really extraordinary and can't guarantee getting it again or need more consistency, we have it sent to our factory in the Philippines and they cast it for us." The great benefit to the cast pieces is their realistic appearance that creates a "wow-factor" but doesn't carry the actual weight of the object, making it easy to hang/display as décor.

Article by Akshaya Sivasankar for Talie Jane Interiors
---
Sources:
www.phillipscollection.com
Images : Phillips Collection Website