I'm going to let you in on a little interior design secret…we designers are odd. Well, some of us may be, but we like odd. Numbers, that is. We design in vignettes and groupings of 3 or 5 and sometimes 7 or 9. We refer to this as the "Rule of Three." But why do we do it and why does it work?
It's pretty simple: The Rule of Three is a design principle which affects every room of your home. It dictates layout, size and shape of objects, the work triangle of a kitchen, even the color, pattern and fabric designs of your room.(1)
The rule of three says that things arranged in odd numbers are more appealing, memorable, and effective than even-numbered groupings. Three seems to the *the* magic number, but (as I mentioned previously) 5, 7 or 9 works nicely as well. The principal holds weight in interior design, to be sure, but also pops up on graphic design, photography, storytelling, etc….(so you know it's really a thing).(2)
What is it about the odd numbers? Apparently, it's just how our lovely brains work. For one, three is the smallest number that can be used to form a distinguishable pattern in our heads. Also, when we see an odd number of things, our eyes are forced to move around more, which makes for a more interesting visual experience. (2) Think of this as a Feng Shui, which presents the idea that odd numbers expend and create more energy, while even numbers contract and condense energy.(1)
One is BORING. There's no balance, symmetry (asymmetry, really) or visual interest. But with three, you can create a composition, engaging the eye with movement and pattern.
It's easy to be odd. We designers implement this "rule" in many ways from seating arrangements to pendant lighting configurations. Here are a few places to incorporate odd numbers at home: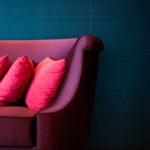 Pillows
I love pillows. In fact, I can never design with enough pillows. On beds, sofas, chairs, benches, even on the floor! I mix and match colors, styles and textures, but always in odd numbers. I will NEVER put two pillows on a sofa or four pillows on a bed. Designing with pillows is a fun and easy way to start incorporating the "rule of three".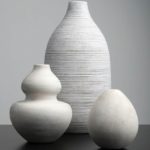 Shelving
Shelves are always difficult to stage and arrange. But with the "rule of three," it can be much more manageable. Try grouping like-items such as books, candles or vases. I recommend varying the heights of these objects for added interest. If they're all the same height/size, place a book or box underneath for elevation.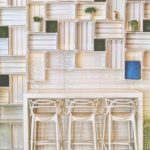 Vignettes
This is a broad term but is valuable in this context. It can refer to three pieces of furniture bench/side table/lamp, two chairs and a sofa, set of three nesting side tables, three bar stools, etc. Or, it can refer to arranging items on a coffee table (or shelf, as mentioned above). Create little areas of interest within the larger space.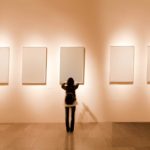 Artwork
Gallery walls are fantastic. Love them! And, they're a great way to play with the "rule of three." Hang pieces in odd numbers. Three large pieces in a row (horizontal or vertical), seven various pieces of different shapes and sizes, or three in a row with two pieces hung underneath. The possibilities are endless.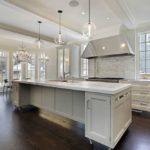 Lighting
A series of three pendant lights over a kitchen island not only provides ample task lighting, but is balanced and aesthetically pleasing. Have more room?Try 5 lights.


I should clarify, odd isn't always the way to go; sometimes even numbers work. The importance of pairs should never be overlooked (think side chairs and table lamps). But, odd numbers do add interest, energy and balance and are more effective at capturing your gaze.


Embrace the odd in you!
---
Sources:
(1) Home Décor by the Numbers: The Rule of Three , Carlisle Wide Plank Floors, http://www.wideplankflooring.com/blog/home-decor-by-the-numbers-the-rule-of-three/
(2) The Rule of Threes: Why You Should Know It, Love It & Use It, Apartment Therapy, Dabney Frake, April 15, 2013, http://www.apartmenttherapy.com/the-rule-of-threes-and-other-odd-numbers-218086
References:
http://sierranewsonline.com/odds-are-not-odd-in-design-and-decorating/
http://creativecurio.com/2008/01/why-being-odd-is-good/
http://sierranewsonline.com/odds-are-not-odd-in-design-and-decorating/
http://www.apartmenttherapy.com/why-are-odd-numbers-so-visually-appealing-224230