When it comes to interior design, trends are well, trends. And since most of design is subjective, staying "on-trend" really doesn't have a lot of merit.
In reviewing designer's opinions on 2019 trends, I have to say, I disagree with much of what was outlined. And it seems other designers concur. Some designers say terrazzo is in. Others say it's out. Designers' claims that accent walls, succulents and quartz counter tops are "out" are abolished by others. Nothing is truly set in stone with it comes to design, design rules or design trends. And that's what makes each designer unique and what gives each homeowner her personalized style.
I think "trends" and designers' opinions on trends have a lot to do with location too. Design aesthetics embraced in one part of the country may be dismissed in another. There's no such thing as universal design.
So rather than designing based on what's hot and what's not, I design with my clients in mind – who they are; how they live and what they like. I believe it's more important for my client to love her space for its personalized design aesthetic and functionality rather than for its "on-trend" characteristics.
However, knowing what's in and what's out does help me guide clients in their design decisions, especially when it comes to vacation rental design and resale value. If a request or idea seems off-the-wall, it's my job to reel things back in.
Below are a few trends that seem to be generally accepted in the design community for 2019. Again, everything is subjective when it comes to design. Take these with a grain of salt. Do what you love; it's your home after all!

What's "IN"
▸ Sustainability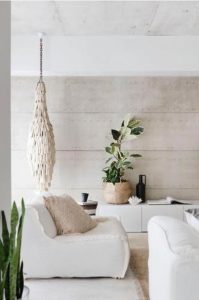 "Across homes, sustainable and natural fabrics are going to be a key trend that will hit the mainstream in 2019. Look for [these natural fabrics] in upholstered furniture, throws, cushions and tapestries." According to Interiors Online, "the movement towards natural fabrics speaks to the broader conversations across design right now that is all about embracing a peaceful retreat from crazy, modern life. The good news is the embrace of natural textiles will work across so many styles and looks, from Hamptons to Boho, to French country, to Scandi, and just about every other style in between." 1
Similarly, Elle Décor writes, "items made by hand using sustainable materials like jute, rice paper, and clay will be in, in 2019. We see people needing these grounding elements in their homes as a way to feel more in touch with the earth and their roots." 2
Being strategic and purposeful about purchasing behavior is a key ingredient to a sustainable ethos as well. "People are becoming increasingly concerned with how and where and by whom interior products are made." 3

▸ Biophilia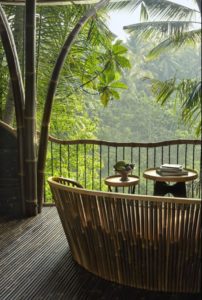 "For 2019, there is greater interest in biophilia–emphasizing the relationship between humankind and nature, and the connections between the two. Natural, organic materials–such as wood floors, stone, and daylight and plant life–remind us of the exterior and brings the outside and nature, in. We are machine- and technology-driven society, but nostalgic about past processes and handiwork, so opportunities for custom Millwork and crafted materials are very important." 2

▸ Refined Minimalism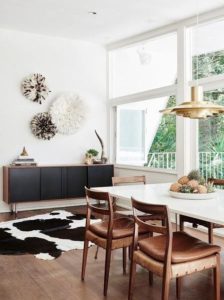 When a space has too much going on, it creates chaos. That's probably in part why we have been enjoying the minimalist design aesthetic for such a long time. But it's starting to change.
According to Sandra Chandler from Art.com, "the dominance of minimalism and Scandinavian design, which is characterized by neutral colors and simple materials, is finally declining. In its place, mixing of styles (try modern and vintage) with bright colors and graphic patterns are becoming more prevalent in the home. Don't be afraid to mix colors, patterns and textures." 2
This includes mixing of metals too. An ensemble of metal accents (no more than a mix of two to three different metal accents) used throughout a room is in, and will always be a timeless and tasteful way to create balance and definition in an environment.

▸ Hygge 4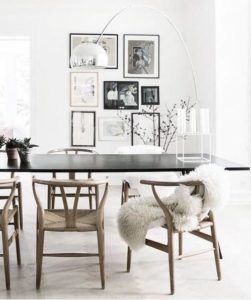 Pronounced "Hoo-ga", the word is becoming increasingly recognizable and was originally a Norwegian term for well being. This was then developed into a concept and way of living by the Danish people of the 18th century.
Hygge is largely defined as the ritual of enjoying life's simplest pleasures and the art of creating a warm and inviting space for yourself, friends and family. It really is a far-reaching notion that has spread like wildfire the world over. It seems everyone is keen for their own little piece of Hygge.
In one form or another Reflecting the need for a calm, cozy retreat and an overall focus on well being led to Hygge being a major trend over the past few years. According the Interiors Online, "although there have been predictions for the emergence of new trends based on ideas around moderation, wellness and coziness such as còsagach (Scotland) and Lagom (Sweden), nothing has been able to halt the gentle onward march on Hygge. At this stage, it looks here to stay, in one form or another in 2019." 1
When you think of cozy and warming interiors the mind instantly wanders to lusciously soft textures think chunky knits, woolen throws, fluffy hides, faux fur, sumptuous linens and soft floor cushions. These textures from the most luxurious merino and cashmere layered up with earthy Nordic sheepskins and tactile textured accessories are hugely on trend at the moment, creating a Scandi and Hygge styled look when placed in any and every room. When combined with a roaring fire or soft candlelight there is no setting more Hygge!

▸ Color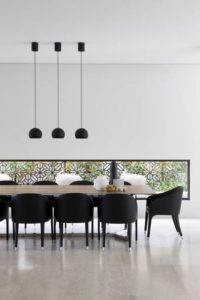 BLACK: Clients are becoming a lot more adventurous when it comes to color. Even black! "Nothing creates a sense of drama better than black. Expect to see bold, high-contrast designs all over your Instagram feeds in 2019, as matt black moves from fashion and beauty into homewares and interiors. Lighting, seating, home décor objects and sideboards are all key pieces you can introduce to reference the trend. This one is likely to be with us for a long time." 1
Black is even making its way into the kitchen. "Black kitchens especially are proving popular," says Marina Cheban of Cheban Interiors in New York City. She says they help impart a "sleek, rich feel and modern ambiance." 5
There are several areas in the home that will be experiencing a bold, color boost in 2019.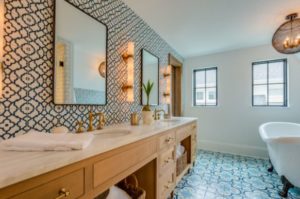 GROUT: You've probably already noticed intricate tiles—Moroccan, herringbone, and other geometrics—swooping in to take the place of ubiquitous white subway tile. But predictions are that tile will get even more interesting in 2019: Expect to see colored grout and contrasting tile on the walls and floor.
Realtor.com weighed in on this design trend as well. "Like wallpaper, [tile] is an easy way to create a focal point in the room." 5 "Recommending dark tiles with light grout and vice versa—for a punch of dimension and texture is a thoughtful detail that can really make a bathroom look more expensive." 5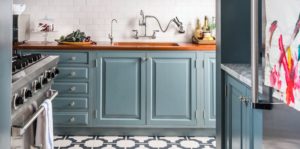 CABINETRY: "The all-white kitchen has been singing is swan song for the past couple of years and as such, we've been adding color back in. In 2019, designers say we'll be ripping off the Band-Aid and embrace the white kitchen's alter-ego." 5
Sarah Ianniciello at Whitehall Interiors predicts that making a statement and creating a mood with cabinetry in black and colors like deep or grey-washed blues and greens will be in high demand. "These are being beautifully paired with fixtures and hardware in brass and other contrasting metals" she says. 6
&nsps;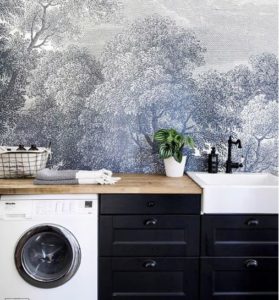 WALLPAPER: Wallpaper is incredible. It's one of my favorite design elements. And, I'm happy to see it gaining popularity in 2019! Home Beautiful says, "bold styles will feature heavy patterns and textures, from faux leathers to embossed baroque styles, homes and businesses are increasingly choosing wallpaper to make a statement." 3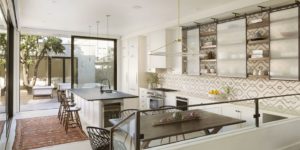 BACKSPLASH: Backsplashes are such a fun way to add pattern, color and texture to kitchens. And Amy Sklar of Sklar Design couldn't agree more. "Simple, monochromatic kitchens have had a good long run," she says, "so we will be gravitating toward making a little more impact in their kitchens, whether that's with bolder color choices or graphic tiles. Either way, I predict we will be seeing more pop and punch in kitchens!" 2
---
Resources
1. https://interiorsonline.com.au/blogs/inspiration/10-inspiring-interior-trends-for-2019-that-will-transform-your-home
2. https://www.elledecor.com/design-decorate/trends/g23550602/design-trends-2019/?slide=3
3. https://www.homebeautiful.com.au/interiors-trends-for-2019
4. https://interiorsonline.com.au/blogs/inspiration/how-to-hygge-your-home
5. https://www.realtor.com/advice/home-improvement/2019-hottest-interior-design-trends/
6. https://www.realsimple.com/home-organizing/decorating/decorating-tips-techniques/design-trends-2019-according-to-designers

Additional Resources
https://www.apartmenttherapy.com/interior-design-trends-2019-264551
https://spacify.com/blogs/interior/interior-design-trends-2019
Images From Pinterest