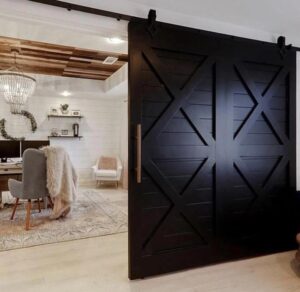 Sliding barn doors have continued to gain popularity, thanks especially to the trending Modern Farmhouse style. From their early uses on farms to the present day, sliding barn doors have been not only functional but also aesthetically pleasing as well. Originally designed for farmers with large barns, sliding barn doors allowed livestock to enter, without using a lot of space or blocking the animals' paths. With minimal budget and available wood, farmers made these doors with slats of wood, arranged in a row and then braced together, in the shape of an 'X' or 'Z' for additional support and stability. Though sliding barn doors were born out of necessity for farmers, they have taken off in the design world, with a plethora of styles and custom modifications. Sliding barn doors are currently being incorporated in residential, commercial and hospitality sectors to add character and interest.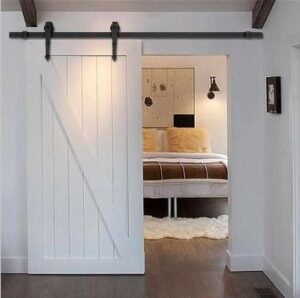 Thanks to the rise in popularity of the Modern Farmhouse design style which began in the early 2010s, and the HGTV show Fixer Upper which features a like design aesthetic, sliding barn doors have been on trend for years and continue to be in vogue. With the many styles of sliding barn doors available, this design element is commonly used in Mountain Modern design as well. Because of their rustic demeanor, bronze hardware and reclaimed wood styles, sliding barn doors are a perfect addition to the Mountain Modern design aesthetic. Sliding barn doors are being incorporated in small spaces like closets or laundry rooms or as a focal entry point to living rooms, dining rooms, bedrooms and home offices. With many possible styles of doors and tracks, finding the perfect door is easier than before. Sliding barn doors have a lot of advantages.
1
Advantages of Sliding Barn Doors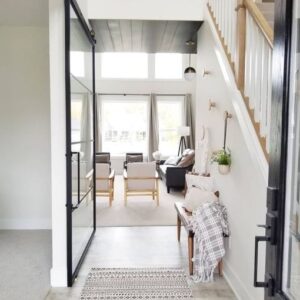 They can save space.
Sliding barn doors do not have a door swing so they're great in tight spaces.
They can be used as an alternative to pocket and bi-folding doors.
Pocket doors require an entire wall with no studs and bi-fold doors can be difficult to operate and are not particularly appealing.
They are customizable.
The door style and hardware (track/hanger) on sliding barn doors can be customized to fit any design style and can add a unique character to the space.
They can accommodate tricky spaces.
Sliding barn doors are good for abnormal sized passageways and oversized openings, since they are easily customized to any size.
They offer a distinct style and can act as a focal point.
A double sliding barn door in particular adds a lot of drama and the doors themselves act as artwork, framing a room's entry.
They are so cool!
Now with mirrored fronts, glass inserts, decorative wood paneling and even metal accents, sliding barn doors have truly evolved and offer functionality but also act as a focal point. But there are disadvantages as well.
Disadvantages of Sliding Barn Doors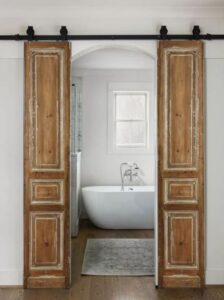 They don't create a perfect seal between the wall and the door.
Because of this, these doors are not great at blocking sound, light or odor, and can allow them to seep into the room.
2
They float along the wall so privacy is limited.
It's important to keep this in mind when using this door style for bathrooms, bedrooms or home offices, where privacy may be a concern.
3
They require a certain amount of wall space.
Though sliding barn doors can be space saving compared to traditional doors, they still require a certain amount of wall space to allow for the door to fully slide open and close across the opening. This might not be possible in some cases.
3
They don't work for all design styles.
Though sliding barn doors are customizable to suit many styles, they are not versatile enough to be used everywhere.
4
How They Work
Door Components/Terminology 5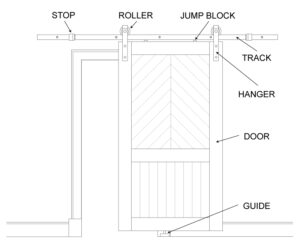 Sliding barn doors are different from regular swinging doors because they don't require hinges on the side or a door jamb to function. Sliding barn doors require a completely different set of hardware as they lay flat against the wall and roll/slide to the side.
Door:
Sliding barn doors are slightly larger than the openings they cover. Usually 2" on each side as well as a ½" on the top. If there is casing around the door, then the barn door should match the height of the casing.
Track:
The track is a heavy-duty metal rail that supports the weight of the barn door. It will run the length of the door opening as well as the area where the door rests while it is open. Tracks usually come in 5', 6', or 7' lengths but can be cut to fit any size.
Hanger:
The hanger is screwed into the top of the door, which attaches it to the rollers. Hangers come in a variety of finishes to match the existing hardware of a home.
Roller:
The roller is a wheel, usually a few inches in diameter, that slides along the track allowing the door to open and close. Most sliding barn doors only have two wheels, but those with a larger span could have 3 or 4.
Jump Block:
The jump blocks are mounted on the inner side of the door to prevent the door from jumping up/coming off the track.
Stops:
The stops for a sliding barn door are usually mounted on the outer edges of the rail to keep the door from falling off its track. These are an important safety feature as barn doors are extremely heavy.
Guide:
The guide for a sliding barn door is a small piece mounted to the drywall on the inside of a door. This holds the door in place, keeping it from swinging while stopping the door from banging into the drywall. Sliding barn doors are very customizable. One of the components that can be customized is the track.
Track Options 6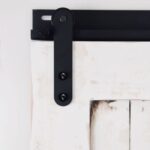 Low Clearance:
Tracks with small rollers are great for when there is a small amount of space from the top of the door opening to the ceiling.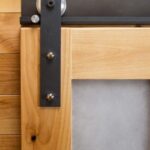 J Track:
This track holds the roller into a lip rather than sitting over the track. Best to keep sliding barn doors from coming off the track.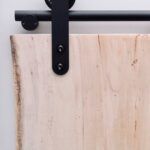 Tube track:
For clean looking hardware, the roller on a tube track comes down over the sides of the track.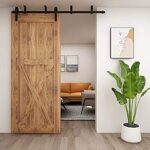 Ceiling Mounted:
For an opening that does not have a header or for a passageway, the ceiling mounted track is a great solution to partition off spaces in a home.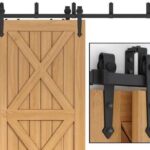 Bypass:
For larger openings, multiple doors and tracks are required. Bypass tracks have two or three tracks so the doors can stack on the same wall. This will reduce the amount of wall space needed when the doors are open. This application is great for pantry or closet doors.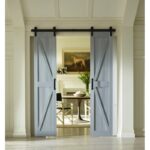 French Door:
For areas with little excess wall space on either side, sliding French barn doors can be used. These doors can be mounted on one long track or on two separate tracks pushed flush together. For help incorporating sliding barn doors into your design aesthetic, call Talie Jane Interiors at
855-TALIEJANE
.
Article by Akshaya Sivasankar for Talie Jane Interiors
---
Sources
1.
https://rustica.com/everything-you-need-to-know-about-barn-doors/
2.
https://www.insider.com/home-interior-design-trends-that-need-to-disappear-2020-11#designers-are-also-moving-away-from-the-concept-of-trends-as-a-whole-13
3.
https://furniturefromthebarn.com/barn-doors-a-trend-in-newer-and-older-homes-and-not-just-for-barns/
4.
https://www.realtor.com/news/trends/i-hate-barn-doors/
5.
https://www.signaturehardware.com/lc_buying-guide-barn-door-hardware
6.
https://rustica.com/track-style/
Image Credits
Featured: Pinterest Image 1: Pinterest Image 2: Pinterest Image 3: rustica.com Image 4: Pinterest Image 5: https://www.signaturehardware.com/lc_buying-guide-barn-door-hardware Image 6: https://rustica.com/track-style/ Image 7: https://rustica.com/track-style/ Image 8: https://rustica.com/track-style/ Image 9: https://www.amazon.com/CCJH-Ceiling-Bracket-Sliding-Hardware/dp/B071X3TP3C Image 10: https://thebarndoorhardwarestore.com/categories/by-pass-hardware.html Image 11: https://decoratedlife.com/amazing-barn-door-ideas/