Interior design isn't just about creating a home that looks new and current. It can also be about preserving the past and respecting the character of an older home. If you're lucky enough to have a house with some time-earned character or an apartment with a certain quirky charm, consider these tips for addressing the issues that need a touch-up while bringing out the best of your home's past, present and future.
1. Paint the walls, ceiling and trim one color to hide imperfections.
Often some of the first features that make you fall in love with an older home are beautiful molding, trim and door details built during a different era, when finishing touches carried a certain polish and personality. A simple coat of paint, then, is your first step to preserving and highlighting these details. I typically paint the walls, trim and ceiling one color, but with a slightly higher gloss on the trim to subtly call attention to it. With this palette in place, a bold shade like dark gray on the doors makes them architectural standouts.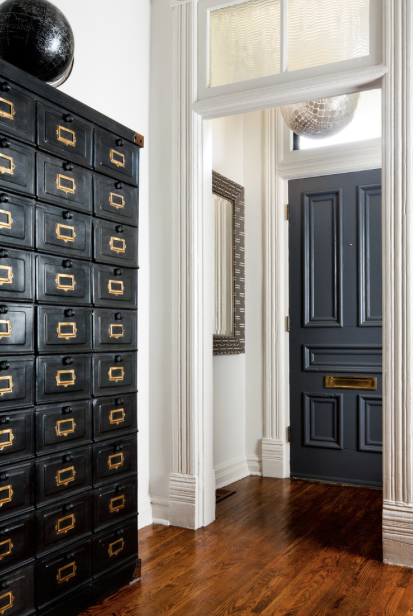 2. If your trimwork is in good shape, paint it a neutral contrasting shade. If the existing trim is in great condition and you want to really show it off, a neutral or near-neutral contrasting shade (like a blue-green gray) will make it stand out, while working in every room throughout the home for a sense of consistency. Applying the same color to the ceiling helps to tie the look together as well, for a stately, architectural appeal.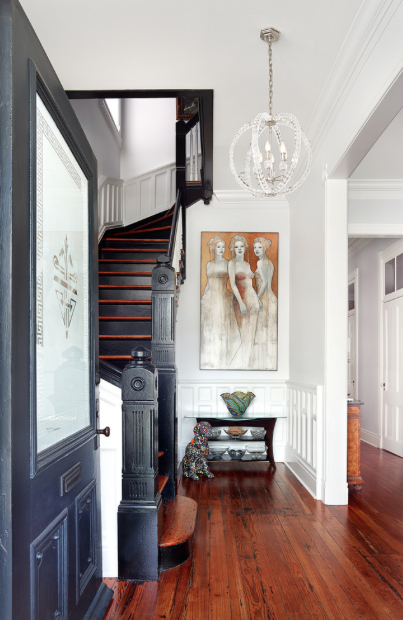 3. Celebrate stained glass. If you're lucky enough to have beautiful stained glass windows, simple white walls will let them act as art and color.
4. Use in-window shades to keep vintage trim exposed. In-window shades, as opposed to hanging drapes, are an excellent way to leave vintage window trim exposed. They also add a slightly modern touch that keeps the look feeling up to date without removing the integrity of the original space.
5. Use drapery to conceal awkward windows. Older homes often have quirky windows in unusual places, but a full wall of drapery can be the perfect way to subtly clean up the look of the room without completely erasing the windows and blocking all light.
6. Use airy shelving units. Open and airy étagères (shelving units) are a stylish way to add additional storage and display space for collectibles, books and baskets of odds and ends without disturbing or hiding the original architecture with built-ins or big bookcases. Plus, they have a certain gallery-like charm that fits older homes despite feeling like a modern touch.
7. Embrace simple contemporary furnishings. In general, clean and simple contemporary or modern furnishings are a good tool for bringing a sense of modern life to a traditional home without the two styles feeling like they're fighting each other. Look for rich textures, clean lines and soft colors without going radically modern or feeling tied to stuffy traditional trappings.
8. Mix traditional and modern periods. Including some items that feel like they fit the period of the home (even if a design historian might disagree) as well as some modern pieces helps tie the vintage air of a home to everyday life. It also helps make modern essentials like a TV, computer and plush sofa feel more at home if some of the other accessories are more modern as well.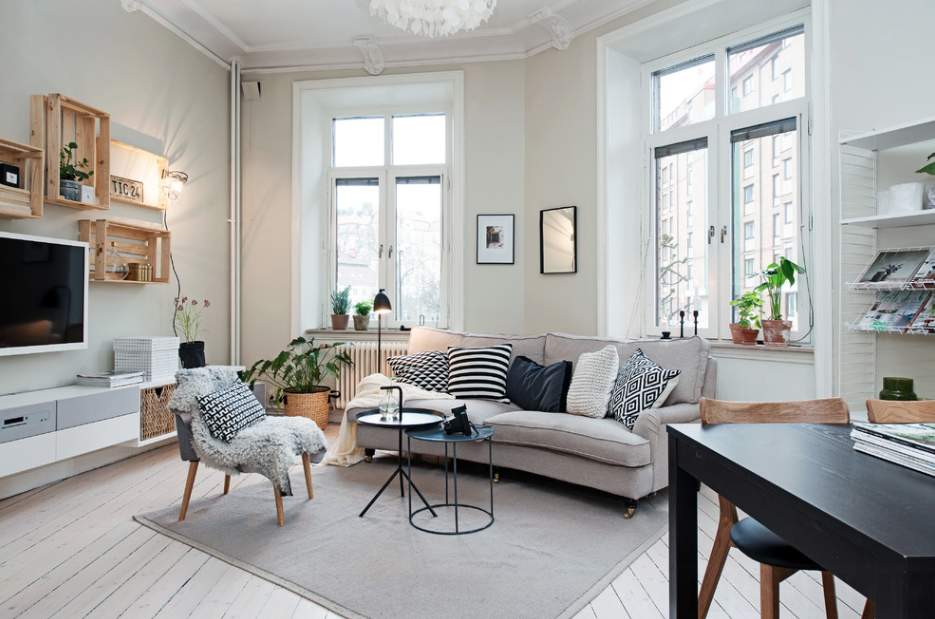 9. Add pieces that look as if they were weathered outdoors. Another approach is to use pieces and accents that feel inspired by the garden, such as wood with a patina, woven baskets, linen and even vintage house numbers. The soft, rustic vibe naturally suits a well-worn home.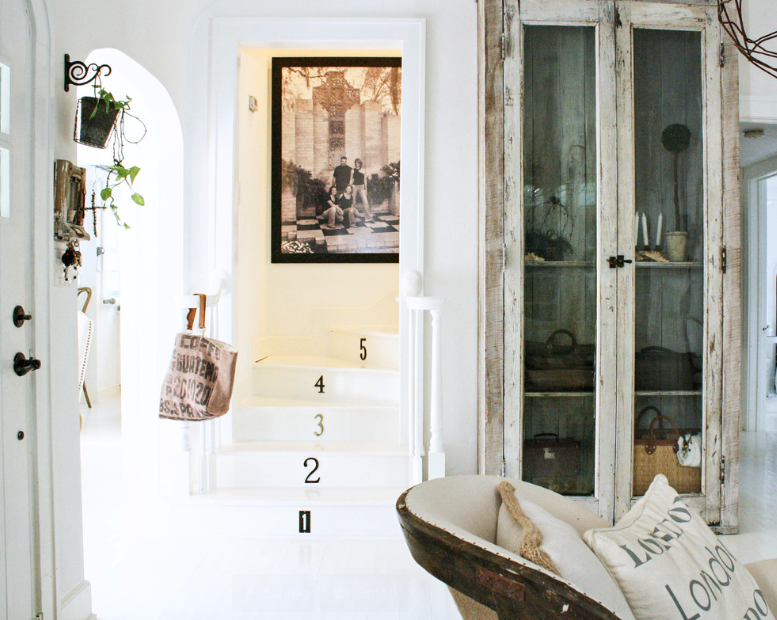 10. Break unusual room layouts into zones. Old homes built on quirky lots often have some unusual room layouts, and can have long, narrow spaces that seem hard to work with. Break a rectangle into multiple square zones for better functionality, using area rugs to define zones visually and open-sided furniture like benches to bridge multiple adjoining seating areas.
11. Use asymmetrical rugs in oddly shaped rooms. When in doubt, a faux-cowhide rug or another asymmetrical rug is a great fit for an unusually shaped space, as the organic form plays well tucked in odd corners or floating in the center of a larger space, even layered over a larger carpet.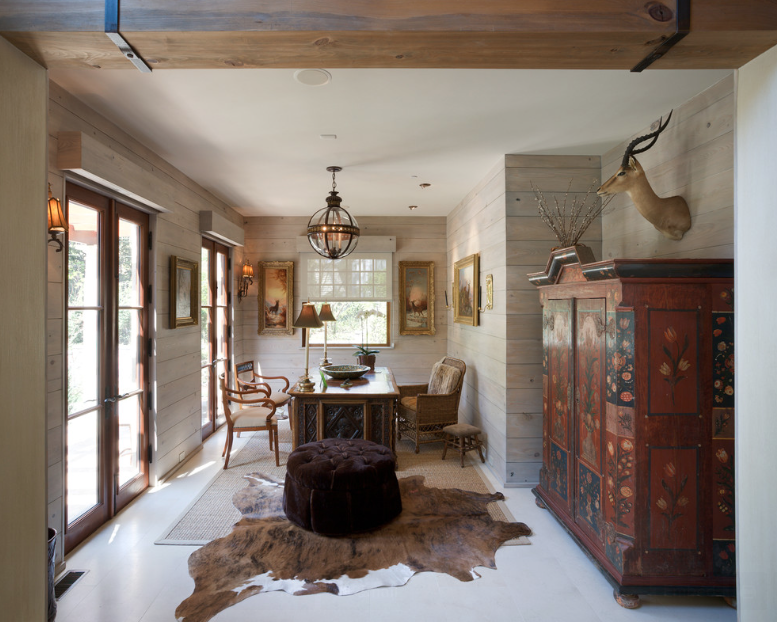 12. Make rugs your "accent wall." Besides defining an area, rugs are also a great way to bring a sense of color to a zone in a house when there are no walls to logically pick as an accent. This a good approach for homes with unusual or open floor plans in which the rooms don't have clear starting and ending points. Drop them anywhere to add a sense of structure without touching the walls.
13. Don't forget the personality. No matter what style you choose, it's important to make a home with a history feel like your home, so make sure to include some of your old favorites, not just new, "perfect" furnishings, and look for ways to incorporate your photos and memories into the personality of the home. Unusual nooks and pockets make the best gallery spaces, so your home can become not just a time capsule of the past, but also a reflection of you today.