Writer Holly Amaya said it best in her article Out with the Old: The 10 Tired Interior Design Trends You Need to Ditch in 2018: "Figuring out what makes for good design is an admittedly subjective exercise. Ask a dozen experts their thoughts on say, why faux Mid-Century Modern is still popular in American interior design long after "Mad Men" has left us, and you'll likely get a dozen different options. Nevertheless, some home design trends manage to rise to mass acceptance [thanks to unstoppable forces like HGTV and Pinterest]…and tend to take on a life of their own. And sometime they just don't die, even when they absolutely should." (1)
When it comes to home design and décor, stick with what YOU LOVE, regardless of what the pros are prophesying for 2018. But, if you're feeling as though your décor is a bit tired you want to make some updates, check out the below prophesies (some things you may want to ditch this year and some things you may want to adopt this year). Regardless, surround yourself with what makes you feel good and as Amaya says, "it'll be a gorgeous year!" (2)

What's OUT (things to ditch)
▸ Rose Gold
"People are moving toward more of a mixed metal palette and more muted colors." (3)

▸ Exposed Lighting
I still like and appreciate this look, but according to House Beautiful, "edison bulbs and exposed track lighting have been one of the biggest trends in lighting in recent years, but…it's time to let it go." (3)

▸ Granite Countertops
"Even though this material is in just about every kitchen these days, people are starting to favor countertops that are more versatile and low maintenance, like quartz." (3)

▸ Bamboo Flooring
This material "has low durability and has been oversaturated in the industry. Another reason: Bamboo was once hailed as an eco-friendly flooring option but concerns have been raised about the negative effects it has on biodiversity and carbon emissions." (3)

▸ Open Shelving
Is "something that looks great in photos but not in real life." (3)

▸ DIY Storage
"Repurposing items like egg cartons and toilet paper rolls makes your space look junky." (3)

▸ Reclaimed Wood
This is one of my favorites, especially in Tahoe and I'm sorry to see it on the "ditch it" list for 2018. Again, these prophecies are a culmination of different designers' opinions. In my opinion, I'd still hang on to this one, just keep it in moderation, even in Tahoe.

▸ Bohemian Tapestries
"No matter how much you love the word 'groovy,' next year is when psychedelic, 70's-insired wall hangings are officially over." (3) That's a relief!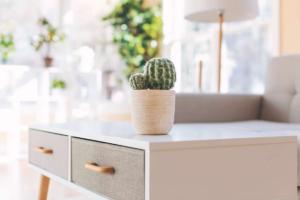 ▸ Midcentury Modern
"Midcentury modern is on the precipice of settling down a little bit…It'll remain with us, but I think we'll be looking at some other influences in that same genre. Expect to see some pieces of midcentury furniture such as chairs or a coffee table, stick around to mix with more traditional design." (4)

▸ Cement Tiles
"They look great, but the first issue is longevity…Cement cracks. The second is the craziness of many of the patterns. Too bold, too graphic, too bright, 3-D and more often than not, they're crammed into tiny spaces for impact." (1)

▸ Tropical Prints
"Ah, 2017 – the year of the pineapple, the flamingo, the philodendron leaf. We'll be the first to admit that we loved this whimsical and exotic trend that made us feel like we were permanently on vacation. But it burned out fast…Unless you're in a tropical climate, they tend to feel really out of place after summer has passed." (1)

▸ Chevron Patterns
Once again, I disagree that the chevron pattern is out. However, I do agree with other designers that the simple zigzag pattern that incorporates two colors "can be cute in kids' rooms [but] looks cheap in adult living spaces." (1)

▸ Overstated Hood Fans
"Designers predict it'll soon be seamlessly integrated into cabinetry." (1)

▸ Farmhouse Style
"Call it the Chip and Joanna Gaines effect: Over the past four years, everyone…wanted a farmhouse sink and shiplap walls. But in the new year – and with "Fixer Upper" coming to an end – the farmhouse chic style is starting to finally feel a little too contrived." (1) I don't disagree but taken down a few levels, I still like bits and pieces of the farmhouse look – just not covering the entire house with items that look straight out of the barn.

▸ White on White
"We live in the real world – one where kids, pets and the errant wine glass pose quite a threat to your nice new stuff." (1)

▸ Tuscan Themes
"With this décor theme, you get a lot of deep reds and golds, oil-rubbed bronze, travertine tile and oversized furniture, giving and overall heavy, ornate look that pro designers say is dated." (1)

▸ The Totally Open Floor Plan
"The open floor plan still remains popular for many home buyers, but a wide-open box layout is being left behind." (4)


What's IN (things to adopt)
▸ Black Fixtures
"The first reason is easy: Black pretty much goes with everything. The second? Black fixtures – especially in matte finishes – are much easier to clean…than lighter, polished metals. They look great in modern applications as well as transitional homes…And, the best part is, no water spots to clean off." (2)

▸ Terracotta
"This shade is in the bronze family, with a touch of orange and a hint of red…The result is a rich earthy color. It looks beautiful on tactile materials such as textiles—especially bed linen—along with ceramics and tiles. For the brave, it would look equally impressive on an architectural feature in a room." (5)

▸ Maximalism
"In 2017, design studios such as DIMORESTUDIO, Marcel Wanders, and even fashion labels Peter Pilotto and LaDoubleJ introduced us to some unforgettably extravagant interiors. Crammed with contrasting prints and patterns, maximalism marks a move away from the Scandinavian-inspired minimalism that has dominated in recent years." (5)

▸ Comfort Spaces
"We're seeing a shift toward design that is more casual overall and spaces that are focused on experience rather than aesthetics…It will be much more hybridized, and we'll begin to see—and already are to some extent—hospitality and restaurant design infiltrating all different sectors, from fashion to retail, office, and beyond." (5)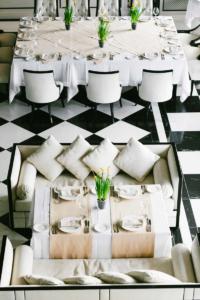 ▸ Monochrome
"From a consumer standpoint, the tone-on-tone look takes a lot of self-control and discipline, but the results are very sophisticated." (5)

▸ Materials with Purpose
"Furniture made entirely from recycled plastics, cans, and smartphone screens; leather alternatives made from pineapple leaves; and interior tiles made from corn husks were just some of the sophisticated recycled materials to emerge in 2017…We are clearly seeing a shift towards an approach within design that considers our environment and society in a much more positive way, without compromising on its aesthetics…We will continue to see this into the year ahead and hope to experience products that are much more mainstream—an exciting time for materials and design!" (5)

▸ Lighter Wood Flooring
"Buyers of new homes are moving away from dark, ebony woods and opting for lighter options. Too, "we're seeing a really wide plank – probably a 7-to 5- inch plank – in a lighter finish." (4)

▸ Brown Décor
"Beige may not be back quite yet, but you can expect to see more brown colors in décor than in previous years, when gray has been the primary neutral color…Earth tones are never too far away in interior design as they create a level of comfort simply because they appear naturally around us. They're soothing, they're sexy and people can just relate to them." (4)

▸ Jewel Tones & Bright, Bold Colors
"Pantone's Color of the Year for 2018 was announced as Ultraviolet…But purple won't be the only color making an appearance this year, as…jewel tones and bright colors are also coming to liven up rooms more. Neutrals will still be there…but putting in that emerald green and the orange, it's very fresh and vibrant." (4)

▸ Mixed Metals
"The trend toward mixed metals has been becoming more popular in recent years, and in conjunction with other trends, this is a nod to simplicity of design without everything having to perfectly match." (4)

▸ Quartz
"Sleek quartz is taking the place of the ubiquitous granite and hard-to-clean marble. Quartz products are appealing to the ease of living that we all crave, and surfaces and much more modern, clean and versatile." (2)

▸ Natural Materials
"We're seeing a strong push toward eco-consciousness – looking toward items that are made of sustainable materials and have a natural feel to them…People care about the production, the history, and the story of their furniture more than they ever have before." (2) Yet reclaimed wood is in the "ditch it" section…go figure.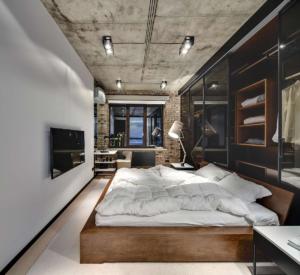 ▸ Concrete in Unexpected Places
This is an interesting one. "From fireplaces to bath tubs, concrete is no longer the countertop alternative…I'm seeing entire walls in concrete panels that look fantastic juxtaposed next to antiques or contemporary furnishings." (2)

▸ Large Tiles
"Larger tile has less grout and is both easier to install and maintain. But if you're not on board with big, don't fret – designers agree the subway tile trend has life left in it." (2)


---
Sources:
1. https://www.realtor.com/advice/home-improvement/interior-design-trends-to-ditch-2018/
2. https://www.realtor.com/advice/home-improvement/hottest-interior-design-decor-trends-2018/
3. http://www.housebeautiful.com/design-inspiration/g14426620/decor-trends-that-will-be-out-in-2018/
4. https://realestate.usnews.com/real-estate/slideshows/9-interior-design-trends-to-look-out-for-in-2018?slide=11
5. http://www.interiordesign.net/articles/14318-5-design-trends-that-will-dominate-in-2018/