Gone are the days of square porcelain tiles in neutral shades with matching grout and monochromatic designs that serve utilitarian purposes. Bathroom tiles are helping create memorable spaces that are more than just a place to powder your nose.
Bold patterns and irregular shapes, rich textures and even glitter grout are on the forefront of design trends in bathroom tiles. 1  When it's time to design, remember this practical tip:
Be brave – even if your heart is set on a sleek marble, off-white look, we suggest incorporating bathroom tiles to add an unexpected flair or paint a serene scene. 2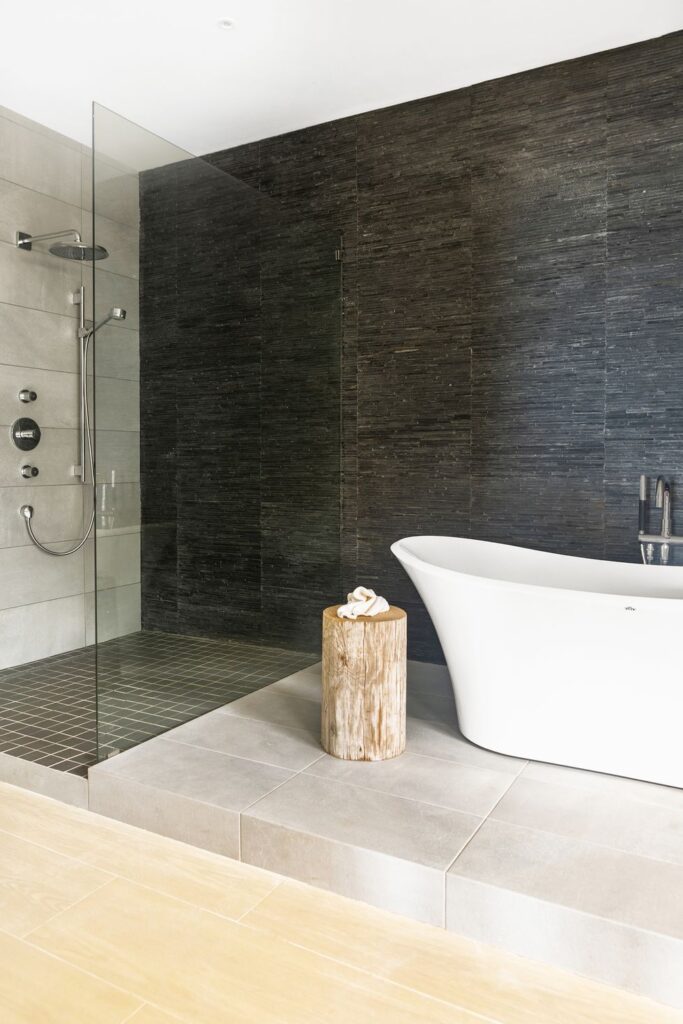 Designers are using a mixture of materials, 3-D shapes and patterns to create atmospheric spaces that are as timeless as they are trendy. 3  Here's a good example by incorporating a lively checkerboard floor tile with Carrara marble subway tile for an exciting update to a shower stall. Or create a minimalist-modern look by layering three different tile types in the same tone for a more natural, calming feel.
Once strictly found in commercial spaces, cement tiles are gaining traction in the bathroom for its durability, design aesthetic and water-resistance. Using a unique manufacturing process that involves 2,000 pounds of pressure and no use of glaze or kilns, the non-slip surface of cement tile holds up to daily wear without chipping or cracking. Once sealed, cement tile retains color and requires very minimal care using only water and natural cleaning solvents. 4 Check out this use of cement tiles as a surprise material to add a serene, spa-like vibe to your next soak.
Fun with Patterns and Shapes
Textured wall tiles pair with a subtle grey tile surround to create a relaxing tub that feels like bathing in a work of art. Or how about using bathroom tiles to bring the outdoors inside by adding Zellige-green floor to wall tiles set off with cozy wood paneling to create a peaceful shower escape.
Another fun idea to add a spark of interest is to set off a shower shelf using glass tiles tucked against a white tile background. All examples of using patterns and shapes to create an interesting bathroom space.
All that Glitters is Grout
Traditionalists espouse picking a grout that is the same shade as the tile used. Although this design rule remains popular, today's designers are chipping away at this idea by adding darker grout for a more dramatic effect, or even incorporating glitter grout for a refreshing sparkle and shine to your bathroom design. 6
Another fun pop is metallic grout, in gold or silver to give your space a luxurious feel, or mix and match dark verses light grout. 7  Remember cement-based grout will darker over time and a darker shade of grout is best in high-traffic areas. 8
Bathroom tiles are a great way to incorporate your personality into a space that traditionally has been bypassed for more glamours areas of the home. When it comes to the design aesthetic, the possibilities are endless. We suggest having fun creating a memorable environment that will spark joy for years to come. Thanks to bathroom tiles, your bathroom could now become your new favorite place.
Article by Lisa Matthews for Talie Jane Interiors