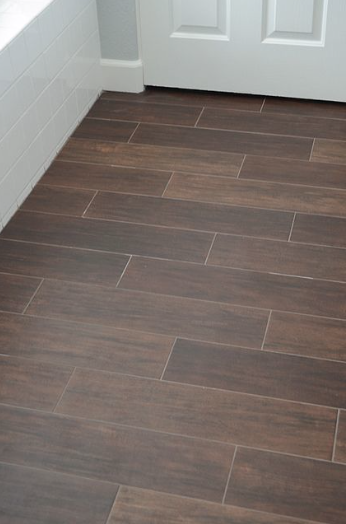 Advances in the tile industry have allowed for the creation of wood look tile, rivaling everything you love about wood floors without the problems of hardwood.
What is wood look tile? It's porcelain tile that is made to look just like wood. In fact, it's hard to tell the difference. The porcelain tiles have even reproduced the hand-scraped wood floor look and feel.
Wood look tiles are a huge design trend right now and it's easy to see why. Being stain resistant and easy to clean, it's perfect for your kitchen, bath or outdoor space.
Unlike carpet that is vulnerable to staining and hardwood flooring which is vulnerable to nicks, scratches and water damage, wood look tile floors are easy to clean, water-resistant and offer the same beauty as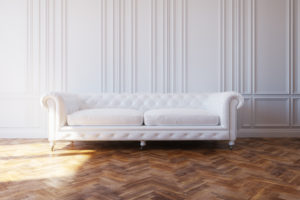 hardwood flooring. Too, there are myriad options for colors, wood grains and patterns, making wood floor tile a great consideration over hardwood.
Would you consider wood look tile for your next kitchen or bath remodel? Here are some pros and cons to help you make the decision:
PROS
Durable

There's no warpage, scratching, nicks or fading, which are all typical of wood flooring. Plus, they are easy to clean!
Homes with dogs, kids and a lot of company (vacation rentals) are perfect places for wood look tile floors.
Less Expensive

Wood floors can range from $5 – $20 a square foot, or more, depending on the type of wood and pattern you select.
Wood look tile costs about the same, but is less labor-intensive to install and requires much less upkeep, making it a better investment overall.
Flexible

Wood can fade and warp over time, limiting its lifespan and also its application.
Wood look tile can go just about anywhere – kitchens, bathrooms and outdoor spaces included – because of its resistance to water (it repels liquid). No more worries about staining or molding!
Sustainable

Nearly 20 million trees are cut down each year. Wood look tile is porcelain and therefore more sustainable then wood floors.
You can get the same beautiful wood look without sacrificing a single tree!
CONS 
Hard

Tile floors are certainly harder than carpet and even harder than hardwood, which has a slight give.
This can be tough on feet, ankles and knees, especially when standing over a stove or washing dishes for a long period of time. Small rugs in front of the stove and sink are good solutions.
Cold

Compared to hardwood, wood look tiles can feel cooler to the touch. This is not necessarily comfortable on bare feet during the fall and winter months.
In cooler climates like Lake Tahoe, this can be resolved with area rugs.
Difficult to Install

Installation needs to be perfect, as every flaw will show.
Make sure you find an installer with a lot of expertise in laying wood look tile flooring, especially if you choose to incorporate a pattern like herringbone or chevron.
Inauthentic

The grout between tiles can look slightly inauthentic.
Make sure the tile you select has rectified edges (meaning the edges have been machine finished so they are consistent and precise). Tiles can then be laid closer together, minimizing the required amount of grout.
Sources:
https://www.angieslist.com/videos/video-pros-and-cons-wood-look-tile.htm
http://www.daltile.com/inspiration-and-diy/wood-look-tile/4-myths-about-wood-grain-tile
http://www.gaspars.com/wood-look-flooring-tile-would-you/
Talie Jane is the owner and principal designer of Talie Jane Interiors. Call 855.TALIEJANE today for help incorporating wood look tile in your home.