Rudyard Kipling's famous quotation, "East is East, and West is West, and never the twain shall meet" never proved to be less true than during the 17th and 18th centuries, when the Orient captivated the West in the form of chinoiserie design. Chinoiserie (French for "Chinese-like") is defined as a fanciful European interpretation of Chinese, Japanese and Indian styles in the design of interiors, furniture, pottery, textiles and gardens.
This European rage for anything Asian resulted from expanded trade with the East. The chinoiserie influence left its mark on interior design in many ways, but one of my favorite expressions of it is in bamboo and faux bamboo furniture.
Much (but certainly not all) of "bamboo" furniture is actually faux bamboo. It's furniture made with a variety of woods, including pine, oak and maple, and carved or turned to resemble bamboo. This is done to get the special look of bamboo, but with more easily joined surfaces that result in sturdier furniture.
Surprisingly, this is not a new technique at all. The Chinese have been making faux bamboo furniture since the 1300s. In this ideabook we'll use "bamboo" for both faux and real bamboo.
In this very appealing bedroom, a black painted bamboo headboard is paired with a Japanned bamboo chest of drawers. (Japanning is the European imitation of Asian lacquering, originally done in the 17th century.) Notice how easily bamboo mixes with many styles of design. A paisley duvet and a very modern lamp work magic together with bamboo.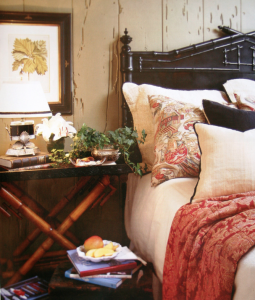 In this room a bamboo lamp table joins with a chesterfield-style chaise, a Moroccan octagonal table and a zebra-print rug to evoke a gentleman's club in Africa. Bamboo furniture is a fabulous element in so many eclectic mixes.