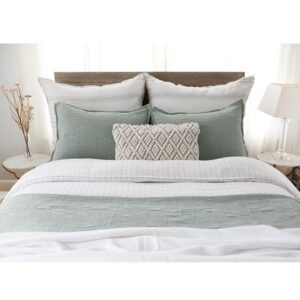 Bedrooms are arguably one of the most important rooms in the house. In fact, the average person spends about 26-years sleeping. Surprisingly, the average person also spends seven years trying to get to sleep. That's 33 years spent in bed! (1) Creating a comfortable respite that encourages sleep is paramount.
Restful, peaceful sleep starts with an inviting bed. The secret? Pillows! Pillows are a great way to create a visually-appealing AND ultra-comfortable bed.
Where to place pillows, how many to use and which sizes to incorporate is an art. But arranging bed pillows is easy once you know the standard "formulas." Fellow pillow-lovers and minimalist alike will benefit from understanding the art of arranging bed pillows to create a luxury sleeping experience – one that looks like it was styled by an Interior Designer.
First let's start by discussing the different types of pillows. The right combination of pillows will help you create a bed that calls to you every night (and even during the day).


Pillow Types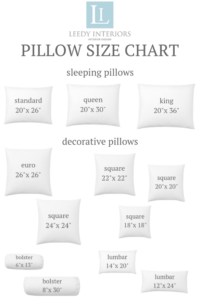 ► Euro Pillows (26 x 26)
These are big, square decorative pillows that are generally used at the very back of your bed (against the headboard, grounding your pillow display). They set the tone for the rest of the pillow arrangement. A good rule to follow for Euros is to have them in a solid color, or with minimal pattern, so that you can play with color and pattern in the pillows at the front of the bed/display.

► Sleeping Pillows (King or Standard)
Sleeping pillows are just that, the pillows we use to actually sleep on at night. These are available in King or Standard sizes with a variety of firmnesses. They come in different fills and options for side, back or stomach sleepers to optimize comfort. Sleeping Pillow covers (pillowcases) are usually plain or have a simple decoration on the sides.
When it comes to placement, however, these can be a bit tricky. Although Sleeping Pillows can be tucked behind Decorative/Accent pillows, they can also be covered and hidden by the duvet/ comforter. This is a personal preference and can depend on the detail/ decoration on the pillowcases and the look of your ensemble. It's nice to show the decorative accents (stripes, detailing) on either side of your Sleeping Pillows, if your cases lend themselves to be seen. However, for purposes of this article, assume all sleeping pillows are hidden by duvet/comforter and are not part of the visual arrangement.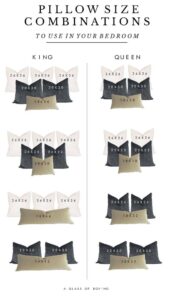 ► Shams (King or Standard)
Decorative Shams come in King and Standard pillow sizes and are placed in front of the Euros to tie the bedding together. These are decorative accents that typically coordinate with the bedding, quilt, or comforter. Often, they are included when purchasing a bed "set."

► Decorative Pillows (Various)
Decorative Pillows are the interesting and fun elements of bedding. They can be changed seasonally and come in various sizes and shapes: Square, Lumbar, Bolster, Neck Roll, etc. Rotating them gives a different look and feel without the need to purchase new bedding. Depending on the size of the bed, one or two decorative pillows is best. Coordinate pillows with your bedding or go bold with color and style.

Now that we know the different pillow types, let's talk about how to display them properly. Different size beds require different pillow configurations. Here's how.


Bed Sizes
► King/Cal King
For a King or California (Cal) King bed, three Euro Shams is standard. Since King beds are 76" wide and Cal King beds are 72" wide, using just two Euro Shams might leave a lot of empty space.
From here, choose two King Decorative Shams and one Decorative Pillow. Another option is to forego the Shams and instead use one long Bolster.

► Queen/Full
For a Queen bed, two Euros are standard for the back row. Decorative Shams (option #4 as shown in the adjacent pillow combination illustration), can also be used.
Next, add two Standard Shams and one Decorative Pillow – Lumbar or Bolster. Have some fun with the front Decorative pillow. It's a great way to bring in texture, color and pattern.
Another option – drop the Euros and go with two King Shams and one Lumbar Pillow. The same layout can be followed for a Full-size bed.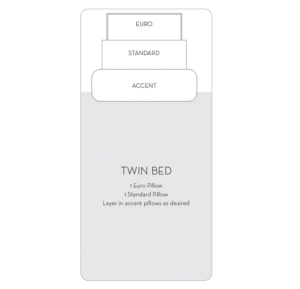 ► TWIN / TWIN XL BED
For a Twin or Twin XL bed, style with one of each type of pillow: Euro, Standard and Accent. Three pillows are usually perfect for a Twin. But, limit the maximum number of pillows to five. Too much of a good thing can be well, too much of a good thing. There are two recommended options for optimizing the three-pillow combination:
Option #1: Start with a Euro Sham; add a Standard Decorative Sham and place a Decorative Accent Pillow – Lumbar, Bolster or Neck Roll.
Option #2: Start with a Decorative Sham and add two Decorative Pillows, each a different size. Try a Lumbar and Square, two Squares or a Square and Neck Roll.

For all bed sizes, don't forget a plush duvet and cozy blanket!

For help sourcing and styling your beds, contact Talie Jane Interiors at 855.TALIEJANE (855.825.4352)

Author: Akshaya Sivasankar for Talie Jane Interiors
---
Images:
1 – https://www.easternaccents.com/cl-1633-trillium-collection&isnew=1
2 – https://leedyinteriors.com/pillow-tips-designer-nj/
3 – https://aglassofbovino.com/2019/06/my-go-to-methods-for-styling-a-bed/
4 – https://meadowblu.com/products/pom-pom-at-home-harbour-matelasse-duvet-cover-sea-glass?dfw_tracker=79593-31818732929075&variant=31680209322035
5 – https://www.potterybarn.com/tips-and-ideas/how-to-make-a-bed/?cm_src=OLDLINK
Sources:
1. www.dreams.co.uk