I recently purchased my first home, a "move-in ready," single-family home built in the mid 2000's.
My home, although beautiful with its open concept, lacked one of the most important areas for a growing family with two children – a place to put the TV.
The house came fully equipped with a built-in niche, a 50″ wide cubby to the side of the fireplace. But this space wasn't large enough for my 60" TV. And, I didn't like the idea of having an off-centered TV or a TV that was stuck in this cubby creating two side-by-side focal points. So, what to do? I took it upon myself to make this space a design euphoria! I'll share what I did as well as a couple of other ideas I contemplated as well.

 
Firewood storage
I ended up installing the TV above the fireplace to create a centralized focal point. Then, I cut firewood, the length of the depth of the niche and stacked it neatly into the niche. (I recommend filling it three quarters of the way, or just half way if you are short like me. It makes it easier for handling.) It created something of a natural wood art installation of sorts and was not a difficult task. It has become my favorite space in my home so far.
 
I had two other ideas that I was contemplating as well…

A sitting area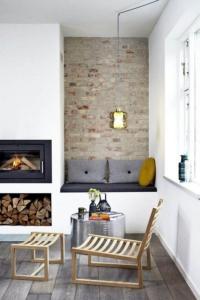 I thought that the built-in niche next to my fireplace would be the perfect place to read my favorite book or sit and warm myself fireside.
I literally looked up "how to make a bench" on Youtube and a plethora of videos came up to help me build my nook, (but if doing it yourself is not the way you want to go, you can always hire a carpenter).
To give the space some dimension, I thought about bringing some texture into the mix by lining the back of the wall with stone, brick or natural wood. One of my personal favorites – Brickworks from Daltile or, painting it stark royal blue. A bold color always adds interest and would emphasize the niche.
Too, I would have topped the bench with a chair cushion to make it comfy and inviting. I was going to make my own sitting pad using foam and some fun, contracting fabric from my local craft store. Of course, it would have to have an abundance of pillows…mixed and matched in different colors, sizes and textures.
The finishing touches would have been a light source and perhaps a natural element like a plant. Whether I hung a chandelier or installed a sconce would have been determined by my electrical outlet placement and accessibility.

 
A bar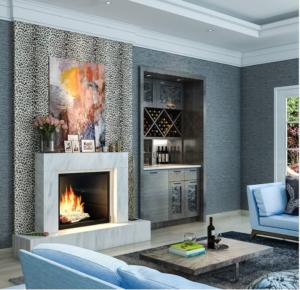 Yes, I contemplated using my designed "TV niche" as a bar! Because what else pairs well with entertainment?  Spirits!
 
A set of charcoal cabinets, light quartz countertop, wine rack and a cabinet above for storage would have been perfect for entertaining guests.
I really like the monochromatic look when it comes to home bars. It really emphasizes the spirit and wine bottles. Their colorful, decorative labels and contents add pops of color. I contemplated adding dimension to my bar and cabinetry by incorporating mirrors or a patterned glass within the cabinet faces.
 
A niche off to the side of anything is always a tricky space to use. However, I looked at it as a blank slate. I thought, "what could I use this space for instead of my TV? What am I in need of in this room?" I considered how my family plans to use the space, our love of entertaining, my kids and pets and decided to use it as a place to store firewood.
We love to sit together as a family, enjoying the fire and watching our favorite movies. And now we can watch the movies on our extra-large TV (now centered over the fireplace) and keep the fire going with the wood I've stacked in the niche. I still love the other two ideas for the space – a sitting area and a bar. Maybe I'll use those ideas in my next home but for now I'm loving my firewood "installation." It's practical, functional, beautiful and brings a little bit of nature indoors.
– article by Ellie Lopez
Contact Talie Jane Interiors at 855-TALIEJANE or Natalie@TalieJaneInteriors.com to design your TV-niche space.