Learn how much room to allow for furniture, and tricks you can use to make the most of a tight space.

---
Someone once said that a well-designed space is like a good pair of shoes: If you're wearing a good pair of shoes, you don't even notice that you have them on your feet. But if you're wearing a bad pair of shoes, you notice them every step of the way. Interiors work the same way.
If you haven't considered the circulation space around your furniture, cupboards and built-ins, you will feel it with every step you take. You've probably encountered poor room circulation at some point: bumping into corners while walking around furniture, dinner guests standing up to let others slide through, stepping sideways to get to your toilet, not being able to open your doors all the way. If any of these situations exist in your own home, it's a pretty easy fix. Here are some ways to achieve better flow in your space.
Dining Room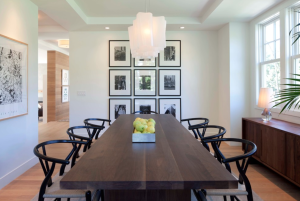 To create adequate circulation space around a dining room table, allow a minimum of 36 inches (91 centimeters) between dining chairs and walls. Provide about 48 inches (122 centimeters) between the table and an entrance to allow people to enter and exit the room with ease. If your space doesn't allow for a table large enough to host all of your friends, then purchase an extendable table so you can live with a smaller table and better circulation for most of your days. If you have to live with the squeeze only once in a while, it's not so bad.
It's also important to allow enough room for your guests to sit at the table comfortably. Allowing 24 inches (61 centimeters) per person will enable your guests to feel comfortable and let them sit down at and get up from the table without bumping shoulders.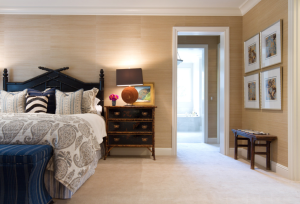 Bedroom

Leaving enough room on either side of the bed is essential. People often get in and out of a bed in the dark. A minimum of 30 to 36 inches (76 to 91 centimeters) is best. Banging into a corner in the dark is the worst! Try to avoid any obstructions like other furniture between the bed and the door leading to a bathroom or hallway.
A great way to save on space in tight bedrooms is by building a shelf for your stuff behind you. This way you can have the storage without taking away from circulation space.
Living Room

A good way to fit all of the furniture you need into a tight living room, while maintaining a good flow, is to use a round coffee table. When you have to squeeze around furniture in tight configurations, it's ideal to have furniture without any sharp corners.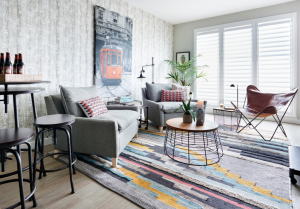 If you're not a fan of round coffee tables, you can always choose an irregularly shaped table with no sharp corners.
Another way to get more bodies into a smaller space is by scaling down your furniture. Small furniture solutions like stools are a great way to add seating without stuffing your space with full-size furniture.
Bathroom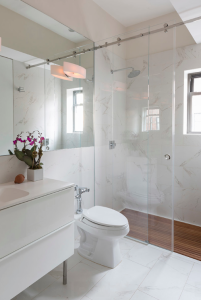 A great way to get more space in a tight bathroom is by swapping the typical swing door for a pocket door. Pocket doors can save you a considerable amount of space by allowing you to move freely in a small room — you won't to navigate around a door swinging open or closed.
Another way to save room in a tight bathroom is by using a sliding glass shower door. And you won't have to worry about a swinging shower door hitting anything.
Kitchen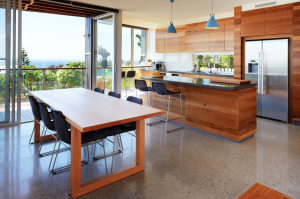 So many things have to be considered when thinking about flow in a kitchen, but one of the most important is the clearance from the counter to the kitchen island. A distance of 42 inches (107 centimeters) is ideal for allowing easy back-and-forth movement between counter spaces.
Another major consideration in designing a kitchen with optimal flow is to make sure there's enough circulation space between the island seating and the dining table. Both seating areas should be able to be used simultaneously with ease.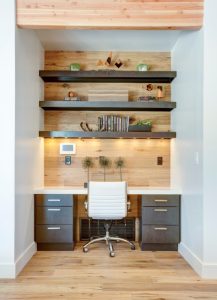 Home Office

Clients often ask me to squeeze in home offices these days. I find that they don't want to dedicate an entire room to an office; rather, they want to use a nook. Even if you're tight on space, it's important that you have enough room behind your desk to push your chair out. A minimum of 42 inches (107 centimeters) is ideal. Working with anything less than 42 inches is going to make you feel trapped at your desk.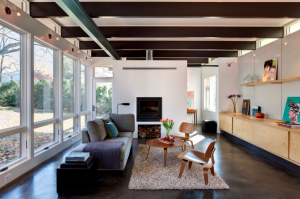 Hallway
The path from one room to another is best left clear of obstructions. If you have to walk around furniture or accessories when traveling through your house, it's best to take another look at your floor plan and move stuff out of the way.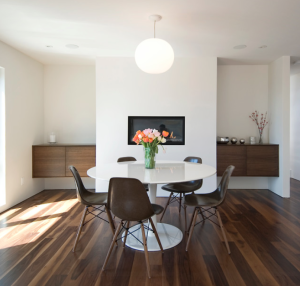 Positive Flow
If you create an unobstructed home with good flow, it will reflect on your everyday mood. Not having to confront barriers on a daily basis in your house will inevitably change the way you feel about your space in a positive way.
Article published on Houzz.com