Artwork can bring together the elements of a room by being a focal point, a color inspiration, a harmonizer and more. Artwork can also make or break a space. Below are five things artwork can do for your room.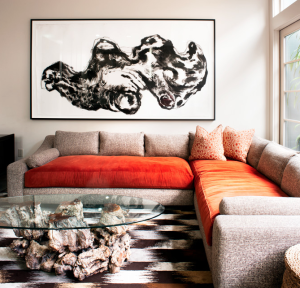 1. Add movement. Movement is used in the art world as a way for the artist to direct where the viewer's eye goes and to influence the viewer's perception. Using a piece of art that conveys a lot of movement can help create a rhythm between the art and your furniture, with the lines creating the type of movement that translates into a story. The conveyed movement within a piece of art can be reflected in your furniture choices to create an imaginative and original design.
2. Provide color. Artwork can be used to dictate or enhance a color palette. If you're feeling stuck with your design, try selecting a piece of artwork that fits the space and create a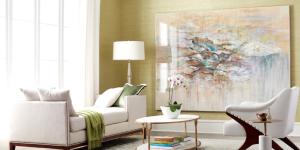 color palette influenced by the work. Pull accent colors for decorative objects from the secondary, or less seen, colors in the work to enhance different elements of the piece. A neutral color palette can be utilized to showcase a favorite piece of art. A bright artwork can also be used to enrich and add color to an otherwise neutral palette. The juxtaposition between bold pops of color and crisp white walls creates an eye-catching effect.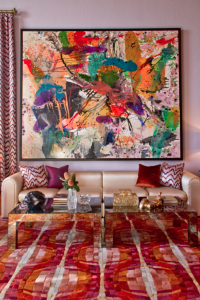 3. Balance scale and texture. If you have high ceilings but prefer modern, low furniture, a piece of artwork can help draw the eye upward and will make the room feel more balanced.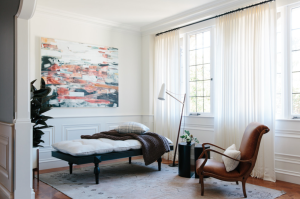 4.Introduce a rotating gallery. If you're feeling bored with your space and need a change, switching up your artwork can be a quick and easy way to bring a new perspective. Different artwork will highlight different elements in your space and can help to make the room feel fresh and revived. Try bringing a lovely cool-toned photograph in spring, and change it to one with a burst of red or orange for fall.
5. Make a statement (big or small). Artwork doesn't always need to be the focal point of a room. While artwork can be used to influence a design or color palette and create bold statements, it can also be used in subtler ways to add sophistication.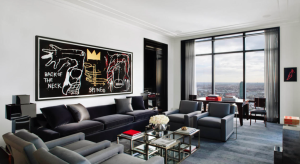 Don't be afraid. Art is an investment that will inspire you to think in different ways about the world around you. It doesn't just have to be "pretty." Good art works in any environment and can transform a space into something spectacular.
Article published on Houzz.com